Style and Comfort Meet in Menlyn
at The Maslow Time Square
The opening of The Maslow Time Square in April 2018 not only marked the end of the R4.6-billion Time Square development, it also cemented Sun International's foray in the corporate hotel market. Situated alongside Time Square Casino, The Maslow Time Square offers a choice of stylishly appointed multi-level accommodation in Pretoria suitable for business and leisure guests. To complement its surrounds in the technologically advanced Menlyn Maine precinct, the Pretoria hotel features state-of-the-art amenities – from high-speed WiFi to on-demand concierge services – and has been cleverly designed to meet the needs of on-the-go travellers.
Sunlux welcomes
The Maslow Time Square
Along with its superior finishes and unrivalled access to the best entertainment and dining in Tshwane, The Maslow Time Square forms part of the exclusive Sunlux Collection which comprises three other premium Sun International hotels: The Table Bay hotel in Cape Town; the Boardwalkin Port Elizabeth; and The Palace of the Lost Cityin the Pilanesberg. For travellers seeking luxury and convenience, The Maslow Time Square is the preferred connector to these leading South African hotels and the ideal launchpad to kick-start your Sunlux holiday.
Explore Pretoria from The Maslow Time Square
From the majestic African-inspired setting of The Palace to the blissful seascapes of the Boardwalk and The Table Bay, the Sunlux portfolio of properties welcomes The Maslow Time Square to its fold and, with it, front-row access to the finest entertainment in Pretoria. One of the most innovative and technologically-advanced hotels in Pretoria, our upmarket Pretoria accommodation offers convenient access to 24-hour gaming and world-class dining at Time Square's incredible selection of restaurants – including Guy Fieri's Kitchen & Bar, Forti Grill and Bar, and Something's Cooking by J'Something to name a few.
To add an eco-friendly twist to your Pretoria holiday, Time Square is proud to form part of the Menlyn Maine precinct which has officially been announced as South Africa's first green city and is situated within walking distance from the hotel. Founded on the principles of New Urbanism and supporting the notion of 'connected living', the high-tech Tshwane city offers a bouquet of retail and wellness experiences, and is perfectly positioned to assist with last-minute shopping before your head off on your Sunlux journey.
If you're in Pretoria for business or leisure and have some extra time before or after your Sunlux travels, The Maslow Time Square provides easy access to many of the city's most popular attractions. For history buffs, a visit to the Union Buildings, Voortrekker Monument and Paul Kruger Museum is highly recommended while nature and wildlife enthusiasts have a choice of diverse game parks to visit on the outskirts of Pretoria. For those wanting to sample local crafts and delicacies, Irene Market sells a wide range of local produce and showcases the unspoiled charm of one of Pretoria's most picturesque suburbs.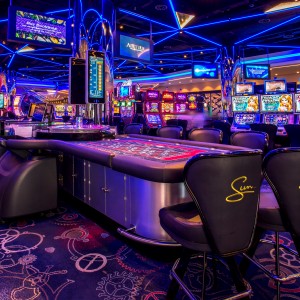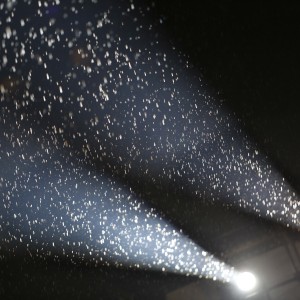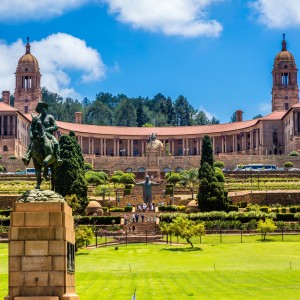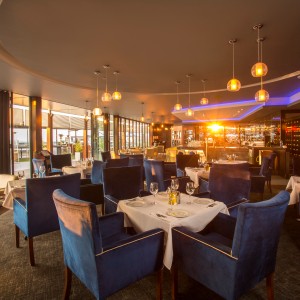 If you find yourself asking 'where to stay in Pretoria?', The Maslow Time Square offers comfort and convenience under one (stylish) roof. And, if you confirm your stay 60 days in advance or decide to extend your time with us, you'll receive 10% off your booking.
Whether you're driving in from Johannesburg or taking an Uber from O.R. Tambo International Airport, our Pretoria accommodation can be accessed from multiple routes. Explore our recommended route options below. 
O.R. Tambo International Airport to Pretoria
The best and safest drive
You've made it safely to Johannesburg. Here is how to reach your Pretoria accommodation at Time Square via car.
TIP: Pre-book a car at any of the car rental agencies based at OR Tambo International Airport. You'll need a car if you're going to explore all the places to visit in Pretoria. You can also use Uber to get around.
Pick up your rental car from O.R. Tambo International Airport, and head north-east on Marco Polo Road towards Kenmarc Street, then turn left onto Louis Botha Road. After 650m, turn right onto Tempelhof South Street and, after 300m, turn left onto Atlas Road (M43). Follow Atlas road for 1.5km, and keep left at the fork on Exit 41.
Follow the signs for Kempton Park / R21 / Pretoria and merge onto the R21. Continue on the R21 for approximately 37.7km and use the two left lanes to take Exit 134 for the N1 North towards Polokwane.
Once you've merged onto the N1 North, keep straight until Exit 139 towards Garsfontein / M30. Turn right onto Garsfontein road from the off ramp and continue straight.
Turn left onto General Louis Botha Dr / January Masilela Dr / M33 and then left onto Aramist Avenue.
Time Square will be on your left. Here's your route.
---
O.R. Tambo International Airport To Pretoria
All aboard the Gautrain
From the baggage collection point at O.R. Tambo International Airport, follow the demarcated signs towards the Gautrain station located in the airport. Once at the station, you can check the timetable to see when the next train is leaving for Sandton.
TIP: You'll need to purchase a Gautrain Gold Card and add money to it to travel. This can be done at the cashier's desk inside the station. Allow extra time for this. You can also calculate your fare and look at the timetable in advance on the Gautrain website.
Once you're on the Gautrain, keep a lookout for Marlboro station, the next stop on the route. At Marlboro, you will switch trains to continue the journey towards Pretoria.
From Marlboro station, you will be in transit for a while, and only disembark at the Hatfield Station, so use this opportunity to stare dreamily out the window or plan your itinerary around all the places to see in Pretoria. Your final stop is Hatfield station.
---
The Hatfield Gautrain Station to Pretoria
Ride the Gautrain bus
When you arrive via Gautrain at Hatfield station in Pretoria, you'll need to use the bus service to reach Time Square Casino in Menlyn Maine. Look out for the H5 bus route, which will take you from Hatfield station to the suburb of Menlyn in Pretoria. You can disembark from the bus at stop H5-15 (at Lois and Gobie Street).
For more stops and information, you can view the entire bus route here.
From the bus stop, it's a brisk 10-min walk to Time Square. Alternatively, you can order a taxi service (like Taxify or Uber) for pick-up and drop-off.
TIP: Pre-calculate your trip fare before you load money on your Gautrain Gold Card – this will ensure you have enough money for both train and bus fares.