Travel | 10 Jan 2018 | By Sun International
Couple Goals: how to relax on holiday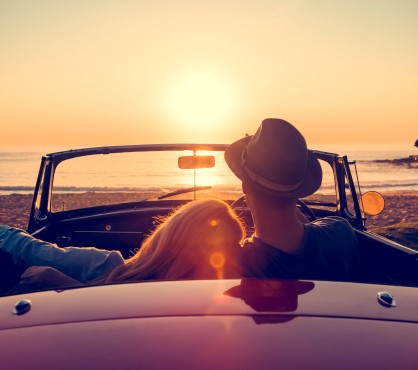 You've worked hard all year and you deserve a relaxing holiday with your partner. Unfortunately, relaxing on holiday isn't as easy as it once used to be — especially since the advent of smartphones and social media. These days, it doesn't matter if you are miles away on a beach holiday or exploring museums and galleries on a big city adventure, your email (and work) is at your fingertips 24/7. Switching off on holiday has a whole new meaning in the 21st century.
If you're planning a getaway with your significant other, we've compiled a list of holiday tips for couples to help you make the most of your valuable time off. Here's how to relax on holiday and reconnect with your partner:
1) Choose relaxing holiday destinations
Some holiday destinations are more relaxing than others. A beach holiday implies spending the bulk of your time sunbathing, swimming and sipping cocktails from coconuts, whereas a holiday in a big city means you'll more than likely be traipsing between museums, shops, galleries and tourist attractions — inevitably standing in queues. It all depends on how you define a relaxing holiday.
If your goal is to relax on holiday, choose relaxing holiday destinations like the Wild Coast Sun in Port Edward or the Boardwalk in Port Elizabeth. If you want the best of both worlds, combine a beach holiday with a vibrant city scene in Cape Town at The Table Bay.
Top tips for couples on holiday: choose a destination that suits the both of you. If you want to go shopping but he wants to go fishing, make sure your choice of relaxing holiday destination offers a wide range of activities.
2) Don't get caught up in the stress of getting there
Often, the stress of getting to your destination means it takes a day or two for you to recover before you can even think of relaxing on holiday. If you're planning a road trip, split your journey into two days and stop over at one of our relaxing holiday destinations en route like the Windmill casino in Bloemfontein.
If you're flying, plan ahead and book an airport transfer or taxi service. You can fly direct to Sun City from Johannesburg and Cape Town, and The Table Bay offers complimentary airport transfers in luxury vehicles. Be sure to enquire about transfers beforehand so that you don't scramble for transport at the last minute.
Top holiday tips for couples on a road trip: make a playlist that you both enjoy, invest in a travel card game, and use your time of 'confinement' in the car to chat and reconnect with each other.
3) Your relaxing holiday starts now
Don't make any plans for your first day. Give yourself time to arrive, unpack and settle into your new relaxing holiday routine. For some couples, this might mean a hot shower followed by casual in-room dining, which, if you're staying at The Table Bay, Boardwalk or The Palace, is a treat in itself. There's nothing quite like a little five-star luxury to take the edge off a day spent in transit!
If you're keen on getting out there, keep it low-key. A relaxing holiday means taking it easy. If you're on the hunt for dinner, ask for recommendations within walking distance to your hotel so that you don't have to hassle with finding parking or wrangling taxis.  
Top holiday tips for couples staying at The Table Bay: with the V&A Waterfront on your doorstep (literally), you have an incredible variety of restaurants in easy reach. But you don't even have to wander that far, at least not on your first night in Cape Town! The Camissa Brasserie at The Table Bay features some of the best Table Mountain views in town and serves up signature dishes by Chef Jocelyn Myers-Adams.

4) Don't pack too much into your days
Holidays become 'holidaze' when we put so much pressure on making the most of our time there that we end up doing the opposite of relaxing on holiday — rushing around trying to do and see it all! It's understandable, you've spent a significant amount of money on your getaway and you want every moment to count. But the whole point of a relaxing holiday is just that: relaxing.
Manage your time by creating a list of the sights and experiences you don't want to miss. Be sure to take advantage of the expertise of your hotel concierge or travel desk to recommend the best times to visit local attractions and the most stress-free means of getting there.
Holiday tips for couples visiting Cape Town: the hop-on, hop-off City Sightseeing Bus is a great way to get a snapshot view of Cape Town's most popular attractions — plus, it's relaxing!
5) Couple goals: compromise
You want a spa treatment but he wants to play golf? Compromise. To relax on holiday, couples needn't spend every minute of the day in each other's company. If you really want that spa treatment, go for it! Book it on the same day that he's playing golf or, better yet, book it at the same venue, like the Gary Player Golf Club and Health Spa at Sun City, so that you can meet up for a clubhouse lunch later.
6) A little less conversation, a little more action
Couples who play together, stay together! Find your fun and have an adventure on your relaxing holiday. If you're staying at the Wild Coast Sun in Port Edward, spend the day at Wild Waves Water Park or at the Valley of Waves in Sun City.
Holiday tips for couples at Sun City: whether you're in search of sports, water sports, adrenaline-fuelled adventures, Big Five game drives or a beach holiday, check out the list of things to do in Sun City on holiday and get your game on together!
7) Indulge in romance
What's a relaxing holiday together without a touch of romance? From dinner dates to couple's spa treatments, indulge in some couple-time on holiday and fill up that love tank!
Couple goals for romance at Sun City: start your day with a hot air balloon safari over the Pilanesberg National Park, head to The Royal Baths for a poolside couple's spa treatment and end the day with a private dining experience at The Palace Gazebo.  
8) Be entertained
Want to know how to relax on holiday? Have fun! Whether you're going to the theatre or a concert, watching a live comedy act or a blockbuster movie, entertainment relaxes the body and mind. Plus, sharing laughter brings you closer as a couple.
Check out what's happening at our relaxing holiday destinations and book your tickets for couple's fun now.