Travel | 27 Jan 2018 | By Sun International
How to Have the Best Family Holiday at Sun City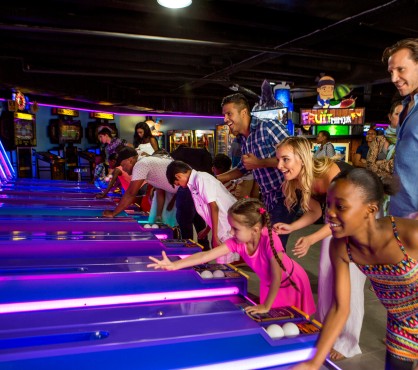 Families at the Magic Company | Photo by Sun International
Give your kids a family holiday at Sun City they'll never forget. From road tripping tips to kids' activities, check out our Sun City holiday planner.
Schools are almost out and the holidays about to kick off. Are you ready to give your kids a family holiday at Sun City they'll never forget? From road tripping tips and Sun City accommodation to kids' activities and holiday entertainment, we'll help you find your fun and make memories to last a lifetime.

Your best family holiday ever starts now…
1. Everyone Loves a Road Trip
Bundle the kids in the car, get your playlist ready and hit the road. Destination? Sun City. South Africa's favourite family holiday resort is just a two-and-a-half hour drive from Johannesburg and two hours from Pretoria.
If you're travelling from Cape Town, one of our top road trip tips is to include a stopover in Bloemfontein for a good night's sleep at Windmill Casino. Along with immaculate road trip accommodation at Windmill Lodge and vibrant 24-hour gaming facilities, Windmill casino will give you the perfect base from which to launch a Bloemfontein stopover adventure.
2. Choose the Perfect Family Holiday Accommodation at Sun City
With four hotels to choose from in one destination, how will you decide where to stay at Sun City? For a family holiday, nothing beats the freedom and flexibility of the self-catering facilities available at Sun Vacation Club.
If you're not a timeshare member, you can still book your Sun City holiday at one of our hotels and enjoy family-friendly accommodation at the Bush Bungalows, Cabanas, Cascades, Soho or The Palace of the Lost City.
3. Explore a World Within a City
Did you know? There are so many things to do at Sun City that you'll need more than one family holiday to experience them all. Every Sun City holiday needs to include some time spent exploring our man-made lagoon (with ocean waves) and exciting water slides and rides at the Valley of Waves.
If you're in search of adventure, action-packed things to do at Sun City take all forms, from rope adventures at Chimp & Zee and Segway Guided Tours to the world's fastest zip slide.
4. Sun Central
It's inevitable. At some point during a family holiday, you'll hear the dreaded words, "I'm bored." When restlessness strikes, there's only one solution. Take your family to the centre of kids' activities and holiday entertainment at Sun City. Explore two levels of exciting family-friendly fun under one roof at Sun Central, from arcade games and child-friendly restaurants to the latest blockbuster releases at Sun Movies.
5. Take a Walk on the Wild Side
Where else can you go on a family holiday and experience the beach, the bush and the best of kids' entertainment? Only at Sun City! With the Pilanesberg National Park on your doorstep, you can add a Big Five game experience to your Sun City holiday. Choose open-vehicle game drives or guided bush walks and ignite your children's passion for wildlife.
For up-close encounters with Africa's wildest critters, treat the kids to an educational crocodile experience at Kwena Gardens or add some colour to your family holiday.
6. Enjoy Mom-and-Dad-Time
Even parents need a holiday! When it's time to unwind and reconnect, you'll discover that Sun City can be a hopelessly romantic destination. First up, leave your children in the hands of our qualified childminders at Kamp Kwena Crèche where they can enjoy kids' activities and specialised children's holiday programmes while you enjoy some couple time.
For the ultimate in relaxing romantic activities at Sun City, head to the swimming pool at The Royal Baths to soak up some poolside bliss. Follow this up with a couple's massage at Gatsby International Spa and dinner date at the Crystal Court or The Grill Room at The Palace. And, if you want to dance the night away on a Sun City holiday, we have three nightclub destinations to inspire your best after-hours moves.
Need more family holiday inspiration? Follow Sun City on Instagram.
Your family fun starts now. Are you ready?