Travel | 06 Dec 2017 | By Sun International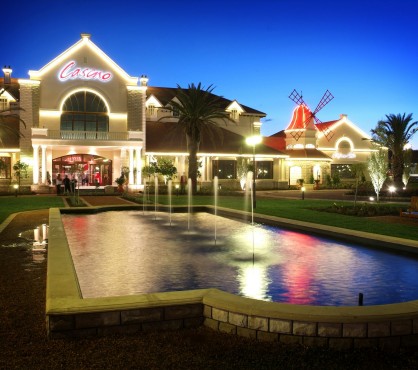 Wondering what to do in Bloemfontein?
Try these top attractions.
If you're planning a road trip and wondering what to do in Bloemfontein, think no further! Bloemfontein is more than just a halfway point on a road trip across South Africa – there's so much to see and do in the City of Roses.
See the best of Bloemfontein
Bloemfontein is famed for its wealth of roses and among the best places to see the roses in full bloom is King's Park. One of the top Bloemfontein attractions, the park was opened by the Prince of Wales, Edward VIII, in 1925 and features more than 4 000 roses. Every October the floral display is celebrated with a rose festival, while a popular craft market is held on the first Saturday of every month.
Bloemfontein Zoo
The 15-hectare Bloemfontein Zoo, located inside King's Park, is home to more than 65 species of mammals and a diversity of bird life. Famous for its large population of primates, Bloemfontein Zoo is one of the top activities to try if you have 48 hours in Bloemfontein. Why not make a day of it and take a picnic basket to enjoy on the grounds?
Book your stay at one of these hotels in Bloemfontein
Windmill is a four-star, family-friendly entertainment destination, as well as one of the top hotels in Bloemfontein. Elegantly decorated, the boutique hotel offers 80 rooms and suites, which means you're certain to find the perfect accommodation for your needs. Are you wondering what to do in Bloemfontein while you're there? Windmill offers a variety of entertainment options, including ten-pin bowling, arcade games at Planet Play, a fully-equipped crèche, Desired Images Spa, plus a 24-hour casino with slot machines and tables.
Bloemfontein is situated close to the border of Lesotho so, if you're planning to take a trip to this scenic mountainous country, make sure you book your stay at one of the most welcoming hotels in Bloemfontein, Naledi Sun Hotel and Casino. Situated in Thaba Nchu – which means 'Black Mountain' – Naledi Sun offers comfortable accommodation, loads of entertainment, the popular Kika Restaurant and a casino with more than 150 slots.
Enjoy a meal out on the town
If you're wondering what to do in Bloemfontein, enjoy a night out and a meal together! Windmill offers a variety of restaurants, from delicious Chinese and Japanese cuisine at Sakura to the wide variety of buffet options at Rosie's Brasserie and traditional pub fare at the action bar, Diamond Lil's. For affordable family food, visit Spur or Ocean Basket inside Windmill.
Enjoy some retail therapy
When you're wondering what to do in Bloemfontein on a rainy day, a little shopping is a great idea. Take a stroll through the Loch Logan Waterfront, grab a bite to eat, enjoy a coffee or take in a movie at the cinema. Modelled on the V&A Waterfront, this sprawling mall has more than 100 stores as well as a gym, restaurants, a medical centre and more.
Take in South African history
Bloemfontein attractions are jam-packed with rich South African history so be sure to visit the Anglo-Boer War Museum. This museum traces the war through a detailed art collection and offers a glimpse into what life was like in the concentration camps during that period.
Another interesting attraction is the Old President Museum, which was used as the main residence for the last three presidents of the former Orange Free State. Showcasing the Victorian lifestyle of the times, the museum reveals more about their terms of office, lives and history.
Still wondering what to do in Bloemfontein? One of the most unique attractions is the Wagon Museum, located at the First Raadsaal Museum. Step back in history and view a collection of the wagons and carriages on display. These include a Cape cart, an ox wagon used by the Voortrekkers, as well as a mule and transport wagon.
Stargazing at Boyden Observatory
The Boyden Observatory adds a new dimension to Bloemfontein's attractions. The roof of the observatory can accommodate 200 people for open-sky shows and the kids will love the variety of telescopes to view planetary pathways. Interesting fact: the observatory was initially established in Peru, South America, in 1889, and moved to its new home in 1927 because of the location's ideal weather and atmospheric stability.

Satisfy your inner adrenaline junkie
How does the thought of jumping out of a plane sound? If you're an adrenaline junkie with a need for speed, visit the Bloemfontein Skydiving Centre at Tempe Airfield where you can do tandem skydives, accelerated freefall courses, progressive freefall training, as well as a static line course. It's one of the oldest skydiving centres in the country, so you know you're in safe hands.