Latest News | 30 Oct 2022 | By Sun International
2022 Black Pearl mania bowls over Boardwalk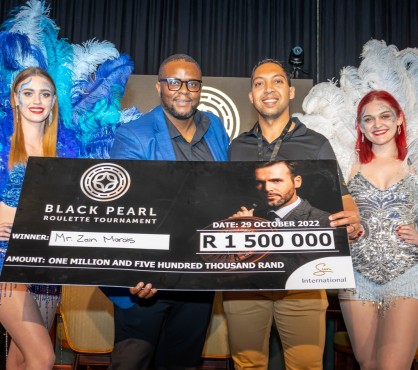 Time Square punter scoops R1.5 million grand prize in Africa's richest roulette extravaganza.
Fired-up Pretoria native Zain Marais crushed the hopes of 59 rivals en route to claiming the title of 2022 Black Pearl tournament champion and the R1.5 million grand prize as high-voltage roulette raised the roof of the Boardwalk International Convention Centre in Gqeberha.
Marais, a long-time patron of Sun International's Time Square property, said he had a hunch early on that he would go all the way.
"It's an amazing feeling! I felt like it would happen, and I am glad it did. Evidently, I know what I'm doing at the roulette wheel. Thanks to Sun International and Boardwalk for a fantastic weekend. Sun always takes good care of us," said the ecstatic father of four, who intends to spoil his family with his winnings.
Spin-to-win thrills
It was a fitting outcome to the glamorous nationwide tournament, with more than 2 500 Sun International's Sun MVG loyalty programme members from all 11 of the company's hotels and resorts and online betting arm SunBet locking horns in qualifying rounds as far back as August. A total of R2.5 million in prize money was on the line.
Host property Boardwalk rolled out the blue carpet as finalists descended on Gqeberha in a marine-themed welcome complete with sailors, marching bands and minstrels, dancing angels and mermaids. This was an Indian Ocean-style tribute to the glitz and glam of the nationwide gaming engrained in Sun International DNA. At one point, even Neptune walked among us mere mortals.
The gods were smiling down on an exclusive group of finalists at the Boardwalk Casino, with their number being reduced over three 13-spin preliminary heats and the semifinals. The festive atmosphere grew in intensity over the course of a day marked by groans, cheers, an occasional green "0", cartwheeling croupiers and a table-dancing masterclass from the eventual winner.
Nelson Mandela Bay's playground
Boardwalk, the doyenne of Eastern Cape entertainment and gaming since 2000, has been undergoing a renaissance over the past few months. Along with the launch of the adjacent R500 million Boardwalk Mall and R3.5 million refurbishment of its casino, it was hosting a Sun International nationwide tournament finale for the first time. When you factor in Boardwalk's world-class conference facilities and the plethora of blue-flag beaches, game reserves, and activities in the vicinity, you can see why the precinct is known as "Nelson Mandela Bay's playground".
"Nationwide tournaments like the Black Pearl allow Sun International to bring all our big players together and offer an exclusive experience for our guests. Besides the prize money on offer, there's so much for the finalists to enjoy, including all Boardwalk's recreation and retail opportunities, luxury accommodation and tourist attractions in the region," explained Boardwalk GM Tati Tsunke.
Red, black, odds or evens, roulette continues to dominate the South African gaming industry. Boardwalk Casino's 10 wheels of destiny are hardly ever idle thanks to the game's simplicity, dynamism and punters' surefire belief in being able to accurately predict the sequence of numbers. Whether it's based on roulette, poker, baccarat or another casino game, Sun International's grand tournaments are sending rivals into a flat spin.
"Black Pearl has been explosive, exciting and exhilarating! For the first time, we have had SunBet online players join us with a bonus spin draw to add to the thrill. These nationwide tournaments allow us to showcase our properties and position Sun International as the leading house of gaming. Our finalists have thoroughly enjoyed themselves in Gqeberha, many using the opportunity as a family getaway," said Sun International Loyalty Programme Manager Liza Adrianzen.
More to come
The gaming action won't stop there. Sun International Gaming Relationship Manager Rob Dalton promises much more to come for Sun International MVGs. "We're definitely going to do many more tournaments. The prize money is a lot higher now; there isn't a buy-in, and you can win a lot of money quickly. Our finalists are celebrities here on stage, which makes these tournaments so special," he said.
Semifinalist Darrel Ramlochan from Richards Bay, a Sibaya regular since the Durban casino opened doors, was enjoying the "amazing Black Pearl welcome" with his family, while veteran competitor Manuel Da Silva from Port Shepstone in KwaZulu-Natal was intent on adding to his trophy cabinet as a former winner of both the Black Pearl and Black Diamond tournaments. "I've been gaming with Sun International for over 40 years, and the hospitality has always been magnificent," said Da Silva.
But in the end, as glittering confetti covered the stage, there could only be one. Ahead at the halfway stage, Marais stuck to his guns and outlasted the table in a show of unflappable determination. What was key to his victory? He's staying mum – for now. "I'm keeping that a secret. Maybe you'll find out when I'm back next year," he laughed.
Sign up as a Sun MVG, and you could share a table with Marais next time round as Sun International ups the gaming ante in 2023!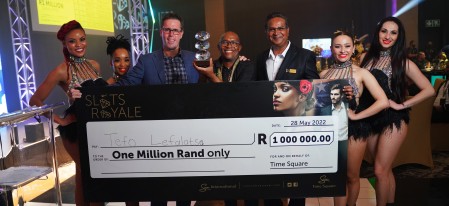 60 Slots players from 11 Sun International casinos descended on Time Square for the thrilling grand finale of our inaugural Slots tournament, Slots Royale
Continue Reading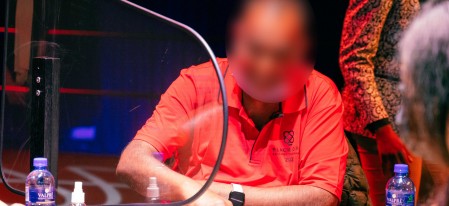 One lucky Sun City punter scored R1.5 million in prize money and the title of Black Opal Baccarat Tournament champion in a thrilling finale at Carnival City.
Continue Reading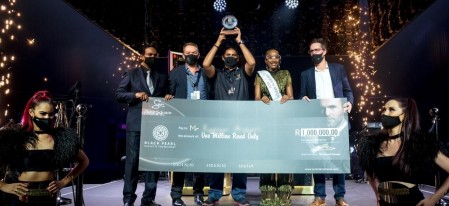 Sun International's biggest roulette tournament is back with a bang, with a 2020 champion crowned and over R2 million in prizemoney awarded
Continue Reading