Travel | 16 Feb 2017 | By Sun International
Things to do in Menlyn Maine, Pretoria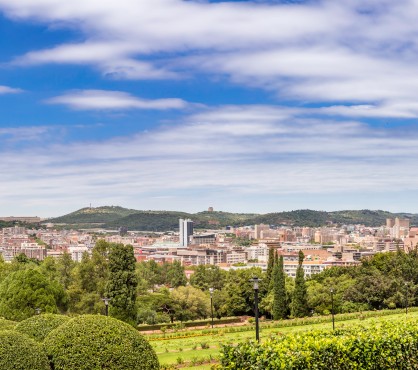 The countdown has begun for the opening of Time Square, the second-largest casino in South Africa and the biggest development in the hospitality, gaming and leisure industry since the construction of GrandWest in Cape Town 17 years ago. Set to open in April 2017, Time Square will form part of the Menlyn Maine precinct, South Africa's first mixed-use, 'green city' and one of Pretoria's most popular points of interest. Time Square will give visitors even more things to do in and around Menlyn Maine, including world-class dining experiences and entertainment activities.
But even with the exciting range of fun activities at Menlyn Maine, the property in Pretoria East is an attraction in its own right. This is where inspirational architecture, green thinking and community spirit invite you to experience full, balanced and responsible living.
Despite its name, the concept of New Urbanism is not new by any means. Defined as 'an urban design movement which promotes environmentally friendly habits by creating walkable neighbourhoods containing a wide range of housing and job types', New Urbanism is said to have originated in the USA in the early 1980s. But with its discernible central public area as a key point of interest, one could even liken New Urbanism to the Italian piazza, a design feature which has been around for centuries. What makes this urban design concept unique, is that it builds a sense of community and develops ecological mindfulness — two practices sorely lacking in the modern age. Everything you need is right on your doorstep. With shops, offices, a gym, restaurants, a hotel, medical facilities and a day spa all within walking distance, you'll be forgiven for never wanting to leave.
Here's what you can experience when you explore things to do in and around Menlyn Maine:
1. 'Green' peace of mind
Menlyn Maine in Pretoria East is one of 16 'green cities' being built in various parts of the world, and the only one in Africa. A 'green city' is all about environmental impact consciousness, especially when it comes to using resources such as water and energy sparingly. The human-scale design is focused on principles like walkability, accessibility, close proximity of buildings, and diversity of people and places. Among the many attractions at Menlyn Maine, visiting this unique destination is an exercise in green thinking. Here, you can set your mind at ease knowing that your impact on the environment has been efficiently minimised.
One of the biggest attractions at Menlyn Maine, the newly launched Central Square ups the stakes for sustainable design in South Africa. During the planning phase, all consultants, including lighting and mechanical engineers, strived to include as many green elements and technologies as possible from the outset. Rainwater from the roof is fed to two large tanks in the basement. This is pumped back up to the centre, where it's reused for irrigation. Roof materials were also carefully selected to reflect more light and heat instead of a darker coloured material, thereby reducing the amount of heat transmitted into the building.
2. Piazza-style living
If you're looking for things to do in Menlyn Maine, you can't go wrong with a visit to Central Square. Most great cities in the world have centrally located piazzas where people can mingle, meet, trade from markets and enjoy exhibitions, festivals and other entertainment. Central Square is the heart of the Menlyn Maine precinct and includes restaurants, a hotel, gym and retail centre. Central Square's design articulates the Menlyn Maine vision to create a walkable and livable urban environment, and is a vibrant new city centre for the precinct.
3. Art at the heart
Looking for things to do for free at Menlyn Maine? Take a tour of the unique artworks on display. Art plays an important role in Central Square's urban design. Until September 2017, you have an opportunity to view Anton Smit's solo exhibition of sculptures, Spirit of Tshwane, which comprises 33 breathtaking pieces in and around Menlyn Maine. Smit conceptualised this body of work to make art apart of one's daily experience. His art invites you to learn, touch, sense and experience creativity.

4. Gastronomy in harmony
To complement the diversity of things to do in and around Menlyn Maine, Time Square has partnered with top chefs and sommeliers to offer experiential dining at its best.
For the first time in South Africa, you'll have the opportunity to taste Food Network TV star Guy Fieri's highly acclaimed cuisine when his restaurant opens at Time Square. You'll also find Something's Cooking by J Something, a new concept kitchen headlined by Mi Casa vocalist Joao da Fonseca (popularly known as 'J Something').
5. A walk in the park
Other free things to do in Pretoria East, Menlyn Maine include the green belt that runs throughout the precinct centre, parks in which to enjoy picnics and cycle lanes to explore. Bicycles can be chained to custom-designed benches which are 'disguised' as works of art.

6. Stay and play
Travellers to Pretoria East are set to experience a new concept in hospitality. A hybrid hotel located adjacent to Time Square casino and scheduled to open in 2018, will offer three-, four- and five-star accommodation all under one roof. Overlooking one of the green parks in the city, the new hotel will be conveniently situated within easy reach of the attractions at Menlyn Maine and Time Square's Urban Entertainment Centre, which will include a casino, an 8 500-seater indoor arena, a club, restaurants and other entertainment attractions.  
7. Get your game on
Whether you're a first-time gamer or a pro at poker, Time Square has been created to offer you unforgettable entertainment in Pretoria East. With 2 000 slots, over 60 tables and stretching over two floors, Time Square is set to be one of Africa's most exciting casinos. Expect new and thrilling slot games with themes like Game of Thrones, Buffalo Stampede and Pixie Wishes — never seen before in South Africa and exclusive to Sun International.
8. Shopping
Among the many points of interest at Menlyn Maine, the mall is a highlight for shoppers. Originally conceptualised as a street, the Central Square shopping mall has an inherent character and uniqueness that's both modern and historical, reminiscent of a high street atmosphere. From convenient grocery shopping to fashion stores, Central Square is a delight for retail therapy.
9. Entertainment
In addition to being the new central business district in Tshwane, Menlyn Maine will also be the entertainment hub in the city. The 8 500-seater Time Square arena (set to open in September 2017) will play host to the biggest events and entertainment acts to come to Pretoria East. Plus, expect to enjoy plenty of outdoor festivals and entertainment in Menlyn Maine's outdoor parks.
10. Explore
IIf this is your first visit to Pretoria East, there are plenty of things to do around Menlyn Maine. Explore South Africa's unique history and visit the Union Buildings, the Voortrekker Monument, Freedom Park, or President Paul Kruger's house. Take a walk on the wild side and explore Groenkloof Nature Reserve, Irene Dairy Farm, Austin Roberts Bird Sanctuary, Moreleta Kloof Nature Reserve or Rietvlei Nature Reserve.