Travel | 22 Mar 2018 | By Sun International
The Maslow Time Square Opens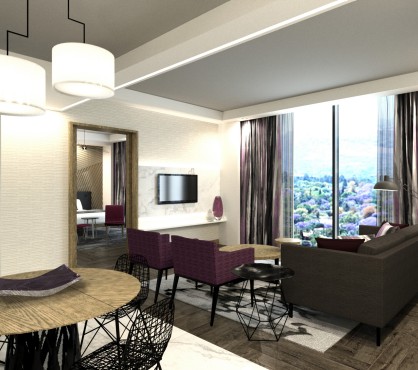 After much excitement and anticipation, The Maslow Time Square hotel in Pretoria is ready to open.
The opening of The Maslow Time Square hotel is the super-exciting finale that will not only mark the end of the R4.6-billion development project that began in 2016, but will also herald the beginning of the property's bright journey into the future!
The casino was the fi rst phase of the property to open in April 2017, followed by the state-ofthe-art Sun Arena in November 2017. Bookings are already open and the hotel will welcome its first guests from 28 March. The official public opening of this, the third and fi nal phase of the Time Square complex, will take place in April. Brett Hoppé, General Manager of the Time Square complex, says the launch of the hotel represents a journey of developing and executing a three-phase opening that has stretched over the last 12 months.
He says: 'Seeing a year-long journey come to fruition is incredibly rewarding. The opening of every phase of the project was something special, from the fireworks and light show at the launch of the casino, to the arena opening its doors, to our Unison Celebration show, which brought together South Africa's favourite musicians for a free concert in November 2017. It's been a special journey with lots of hard work and extreme pressure, but we now have a huge sense of accomplishment!'
The time has come
A trailblazing first for Sun International and South Africa, The Maslow Time Square hotel features a variety of accommodation options for customers, from three-star value to five-star luxury, all housed under one roof.
'The hotel is a hybrid model that offers guests 238 rooms and 12 suites,' Hoppé explains. 'The three-star floors will be referred to as the Foundation Level, which is made up of 96 rooms in total. The four-star, or Median Level, will have 94 rooms available, and the fi ve-star, or Zenith Level, will house 48 luxurious rooms. There will also be a presidential suite at the hotel.'
Located in the heart of the technologically advanced Menlyn Maine Precinct, The Maslow Time Square hotel will offer customers unrivalled access to entertainment, top retail outlets and the fi nest culinary experiences on offer in Pretoria. It has also been cleverly designed to cater to all our customers' daily business needs, with relaxing business lounges and 13 conference rooms. Guests will also have easy access to the Sun Arena, a state-of-the-art 8 500-seater, multipurpose venue that's super-equipped to host events and concerts of all kinds, featuring four private hospitality suites and two meeting rooms. Another huge draw card is the Time Square Casino, which is the second largest casino in South Africa, with 2 000 slot machines and 60 games tables for guests to enjoy.
A benefit for the community, too
Hoppé says the R4.6-billion Time Square development has far-reaching benefi ts for Sun International as well as the surrounding community of Tshwane. 'Having the ability to host our customers in our own hotel will positively influence our gaming customers' experience at Time Square,' Hoppé adds.
He says being involved in the roll-out of this, the third phase in the Time Square development, has taught him the importance of having a strong team around you and to never quit. He says: 'Perseverance is crucial when you are under pressure – it enables you to accomplish things that you never thought were possible!'
The Maslow Time Square in numbers
238 rooms
12 suites
13 conference rooms
3-, 4- and 5-star accommodation on three levels
96 rooms in the 3-star Foundation Level
94 rooms in the 4-star Median Level
48 rooms in the 5-star Zenith Level
1 Presidential Suite