Lifestyle | 04 Apr 2017 | By Sun International
The Making of Rémy Martin Louis XIII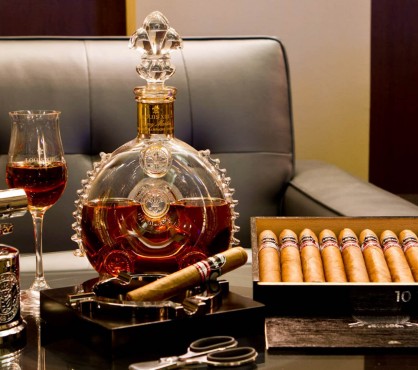 It's the most luxurious spirit in the world and it's yours to savour when you order a glass of Rémy Martin Louis XIII Cognac for sale at Time Square in Pretoria.
But before you take your first sip of Louis XIII 100-year-old Cognac, consider this: Rémy Martin Louis XIII is all about the journey. By the 1880s, the famed Cognac was in all the royal courts of Europe. Louis XIII was even in South Africa in 1881, five years before Johannesburg was founded. Throughout history, it has been presented at pivotal moments in time. The first shipment of Louis XIII Cognac to America was to celebrate 100 years of independence. Charles de Gaulle, at the end of the World War II, celebrated with Louis XIII. The Cognac was on board the virgin voyage of the Normandie in the 1930s and on the first flight of the Concord.
The fascination around it is as timeless as the Cognac itself. Mankind has managed to fly to the moon and Rémy Martin Louis XIII Cognac has managed to master time. Here's the remarkable story behind the 'King of Cognac'.
The Birth of an Icon: a 'Century in a Bottle'
In 1874, a few years before the World Exhibition (the Exposition Universelle, in which another icon — the Eiffel Tower — was born), Paul-Emile Rémy Martin, envisioned the creation of the most extraordinary spirit in the world. His family had been crafting Cognac since 1724, but the Rémy Martin Louis XIII Cognac would be, according to his vision, different. Named for King Louis XIII, the protector of the Cognac Region, this Cognac would come to symbolise the mastery of time. 
Time is Luxury
Time is (literally) of the essence when it comes to the 100-year-old Cognac. It takes four generations of cellar masters a full century to craft every decanter of Rémy Martin Louis XIII. In today's world of instant gratification, the speed of delivery is prioritised over the search for quality. For Rémy Martin Louis XIII Cognac, it's the other way around. Time is one of the most significant factors in the quest for excellence.
"Time is the most expensive commodity in the world and yet it's equal among all mankind," says Jörg Pfützner, private client director for Rémy Martin Louis XIII. "Your minute is the same amount of time as my minute. But it's what you do with the time that makes all the difference."
Luxury is in the Detail: The Water of Life
The makers of the 100-year-old Cognac famously don't measure time in years, but in decades. This is because the eaux de vie (literally meaning 'water of life' and practically meaning the various blends that make up Louis XIII) take decades to mature, if not centuries.
Rémy Martin Louis XIII Cognac is crafted from a blend of over 1 200 eaux de vie, of which the youngest is at least 40 years old. Only the finest growers with the best vineyards in the heartland of Cognac (the Grande Champagne region) are used. And of the hundreds and thousands of samples tasted, only 1% is considered worthy of Louis XIII Cognac.
Once the grapes are harvested and wine is made, the wine is then distilled into the eaux de vie and goes into new oak barrels (crafted from Limousin oak) for a short period of time. It's then moved into older oak barrels for a second fill, where it lives for 40 years. After this time, the cellar master will decide if the eaux de vie still needs time to mature or if it's ready for the third filling into 150-year-old casks. These barrels are much bigger and thinner, allowing for more evaporation to take place. Here, Rémy Martin Louis XIII Cognac is left to mature for up to 100 years.
The Remarkable Dilemma of 100-year-old Cognac
The cellar master who harvests the grapes today, that will become wine and ultimately eaux de vie, will nurture it throughout his career and his life. But he'll die before this eaux de vie is ready to be consumed. He won't ever be able to enjoy the fruit of his labour. He will inherit eaux de vie from previous cellar masters and he will leave a legacy, but he will never taste the end result of what he created.
To capture this remarkable narrative, the makers of Rémy Martin Louis XIII teamed up with well-known US actor John Malkovich to shoot a film that would ultimately illustrate Malkovich's vision of what the world will look like in 100 years' time.
"We filmed the movie and invited all of Hollywood to the premiere," says Pfützner. "But we didn't show them the movie." Instead, moviegoers watched as the film reel was placed into a time-locked safe. "There is no key, no card, no pin code. The only thing that will open this safe is time. Nobody will see this film until 18 November in the year 2115."
The idea behind this maverick act was to create a 'countercultural positive frustration' that goes against the grain of today's instant gratification and to stimulate the 'muscles' of imagination. You can watch the trailer, but you will never see the full movie in your lifetime. And when you drink a glass of Rémy Martin Louis XIII at Time Square in Pretoria, you are savouring the work of a cellar master who, 100 years ago, began the process that led to this very moment in time.
Louis XIII Cognac at Time Square in Pretoria
The partnership between Rémy Martin Louis XIII — which many people call the 'fragrance of time' — and Sun International's Time Square in Pretoria is more than a name association.
"When you speak of Louis XIII, you speak of three things," says Pfützner. "The past, the present and the future. Today, we drink something in the present that was created for us in the past, and we create something that will be enjoyed in the future. Time Square plays exactly into that. When I saw the designs for Time Square I thought, it's modern, but at the same time timeless. It's classic."
Louis XIII Cognac is for sale at all Sun International's premier destinations in South Africa. Order it at The Palace of the Lost City, The Maslow in Sandton, The Table Bay in Cape Town and at the Globe Bar at Time Square in Pretoria.
How to Savour Time: How to Enjoy Louis XIII Cognac
No other luxury product in the world takes 100 years to craft. Louis XIII is not your average knock-it-back beverage, but something to be savoured drop by drop. When you drink the 100-year-old Cognac, you are drinking history.
According to Pfützner, here's how to savour every sip of Rémy Martin Louis XIII Cognac:
Drink it neat.
Don't warm it up — drink it between 16 and 18 degrees Celsius to truly capture the complexity, intensity and delicacy of the aromas and flavours.
Look at it
Note the beauty of its transparent mahogany colour. Give it a swirl and inhale the scent. Every drop of Louis XIII Cognac has over 250 different aromas and flavours. Pfützner says you should pick up floral scents, such as dried roses, honeysuckle and star jasmine. This note is followed by another, of preserved fruit like plums and oranges, or nuts and spices.
When you take a sip of the Cognac, it lasts for over an hour on your palate. So, acquaint yourself with Louis XIII slowly and take a tiny sip. You'll already feel how it comes like a wave, rising in strength. When you take your next sip, you'll pick up undertones of mushrooms, walnuts and even chocolate. It's rich.
"That something so old can be so intense and so flavourful is amazing," Pfützner points out. "It has vivacity, vibrancy and youth on one side; wisdom, complexity and depth on the other. It's light and transparent like a fragrance, yet powerful. This is the paradox of Louis XIII Cognac."
Sipping a glass of Rémy Martin Louis XIII Cognac is like slowing down time. You savour every moment, sharing it with a good friend or someone you love and this, according to Pfützner, increases the value of time.
Make every moment count and order a glass of Rémy Martin Louis XIII Cognac for sale at Time Square in Pretoria.