Lifestyle | 12 Oct 2017 | By Sun International
Getting crafty with craft beer at the V&A Waterfront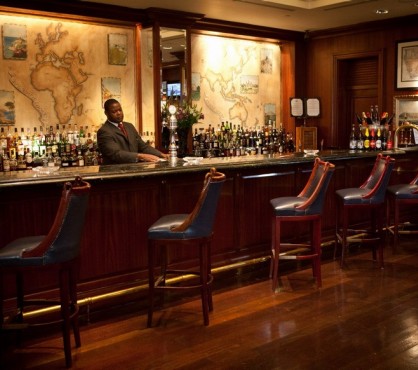 Craft beer has become a massive trend in South Africa in the last few years, with microbreweries mushrooming everywhere from Sabie to Loxton and Clarens to Darling. The total annual production of craft beer is currently estimated at 20 million litres, and there are around 156 microbreweries in operation.

The Western Cape leads the pack, however, with about half of the country's craft brewers situated there. The province also boasts some of the most popular and largest craft beer breweries in South Africa – the Cape Brewing Company, Darling Brewery and the Jack Black's Brewing Co.

Last year The Table Bay hotel made history by becoming one of the first South African hotels to brew its own artisanal beer. Produced in collaboration with Darling Brewery, you can now enjoy The Table Bay craft beer at the V&A Waterfront and nowhere else!

The creation is an aromatic Krystal Weiss that has been brewed with Western Cape culture and climate in mind. A Kristal Weiss is a crisp, light-yellow, German-style weissbier that's traditionally made with wheat-malt added to the barley and then filtered to remove the cloudiness caused by wheat and yeast. The Table Bay's food and beverage manager, Marc Weber describes it as having an aromatic twist of lemon and grapefruit flavours, with a dry finish. Some 260 litres have been brewed and kegged and are waiting to be enjoyed.

Authentic and original
Creating their own artisanal beer is in line with The Table Bay's focus on delivering an authentic South African experience to their guests. This is achieved by incorporating local produce and products, from the flavours of indigenous foraged plants in their food to the artisanal beverages – beer, wine and MCC – made specifically for The Table Bay by local producers from the Western Cape.
"Our beverage partners share our passion for using locally sourced ingredients," Weber says, "and we've worked closely with each of them to create truly authentic beverages that reflect The Table Bay's personality but remain true to our South African roots.
"When guests travel overseas, they wish to experience the different cultures, cuisines and beverages unique to their destination. Similarly, tourists to the Cape – whether local or international – want to explore the diversity and depth of experiences that are unique to our region. Our signature drinks are part of this."
So, if you're a visitor to Cape Town or are entertaining visitors to the Mother City, bring them to sample the best craft beer at the V&A Waterfront, served exclusively by The Table Bay hotel.  
7 Fun facts about craft beer
Craft beer originated in the US in the early 1980s with home brewers and microbreweries spearheading a beer revival.
The official definition of craft beer by the US Brewer's Association is: "beer that is produced on a small-scale, independently and traditionally".
Artisanal beer is brewed using traditional methods and natural ingredients, without preservatives and additives. Just pure water, hops, barley and yeast. It's big on flavour and low on carbonation.
A former SAB brewer, Lex Mitchell, is credited with launching the craft beer revolution in SA, in the 1980s, with Mitchells in Knysna – SA's first microbrewery.
Craft beer places where you can sample the huge variety now available in the Western Cape include festivals, taprooms and breweries. Most restaurants include artisanal beers on their menus.
Hops is said to have a range of health benefits from easing inflammation to indigestion.
It's claimed that craft beer seldom causes hangovers due to the purity of the ingredients.
Cheers!