Lifestyle | 19 Dec 2014 | By Sun International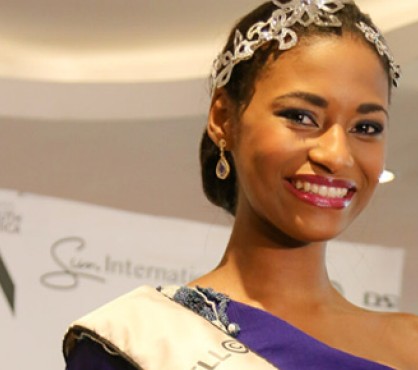 Here's why Ziphozakhe Zokufa is our new Miss South Africa 2014
Being first princess means that, at any moment, you must be poised to assume the duties that come with the title of Miss South Africa. So it was that first princess Ziphozakhe Zokufa accepted the crown of Miss South Africa 2014, after reigning Miss SA Rolene Strauss blew the judges away at the Miss World 2014 grand finale held in London and won (much to the delight of South Africans everywhere).
Psst: Here are 10 Things You Might Not Know About Ziphozakhe Zokufa.
There's been a bit of confusion over Zipho's recent crowning as the new official Miss South Africa in a ceremony held at The Maslow Hotel in Sandton recently. It's not overly complicated…
Understanding the rules for Miss South Africa, Miss World and Miss Universe
Former Miss South Africa 2014, Rolene Strauss, is now Miss World 2014. Former First Princess of Miss South Africa 2014, Ziphozakhe Zokufa, is now Miss South Africa 2014.
The Miss South Africa pageant rules state that the "rules of the Miss Universe and Miss World pageants are applicable to all Miss SA entrants". Meaning, if you win Miss World, and the rules for the Miss World pageant require you to set aside your national title to assume your duties as a global ambassador, then that's what you'll do.
It also makes sense that Rolene can't hold the titles of Miss World and Miss Universe at the same time – how would she ever find the time to fulfill all the duties of both – so Zipho will be taking Rolene's place at the Miss Universe pageant in early 2015 in Miami, USA.
Wouldn't it be amazing if we had a Miss World and a Miss Universe, both from South Africa, in the same year?
Miss South Africa 2014 Ziphozakhe Zokufa will compete in Miss Universe
Zipho will hold the title of Miss South Africa 2014 until the pageant finale, happening at Sun City on 29 March, where a new queen for 2015 will be crowned.
In the meantime, she's set her sights on Miss Universe. 23 year old Zipho, who was modeling in Hong Kong when she got the call that she needed to come home to South Africa to take over her duties, will be in a whirlwind of preparation for the competition. She is one of 88 Miss Universe contestants.
She touches down in Miami in early January, where she'll take place in a number of pre-pageant activities, the preliminary competition, the national costume competition, and the grand finale happening on 25 January 2015.
To tag along on Zipho's once-in-a-lifetime adventure as she assumes her duties as Miss South Africa 2014, and also prepares for the Miss Universe pageant, here are the social channels to follow:
Facebook facebook.com/MsSouthAfrica
Twitter @Official_MissSA and @ZiphozakheZ
Instagram Official_MissSA and Zina_Zokufa
YouTube TheMissSAPageant
Do you have any tips or advice for Ziphozakhe Zokufa, our new Miss South Africa 2014, before she jets off to Miami in January to represent her country in the Miss Universe Pageant?
Share with her here!