18 Dec 2014 | By Sun International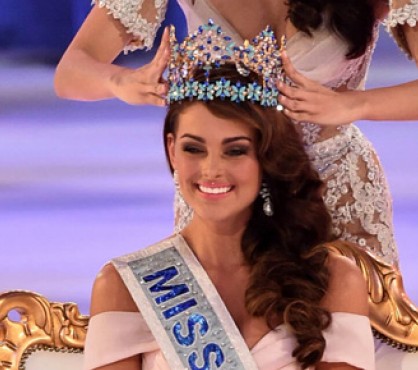 Miss South Africa Rolene Strauss is Crowned Miss World 2014
"I believe that the story of my birth is more meaningful than my cover. Being proudly South African, I have first-hand experience that unity, respect and forgiveness exists and these are also the aspirations of the Miss World organisation. It would be amazing to represent an organisation that is a beacon of hope all over the world."
These were the words of Miss South Africa 2014 Rolene Strauss when she was asked why she should win the title of Miss World - the final question put to the 5 finalists in a 3 hour awards show broadcast from London (if you missed out, you can still watch it on YouTube).
Rolene – your wish was granted!
Rolene's gracious stage presence was a throwback to the Hollywood starlets of yesteryear. Taking to social media, viewers likened Rolene to Jackie O, Audrey Hepburn and Princess Grace of Monaco – although no comparison does the unique beauty of Rolene Strauss justice.
Describing South Africa as "beautiful","cultural" and "diverse" Rolene was perhaps also describing herself. She was a vision of grace in her soft pink off-the-shoulder gown by local designer Casper Bosman, as the jewelled crown was passed on by Miss World 2013 Megan Young.
Second place went to Edina Kulcsár from Hungary, and Elizabeth Safrit from the United States, came third.
Here is the scoop on all three of Rolene's outfits that she wore for the grande finale of Miss World.
Rolene is South Africa's pride
Since being crowned Miss South Africa 2014 at the glamorous pageant held at Sun City in March 2014, 22-year-old Rolene Strauss has gone on to be an exceptionally noteworthy pageant winner.
She's a 4th year medical student at the University of the Free State, and the daughter of a doctor and a nurse.
Her 'Beauty with a Purpose ' project, which required of all Miss World contestants, is called Always Keeping Girls in School – which focuses on young girls who don't attend school because of the stigmatisation of menstration, when they cannot afford sanitary wear. You can read more about Rolene's project here.
What's next for Rolene?
A week after winning the Miss World 2014 crown, Rolene will be back in South Africa.
"Going forward she is now handed over to the Miss World organisation and she will be representing South Africa on an international platform," says Miss SA spokesperson Claudia Henkel.
Did you know? Rolene Strauss is the first Miss World from South Africa in 40 years and only the third South African to win. Before her, Anneline Kriel won in 1974 and Penelope Coelen won in 1958. You can find out more about famous Miss Worlds in the pageant's history here.
Tell us: what do you think of Rolene Strauss winning the coveted Miss World title? Are you proud that our very own Miss South Africa is now a global ambassador?