Latest News | 02 Oct 2021 | By Sun International
All hail the irresistible Black Opal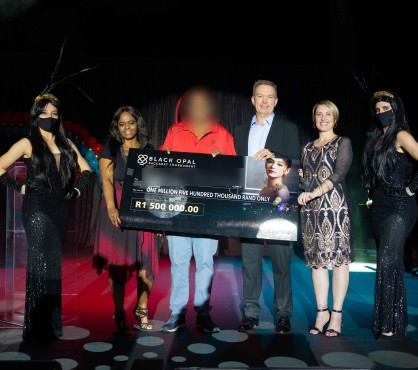 The winner of the 2021 Black Opal Baccarat Tournament is crowned at Carnival City in Johannesburg | Photo by Jordan Milton
One lucky Sun City customer won R1.5 million in prize money and the title of 2021 Black Opal Baccarat Tournament champion in a thrilling finale at Carnival City.
For centuries, the opal has been considered the luckiest of gemstones.
This was certainly the case for one lucky Sun City customer, who won the R1.5 million grand cash prize and the bragging rights that come with winning the prestigious Black Opal Baccarat Tournament. It was a momentous occasion for the Sun City patron as he claimed the inaugural title.
The grand finale from 1 to 3 October at Carnival City was a fitting conclusion to a gargantuan competition. Beginning in May, MVGs from six Sun International properties – Carnival City, GrandWest, Sun City, Time Square, Sibaya, and Boardwalk – racked up the Table Points in a bid to be one of 52 finalists at the iconic East Rand destination and get a shot at the R2.5 million in total prize money.
The weekend may have been dogged by inclement weather, but nothing could rain on this parade of premium gaming. Carnival City, renowned for its fun-loving character, pulled out all the stops to welcome the finalists.
And with Baccarat being especially popular in Asia, the weekend had a distinct Oriental influence under the Imperial Chinese theme, from the exclusive baijiu liquor at the welcome cocktail function to the lion dancers and kung-fu demonstration at the Big Top Arena finale. In addition, MVGs were thoroughly spoiled with personalised bottles of wine and other gifts.
A Carnival atmosphere
"Baccarat is easy to master because there are just three bets: Player, Banker, and Tie. It's also the only table game that allows players to handle the cards, making it a popular game," said Carnival City Tables Manager Emma Mothibi.
"We saw an increasing demand for Baccarat tables at Carnival City as players chased points.
"The Black Opal tournament has been great for gaming at the casino, as well as showcasing what we have on offer to the whole family out here in the East Rand."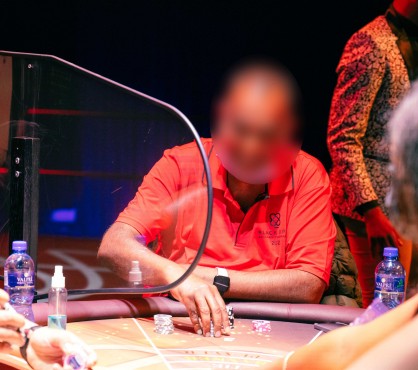 2020 Black Opal winner playing during the finale | Photo by Jordan Milton
The tournament attracted a great deal of interest, with two heat finalists, who did not wish to be named, earning two spots in the finale through their efforts at Sun City and Time Square.
One of these players said: "It's been a strenuous journey having Sun City and Time Square as my home casinos, but I managed to get two chances. It helps to have a solid understanding of the rules of Baccarat. I loved being here for the finals and the warm welcome from Carnival City," he smiled.
Ultimately, things didn't go his way, but the Pretoria punter promised to be back for the next edition of Black Opal and other Sun International gaming tournaments.
One of the semi-finalists, whose trophy cupboard houses the 2020 Black Pearl Roulette Tournament gong and gaming tournament silverware from as far afield as Vietnam and Ukraine, says winning can't be put down to good fortune alone.
"I do well consistently because I'm a master of strategy. All casino games, be it Roulette, Baccarat, or Blackjack, require skill and strategy when you're going up against more than one other player," he said.
He praised the GrandWest VIP team for making his gaming experience as pleasurable as possible. "I don't have to worry about a thing when I'm at a tournament. The team make sure that all the details are sorted out and I can concentrate on playing. I love it!" he explained.
With odds of 8-1, the tie bet proved to be an effective "tie-breaker" for a few of the players on a day of intense competition. A number of punters also opted for the classic high-risk, all-in strategy, while one of the customers from Chatsworth, Durban, relied on his firm belief in victory to make it to the final four after almost missing out entirely because of another commitment.
More to come
If you've missed out on this one, the good news is that glamorous nationwide gaming tournaments are here to stay, according to Sun International Hospitality COO Graham Wood.
"We're all about bringing the excitement and feel-good vibes back to the gaming floor and rewarding our MVGs for their loyalty.
"We understand that many players visit a number of casinos, so tournaments like Black Opal give us a competitive edge, with big prize money on offer and the ability to participate at several Sun International properties," he explained.