Golf | 01 Oct 2020 | By Sun International
The home of African golf gets back into the swing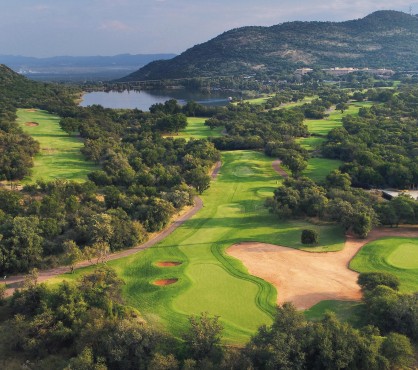 Aerial view of the Gary Player Country Club Golf Course at Sun City Resort | Photo by Sun International
Five months after suspending operations due to the lockdown, the Gary Player Country Club Golf Course is once again open to golfers wishing to emulate their Nedbank Golf Challenge heroes enshrined on the walls of the clubhouse. 
Speaking at 1st Round – an exclusive season-opening tournament held in September for Sun MVG cardholders, celebrities and media – Sun City GM Brett Hoppé said he was excited to see the course return to normal. 
"Golf at Sun City has been hugely important in establishing the resort as an international destination, historically and looking forward. The Nedbank Golf Challenge has established the Gary Player Golf Course as an aspirational target for professional and amateur golfers, creating inspiration for generations to come. It is an iconic course with an outstanding layout – I cycle around the course every morning, and see something different in it every time."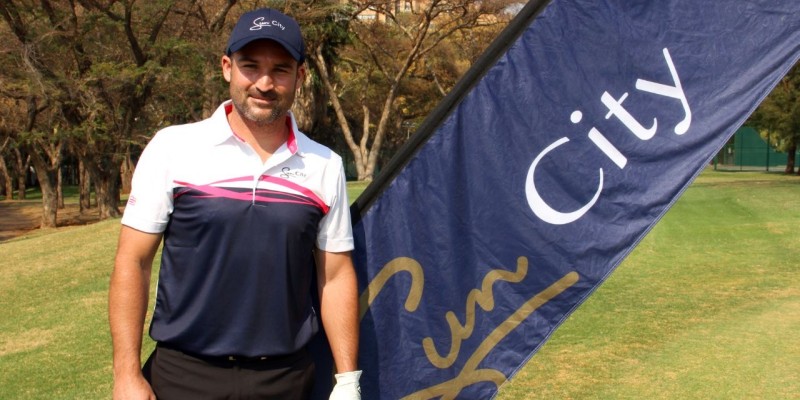 Dean Elgar attends 1st Round Golf tournament at the Gary Player Golf Course at Sun City | Picture by Zunaid Samodien 
Health and safety at Gary Player Golf Course
While South Africa is now on Level 1 of lockdown, normal service hasn't entirely resumed. Stringent Covid-19 measures are in effect at the course, as in other areas of the resort, for the protection of guests and staff, with golfers and caddies wearing face masks or shields and observing social distancing. The usual prize-giving events have given way to remote announcements, while tee-time intervals between fourballs are limited to a minimum of 10 minutes. In addition, caddies won't be handling scorecards, pencils and other small items. These and other regulations exceed those required to earn World Travel and Tourism Council's safe stamp of approval.
Happy to be back at the Gary Player Golf Course, golfers attending the tournament lauded the course for its layout, legacy, social setting and facilities. 
"This game absorbs you. I'd never wake up at 6.30am for work, but for golf at Gary Player, no time is too early. All South Africans should be proud of this course. With its wildlife and scenery, it epitomises Africa. It's a championship course where idols have walked," said Lenny Moodley.
Zakes Sikwane said the course was challenging and that he was partial to the par 3 hole 7, which sloped downhill. "I'm excited to be back. The hospitality here is always top-notch, especially from VIP manager Joe Malebye. Apart from the golf, I like to use the time to make connections and socialise," he explained.
Former Proteas' batsman Henry Davids had a difficult time out on the course, but said being back at Sun City Resort made up for it. "I had a game of two halves and lost my way a bit on the back nine. It was painful! The course is in excellent shape and then there is the wildlife and legacy. I also appreciate that there are activities for my family to enjoy while I'm out on the course," he smiled. 
Improved course and facilities
It's been a long road to the resumption of action, but while the crisp sounds of golfers teeing off have been lacking, maintenance operations have not ceased. Various improvements have been made in this window of opportunity to make the best golf course in South Africa an even more mouthwatering proposition for novice golfers and experienced club-swingers alike.
"We cleared some of the invasive species and improved playing areas. We normally wouldn't have been able to do this because we don't want to inconvenience guests," explained Sun City Golf Director Ken Payet. 
"It has been rather eerie under lockdown. It's a real championship course designed by a true legend that has stood the test of time. The fundamentals of the original design are still in place, with only slight alterations to increase distance. The Nedbank Golf Challenge has created so many memories and historical touchpoints. People want to be part of that and recreate iconic moments like Ian Woosnam's famous eagle on the 17th."
The golfers weren't the only ones sharing in the excitement of having the sport return to Sun City. "Magic" Mike Thwala and his fellow caddies were chomping at the bit to use their expertise to aid golfers, having been supported by the Caddy Foundation while on the sidelines. 
Back at the clubhouse, proprietor of the Gary Player Health Spa, Heidi Gavagnin, said that while lockdown regulations still curtailed the use of sauna and steam rooms, she was glad that the spa, salon, and gym facilities were busy again as guests took advantage of discounted rates. 
At the Pro Shop, long-serving Victor Mabuli explained that the team had been preparing since the beginning of September to offer the very best in golfing equipment, apparel and advice.
These value-added options are just part of the comprehensive suite of golf offerings available at Sun City Resort. With the Lost City and Gary Player courses suited to different levels of ability, extensive training facilities and tournaments in the pipeline, Sun International golf is set to take centre stage over the summer months. The sport that helped shape Sun City is back where it needs to be.