Gaming | 21 Feb 2018 | By Sun International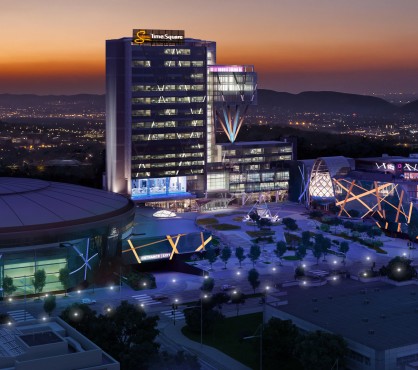 It's not only the largest casino project ever undertaken by Sun International in South Africa, but with its impressive entertainment and food offerings, cutting-edge technology and awe-inspiring design aesthetic, the unveiling of Time Square is gearing up to be a uniquely thrilling event in the entertainment and hospitality space. Watch the clock…
Tick tock… Time is sure to stand still for visitors to Time Square. Once through its doors, you will move into an exciting alternative reality where time and its possibilities will seduce you with every hour and minute. Set to be the crown jewel of Sun International's entertainment offerings, Time Square promises to dazzle guests with world-class dining and entertainment experiences in the heart of South Africa's capital city. This modern architectural marvel promises to delight and ignite your imagination from the moment you step through its doors...
Besides the fact that this is likely to be Sun International's last major build in South Africa, and – with its spectacular offerings – to stand head and shoulders above its competitors, the launch of Time Square is sure to be one of the most important events on South Africa's hospitality calendar.
HERE ARE JUST 12 OF THE COMPELLING REASONS WHY:
Fantastical design and attention to detail, plus cutting-edge technology and connectivity. Time Square will boast the latest gaming products and entertainment, plus state-of-the-art food and beverage facilities. It will also be presenting world-class shows in its 8 000-seater arena.


The jaw-dropping casino, stretching over two floors, will eventually accommodate 3°000 slot machines and 100 tables but will open with 2 000 slot machines and 60 gaming tables. Whether you're a first-time gamer or a pro at poker, Time Square has been created to offer you unforgettable entertainment in Pretoria. Expect new and exciting slot games with themes like Game of Thrones, Buffalo Stampede and Pixie Wishes. These games, exclusive to Sun International, have never been seen in South Africa before.


To complement the diverse culinary offerings at Time Square, SunInternational has partnered with top chefs and sommeliers to bring you experiential dining at its best. For the first time in South Africa, you can taste Food Network TV star Guy Fieri's highly acclaimed cuisine at Guy Fieri's Pretoria Kitchen & Bar. You'll also find Something's Cooking in Time Square – a new concept kitchen with interactive dining you won't experience anywhere else!


There will be 14 food and beverage outlets at Time Square, with a central feature and focal bar at the casino. The restaurants will offer both fine dining and a more relaxed bistro-style experience.


The arena will cater for 9 000 standing and 8 000 seated guests, with the facilities and infrastructure to host the cream of international shows. It will also have several multifunctional hospitality suites that can host private events and be used as VIP boxes.


The 17-storey hotel with with 238 rooms and suiteswill cater to a variety of guests – from those wanting an upmarket bedroom to a head of state who requires a large suite with adjacent rooms for staff.


The suspended cube will offer transit style lounges for early arrivals and late checkouts plus business facilities.


The rooftop sunset bar will offer international cocktails and imported beers with spectacular 360-degree views of Pretoria. Why not sample a Louis XIII Cognac, famously aged for up to 100 years? There's nothing like this celebrated clear amber liquid to remind one of the value of time.


There will also be a conference centre in the hotel that can host up to 600-seater functions to fi ve-star standard. A number of seminar rooms and private bedrooms will cater to the business and embassy communities.


The time-themed design aesthetic with its clocks and watches (contrary to popular belief, Time Square is not a reference to Manhattan's iconic landmark), is subtly and stylishly executed.


Time Sqaure is proudly green. Its external design aesthetic blends in with the surrounding green design principles and overall aesthetic of the greater Menlyn Maine eco-precinct.


The project is generating 10 000 jobs, directly and indirectly, and will have a positive long-term effect on economic growth in the Tshwane leisure and tourism sector.
Gastronome's delight
SIX EXCITING NEW RESTAURANTS TO LOOK FORWARD TO AT TIME SQUARE
KUNG FU COWBOY
East meets West at Kung Fu Cowboy. Not sure if you're in the mood for a burger or sushi? Lucky for you, at Kung Fu Cowboy you can have both.
THE BREW MONKEY
Resembling a rustic microbrewery, The Brew Monkey gastro pub is where to go for craft beer, cocktails and artisanal meals. The menu includes snack baskets that are great for sharing.
GUY FIERI'S PRETORIA KITCHEN & BAR
Like the larger-than-life celebrity chef it's named for, Guy Fieri's Pretoria Kitchen & Bar is all about big flavours and good times. Think out-of-the-box gourmet food, ‑handcrafted signature beers, exotic cocktails and rockin' tunes on tap.
SOMETHING'S COOKING BY J'SOMETHING
When love and skill come together, expect a slice of authentic cuisine. Mi Casa singerJ'Something brings his passion for food to life at this trendy eatery that offers a fresh twist on traditional cooking. Enjoy some of J'Something's favourite dishes in a vibrant and relaxing setting.