Latest News | 05 Oct 2020 | By Sun International
Iconic Boardwalk turns 20
It has been 20 years since close to 20 000 Port Elizabethans converged on Summerstrand for the opening of Boardwalk, and millions have visited the property since.
When Sun International developed Port Elizabeth's first legal casino and entertainment world, it not only changed the face of the beachfront and contributed significantly to the Nelson Mandela Bay Municipality economy, but it also created an iconic social centre for fun in the city.
With millions of Tivoli lights flickering on its roof, Boardwalk and its surrounding lake added to the friendly city's architectural diversity. It created a world-class precinct around the Shark Rock Pier and Hobie Beach, funded upgrades to the road network, which benefitted the entire suburb, and ultimately, became a catalyst for development and tourism in and around Port Elizabeth.
"We are incredibly proud of the positive impact our Boardwalk Casino Complex has had on the economy in Nelson Mandela Bay, including both direct and indirect employment opportunities and tremendous socio-economic benefits for our surrounding communities over the past 20 years," said Graham Wood, Sun International Group COO for Hospitality.
"We gave thousands of our people a place to be proud of and take their friends and visitors. We provided a safe, beautiful area, populated with excellent restaurants, retail outlets, a state-of-the-art casino and entertainment for the people of Port Elizabeth and, indeed, South Africa," said Graham Vass, Boardwalk's first General Manager.
The development provided a much-needed, high-quality conference centre and a 550-seater amphitheatre for live shows. It also cross-funded the development of an array of City Lodge Hotels on the adjacent beachfront strip, culminating in Sun International building the luxurious five-star Boardwalk Hotel and international conference facility in November 2012.
Over the years, many South African artists, from Johnny Clegg, Zahara, Ami Faku, Amanda Black, Zonke and Danny K to PJ Powers, Vusi and Lira, have performed at The Boardwalk.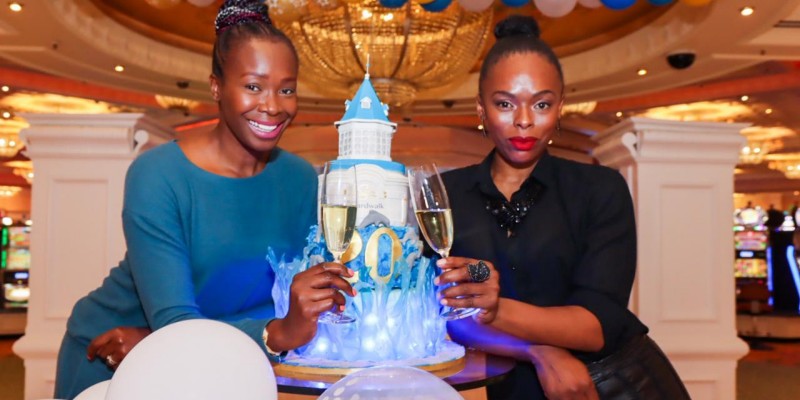 Sonia Booth and Unathi Nkayi celebrate Boardwalk's 20th birthday | Picture by Sun International
"Boardwalk created a new level of entertainment and service; it made people realise that Port Elizabeth could aspire to be more as a city and it was amazing to experience the pride and belief that grew in a city that yearned for inspiration and a belief in itself," said Shaun van Eck, former Marketing Manager for Boardwalk, now Chairperson of Nelson Mandela Bay Tourism.
Bongi Siwisa, Chairperson of Emfuleni Resorts, said Boardwalk complex was a " tourism crown jewel" of the Eastern Cape. "We owe this status and our success to the dedication of our management and staff, and our loyal customers who have walked this road with us," she said.
Mike van Vuuren, The Boardwalk's General Manager, said the complex held a special place in many hearts. "Many lasting memories have been created at The Boardwalk, and we look forward to creating many more in the next 20 years, as the property develops and evolves."