People | 18 Dec 2020 | By Sun International
Meet Wild Coast Sun's Chef Zacharia Maseko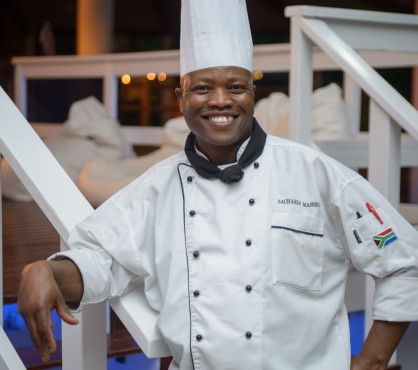 Home is where the heart is for the Wild Coast Sun's new executive chef Zacharia Maseko
As a young boy, Zacharia Maseko would watch in fascination as his mother prepared family meals. Though he loved cooking, he never thought he would one day become a Chef. In October, Maseko was appointed Executive Chef at Sun International's Wild Coast Sun resort – the culmination of a culinary journey that began 34 years ago at the same four-star beachside resort when he got a job as a part-time buffet builder.
With opportunities slim on the ground, the matriculant, who was born in a township near Port Edward just a few kilometres from Wild Coast Sun, and grew up in Mount Frere in the Eastern Cape, was soon hired on a full-time basis.
"I liked cooking as a child, but until I arrived at the Wild Coast Sun, I didn't think I could make a career out of it," Maseko said. "I used to cook with my mother, things like steam bread and samp and beans, but culturally, men did not belong in the kitchen."
He soon turned this idea on its head as his career took shape. "In 1988, I became a kitchen handler as management could see I had a passion for the kitchen."
In 1994, Sun International sponsored his three-year Catering Management Diploma at the Durban Institute of Technology (Now Durban University of Technology). Since graduating, Maseko has worked his way around the kitchen, first as demi chef and then as the relief chef, learning the ropes of the full kitchen and reporting to a sous chef, before becoming one himself. His last role was executive sous chef, a position he held for eight years.
Along with Chico's, the main restaurant, and Driftwood, the à la carte restaurant, Maseko is also in charge of food in banqueting, Prive, and main casino floor as well as the golf club.
"I am passionate about sustainability and seasonality. The freshest, highest quality in-season ingredients elevate dishes from ordinary to world-class."
Asked if he felt nervous about taking control of a brigade of more than 30 staff, Maseko said he had held the reins while the previous incumbent was on leave, or working at another property. "I have always been fully accountable, and I've been developed for this position for the past five years. I was ready."
In the past few years, Maseko believes there has been an increased focus on sustainability and healthy eating, saying more people are looking for plant-based foods instead of meat and are keen to know more about the source of their meal, such as how it was grown or reared and transported.
"I am passionate about sustainability and seasonality. The freshest, highest quality in-season ingredients elevate dishes from ordinary to world-class." And when it comes to fresh, the kitchens at the Wild Coast Sun are spoiled for choice with an expansive on-site garden that delivers fresh vegetables and herbs right to their chopping blocks. Surplus vegetables are also sent to local soup kitchens which provide meals for about 900 school children.
Chef Maseko's favourite meal to cook for himself is a stir fry. "It is an easy dish to make, the ingredients are fresh, and it can be assembled quickly.
"Lamb chops is a guest favourite. Many of our clients are from the Indian community, so they enjoy any lamb dish as well as our curries.
One ingredient which he cannot cook without is an onion. "You need one when you make a salad, when you cook your hot food, and when you make a sauce. I am not a pastry chef person; I am a hot kitchen chef."
While his recent promotion is a feather in his cap, Maseko recalls his proudest moment as being when he was a sous chef, and, along with his team, was called in for a standing ovation after a Valentine's Day function with several VIP guests.
He is inspired by the Victorian chef Auguste Escoffier, a Frenchman who left a legacy of culinary writings and recipes that are indispensable to modern cooks. "Today, Jamie Olivier is engaging and fascinates me." Closer to home, he credits three chefs he has worked with who have had a profound influence on him and have contributed to his growth - Johan Szabo, Gary Hastings and Chris Reedoy. "They loved what they were doing and were passionate about it."
But despite his global culinary interests, for this Wild Coast homeboy home is still best. Although he has worked at Sun City, Maseko says he remains at Wild Coast Sun because the South Coast of KwaZulu-Natal is where his home, his heart and his family are. He has been married to Nelsie for the past 25 years, and the couple has four kids.