Travel | 27 Jan 2018 | By Sun International
First-timer's Guide to Sun City Holidays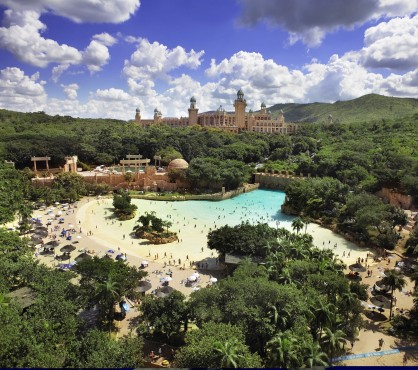 If it's your first time visiting South Africa's favourite holiday resort and you're not sure what to do or where to start, we've got you covered with our Sun City holiday guide. Whether you're travelling with family, friends or your better half, we've compiled a list of things to do at Sun City to give your holiday
a kick-start in the right direction.
1. Choose your stay
Your choice of where to stay at Sun City comes down to several factors. What kind of Sun City holiday do you want to experience – a family adventure or a romantic escape? Are you looking for cost-effective Sun City accommodation or are your sights set on luxury? Do you want to be in the centre of the action or feel like you're getting away from it all? Luckily, you have options. You can choose from four Sun City hotels in one exciting destination!
Special mention: If you want a no-fuss Sun City holiday with the convenience of self-catering facilities, then you should consider joining  Sun Vacation Club. If you're not sure you're ready to commit to spending your holidays at Sun City for the next 10 years, then you can try before you buy and rent a Sun Vacation Club unit.
2. Find your fun
Sun City is called 'A World within a City' for good reason. There are so many things to do at Sun City that it's tough to know where to start, especially if it's your first time at the resort. Before you begin exploring, consider the types of Sun City activities that would interest you, and then plan from there.
From water sports to wildlife, we've got something for everyone. Take a look:
3. Dine to your heart's content
When hunger strikes, your choices are endless. With our huge selection of restaurants and bars, your Sun City holiday is sure to be filled with flavour! If you're looking for family-friendly restaurants in Sun City, head to Bocado at Cascades for a Mediterranean-inspired feast, or treat your kids to family favourites at Spur, Ocean Basket, RocoMamas or Wimpy. Settle in for a fine dining feast at one of Sun City's signature restaurants: Plume, Crystal Court or Peninsula. If it's the perfect steak you're after, look no further than The Grill Room or Legends. Quick meals are easy to come by at the Village Food Court, while Asian flavours are yours to enjoy at Lily's.
4. Let us entertain you
The original home of big entertainment in South Africa, Sun City will keep you up until the early hours with a host of fun things to do. From our exciting casino to our regular live events, comedy shows and musical entertainment, we will rock you! Be sure to bookmark our events page to stay in the loop with what's hot and happening at Sun City.
Need more holiday inspiration? Follow Sun City on Instagram.