Travel | 04 May 2021 | By Sun International
Memorable family road trips are all about the fun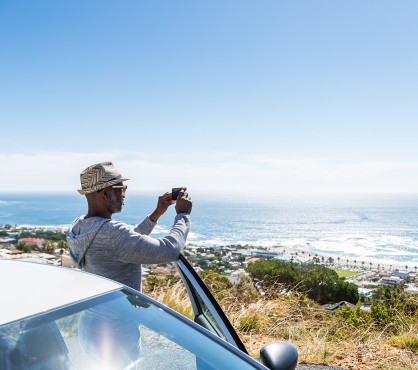 Man on a roadtrip | Photo by Getty Images
Make the most of your road trip with family, good food, music, and of course, great Sun International destinations along the Dolphin Coast.
Great company. Infinite playlists. Padstals and delicious padkos. Can anything compare to a good 'ol road trip? We say no – except, of course, taking a refreshing dive into the pool or that ice-cold beer at the hotel bar when you finally arrive.
For many, family road trips are a big part of "growing up South African". And with the pandemic having made us wary of flying, road trips are making a big comeback. So, start packing, choose your favourite playlists, pump your tyres, and hit the road to great Sun International destinations in KwaZulu-Natal.
Escape to warm winters and majestic scenery
For those looking for a much-needed break after months under lockdown, the KwaZulu-Natal shoreline remains one of SA's most popular holiday destinations. The 600km-plus stretch boasts beautiful warm beaches, from trendy Ballito in the north down to pristine Port Edward in the south. When you consider the easy access, wide range of activities, vibrant culture and the sheer satisfaction of dipping your feet in the warm Indian Ocean after a long drive, the KwaZulu-Natal coast is an ideal road trip destination.
The North Coast is home to Sun International's Sibaya Casino and Entertainment Kingdom. The Umhlanga Rocks icon offers guests a regal retreat surrounded by lush hills and overlooking the Indian Ocean. As a family getaway, Sibaya offers a range of activities, from thrilling gaming and Mangwanani Spa treatments for the parents to The Magic Company excitement for the little ones.
Known as the "Paradise of the Zulu Kingdom", the South Coast incorporates 58 beaches and the gem that is the Wild Coast Sun. The resort is perfectly positioned on the majestic Mtamvuna River and the unspoiled beaches of Port Edward. Wild Coast offers a blend of great family fun at Wild Waves Water Park, gaming, Mangwanani Spa treatments and unmatched action at the Wild Coast Golf Course.
Whether using the N3 from Johannesburg to Sibaya, or travelling from the Western Cape through the Garden Route to the Wild Coast Sun, you'll enjoy magnificent views en route.
But no matter how scenic, a taxing hours-long trip can result in a sour mood. Planned to include fun activities for everyone, however, the drive itself can end up being a memorable part of your holiday.
Move to the music
Music can make or break your road trip. Ensure that you put together an incredible playlist that caters for everyone, including those cheesy hits. If you're the kind of a family who like to sing along, croon your lungs out and pretend that you're on a talent show. Children will enjoy seeing their parents goof around, and feel confident enough to join in.
Power up at padstals
Mostly found alongside national roads, these farm stalls are your go-to for replenishing your padkos stocks and getting some fresh air. Stock up with fruits and biltong or take a coffee break and enjoy a slice of home-baked cake or the local tannie's famous jaffle.
Meander
The Midlands Meander makes for a perfect stop to relax and take in scenic views before you get to the coast. If you're a history buff, stop at the Nelson Mandela capture site to stretch your legs, while learning about our country's past. You can also take a detour from the N3 and visit one of the delightful restaurants along the Meander. Ensure a sweet start to your vacation by making a stop at the award-winning Chocolate Heaven on Nottingham Road, which serves up the finest Belgian chocolates.