Wildlife & Safari | 30 Mar 2015 | By Sun International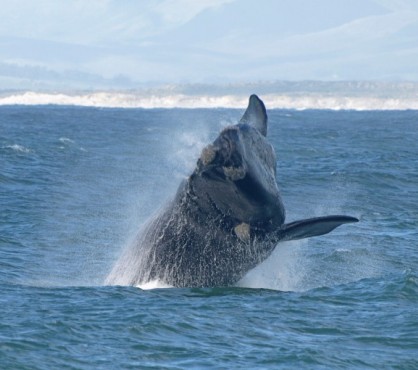 Whale Watching in South Africa
Every year between May and December, South Africa's coastal bays and lagoons play host to visiting whales that leave their Antarctic feeding grounds in search of warmer waters. These marine giants settle in the sheltered shores along our coast to mate and nurse their young, which makes for incredible up-close whale watching in place like Hermanus.
Did you know? There are 37 species of whales and dolphins found in South African waters, but the most common are humpback whales and southern right whales.
Whether you visit Hermanus for whale watching or choose a scenic spot along the Wild Coast, seeing whales in their natural environment is an experience you can't miss.
Here's our list of top places to go whale watching in South Africa, plus the best times of the year to guarantee the most satisfying sightings.
Hermanus is undoubtedly the whale watching capital of the Western Cape, if not South Africa. In fact, this sprawling seaside town with its incomparable cliffs and vantage points is considered to be the best land-based whale-watching spot in the world, where the southern right whales that annually descend on Hermanus are often seen within metres of the shore.
No trip to The Table Bay Hotel in Cape Town during whale season is complete without a Hermanus whale watching experience. Speak to the Concierge or Travel Desk about organising Hermanus boat charters, which promise the possibility of seeing not only southern right whales, but dolphins, seals and otters too.
Best time for Hermanus whale watching: between June and November, however the 5 day Hermanus Whale Festival takes place annually in September or October.
Western Cape whale watching near The Table Bay
Other great whale watching spots in the Western Cape include Gansbaai and Mossel Bay to the east, as well as Lambert's Bay, Elands Bay, St Helena and Saldanha on the West Coast. Great sightings can also be enjoyed around the Cape Peninsula and along the south coast to Cape Agulhas, which is a particularly rewarding spot for seeing southern right whales at play, sometimes up to 50 at a time.
Did you know? Southern right whales got their name because, being slow, they were once considered the "right" whale to hunt.
Whale watching in Port Elizabeth with The Boardwalk Casino and Entertainment World
Every year from late winter to the middle of summer, the warm coastline of the Eastern Cape gets its fair share of southern right and humpback whales. If you're staying at The Boardwalk Hotel in Port Elizabeth during this time, chances are good that you'll be able to enjoy Algoa Bay whale watching from the beach.
Best time for Port Elizabeth whale watching: between July and December.
Halfway between Port Elizabeth and East London, The Fish River Sun is perfectly situated to take in several of the Eastern Cape's whale watching hotspots, including Port Alfred, Kenton-On-Sea, and Nahoon Beach in East London.
Did you know? Clear, windless days provide the best conditions for whale watching.
From Chintsa to Coffee Bay and Port St Johns, the Wild Coast offers up remarkable seascapes and unique whale watching opportunities, all within easy reach of The Wild Coast Sun. Speak to us about whale watching boat charters.
Best time for Wild Coast whale watching: between July and December.
KwaZulu-Natal whale watching with Sibaya
Between May and November, humpback whales make their way north from their Antarctic feeding grounds, heading for the sea channels between Mozambique and Madagascar, where they stream past the KwaZulu-Natal coastline.
If you're staying at Sibaya, enquire about boat charters at the famous iSimangaliso Wetland Park to go out humpback whale watching. On your trip into these biodiversity-rich waters of the Indian Ocean, you might also spot turtles, whale sharks, dolphins, marlin and unusual pelagic birds.
Best time for KwaZulu-Natal whale watching: between May and November.