Gaming | 21 Feb 2018 | By Sun International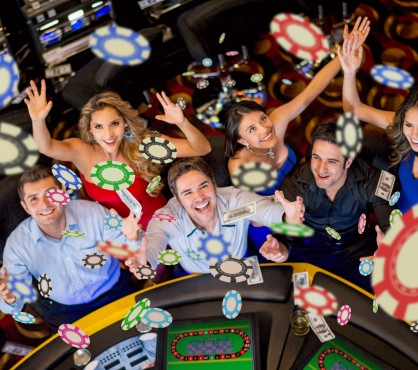 Between the slot machines and the progressive jackpots, there's always a chance to win – and win big! – at Sun International. Take a look at some of the winners from the past few months, including a record-shattering R10-million winner!
R10-MILLION JACKPOT MAKES HISTORY
Christmas came three weeks early for 54-year-old Parow resident Klaus Barnard, who hit an enormous R10-million jackpot in GrandWest's Salon Privé. It was the biggest-ever jackpot pay-out on the slots in South Africa and in
Mr Barnard, who is a Most Valued Guest (MVG), was attending a function at GrandWest with his wife when he thought he'd try his luck on his favourite Sirens slot machine before going to bed. 'I was actually down on my play,' he says. 'I got up from the Sirens machine to go play my other favourite slot machine, but it was occupied. I sat down again and continued playing.
'On the free spin I collected a word Bonus. Ichose a box and saw that it was a money number of x3 which went over to x5, and then I realised it was going to reach x10. I was very lucky in choosing those boxes!'
WINNING ADVICE
R10-million jackpot winner Klaus Barnard plans to use some of his winnings to take his wife and two children to Miami on holiday, and he'll invest the rest. It's a smart approach from a smart player. Klaus regularly visits GrandWest to unwind from work stress, and he's learned over the years to play only what he puts on his card. 'If I play the amount out then that is it, I leave and come and play the next time. I never push it.'
10 000 000
SUN INTERNATIONAL' S BIGGEST-EVER SLOTS JACKPOT PAY-OUT IN SOUTH AFRICA , WON BY MVG KLAUS BARNARD AT GRANDWEST IN DECEMBER 2016 .
NEW MILLIONAIRE STRIKES IT LUCKY
The SunStriker progressive jackpot produced two big-money winners at the Boardwalk in Port Elizabeth earlier this year. In March, Estelle Harrop took home R150 000 after hitting a SupaStrike, the jackpot's Level 2 total, and on 1 April an anonymous winner from Lorraine kicked off the Easter holidays with a massive R1,9-million jackpot. The Boardwalk has 24 SunStriker machines that are linked to similar machines at Sun International's 12 South African casinos. The game was developed exclusively for Sun International. It's about a Mayan warrior whose golden hammer strikes the base of a magic temple to give players the chance of winning the mega jackpot. Bet options start from as little as R5 and go up to R15, with a minimum jackpot total of R750 000.
LADY LUCK STRIKES TWICE
In early January, Richards Bay resident Indar Ramothar won a cool R735 000 at Sibaya Casino and Entertainment Kingdom when he hit the jackpot on the Duma progressive. He was back again in February – and, incredibly, hit the jackpot again! In February he became an instant millionaire when he won R1 133 199, which nearly doubled the Duma's minimum jackpot of R600_000.
A second winner, who also hails from KZN but didn't want to be named, won a massive R1 609 960 on the SunStriker progressive jackpot, bringing the casino's combined jackpot payout for the month to a staggering R2 743 159! 'Nothing pleases us more than hearing the sound of a slot machine announcing a jackpot hit,'_says Robin Kennedy, Sibaya's Gaming Manager. 'We hope Lady Luck continues to smile on our guests.'
A ROARING START FOR THE LION'S SHARE
Sun International's new custom-designed widearea rogressive jackpot, The Lion's Share, paid out a sizeable R700 000 to an anonymous local resident at Meropa Casino in February. An African-themed slot game, The Lion's Share has three levels of progressive jackpots and is linked via Sun International's unique wide-area technology across all The Lion's Share machines in participating South African casinos. How it works: players across the country compete and contribute to the growing jackpot as they play. In a world fi rst, The Lion's Share boasts a Bonus Pot that starts off at R25 000 and grows until a lucky player wins the King Jackpot (which starts at R75 000), playing a bet of R10. When this happens, the winner takes home The Lion's Share, made up of the King Jackpot plus all the money accumulated in the Bonus Pot.