Travel | 27 Nov 2017 | By Sun International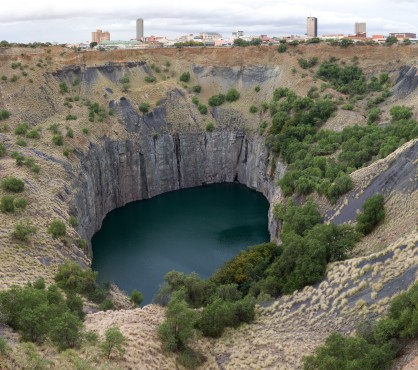 Want to know how to spend 48 hours in Kimberley? We've got some ideas! Check out our guide to two days in Kimberley using Flamingo Casino as your launchpad.
As South Africa's diamond capital, Kimberley sparkles with fun things to do. Born out of the Diamond Rush of the late 1800s, much of the original history is conserved, including the famous Kimberley Big Hole that was excavated by hand. Today, the capital of the Northern Cape is a bustling city with plenty of popular Kimberley tourist attractions including museums, art galleries, restaurants and a casino.
Here's our guide on how to make the most of your two days in Kimberley…

1. Visit the Kimberley Big Hole
One of the most popular sightseeing attractions in Kimberley, the Big Hole is the world's largest hand-dug excavation. For history buffs with a bucket list of things to do in Kimberley, the Big Hole is one of the city's must-see attractions. Situated at the Kimberley Mine Museum, you'll get a unique perspective on the Diamond Rush and experience what life was like for fortune-seekers in the late 19th and early 20th centuries.
Tip: Take a tour underground into the once-operational diamond mine that descends 840m below the surface.
2. Kimberley for Art Lovers
For discerning art collectors, there are several art venues to visit in Kimberley. Head to the William Humphreys Art Gallery and take a leisurely stroll among a unique collection of 16th and 17th century Flemish, Dutch, English and French masters. And with history as the overarching theme for your two days in Kimberley, you should visit the Wildebeest Kuil Rock Art Centre to view ancient San rock art.
3. Kimberley Attractions for History Buffs
If you're a fan of Anglo-Boer War history, there are several sightseeing attractions near Kimberley that will delight your historical appetite. We suggest visiting the Magersfontein Battlefield Museum, which is only a short drive out of Kimberley from Flamingo Casino.
4. Kimberley for Cultures
Take a journey back in time to Kimberley's oldest suburb, Belgravia, founded in the 1870s. As one of the best places to visit in Kimberley for architecture, you can spend all afternoon marvelling at the houses built at the peak of the Diamond Rush. Legend has it that there were once more millionaires concentrated in this area than anywhere else in the world!
Did you know? Kimberley is the birthplace of South Africa's mining magnate, Harry Oppenheimer.
5. Watch Flamingos Take Flight
If you have time to spare during your 48 hours in Kimberley, be sure to visit Flamingo Island. Purpose-built at Kamfers Dam, this bird-breeding facility is home to the largest permanent population of lesser flamingos in Southern Africa. Just seven kilometres north of the city, Flamingo Island is a must-see attraction in Kimberley for guests visiting Flamingo Casino.
Fact: There are almost 52 000 flamingos that gather at the 400-hectare water wonderland, Kamfer Dam.
6. Delicious dining at Flamingo Casino Restaurants
If you have 48 hours in Kimberley, there's a lot to keep you busy for two days. With a wide selection of slots and table games and fun family entertainment, Flamingo Casino is the perfect base from which to discover all the fun things to do in Kimberley. And if you're looking for great places to eat, the menu at Harvest Grill & Wine not only caters for kids, it also offers an array of delicious dishes and a meat selection next to none. Bar 129 is another Flamingo Casino restaurant where you can watch sport on a big screen or enjoy live music with some of South Africa's most popular jazz and rock bands. Both of these Kimberley restaurants can be booked as year-end function venues in Kimberley.
Tip: Visiting Kimberley for a conference and have some free time? Make sure you get to experience some of the town's hidden 'gems' in between sessions in the meeting rooms at the Kimberley Conference Centre.
Whether you're visiting Flamingo Casino for a conference or you're in town on holiday, there's a lot to do in this novel Northern Cape town. For more info and updates, follow Flamingo on Facebook and Twitter.