Travel | 10 May 2018 | By Sun International
Top 10 Kimberley Attractions
From history, art and culture to wildlife, sport and adventure, explore the most popular tourist attractions in Kimberley.
South Africa's oldest mining town offers its visitors a plethora of fun, family-friendly activities and things to do in Kimberley. Known as the origin of South Africa's Diamond Rush in the late 1800s, Kimberley has it all – from history, art and culture to wildlife, sport and adventure. And, if you're looking for a quiet and cosy retreat off the beaten track, then put Flamingo Casino into your GPS and head straight for this magical escape in the Northern Cape…
Here are our top 10 things to do in Kimberley South Africa:
Kimberley for Culture Vultures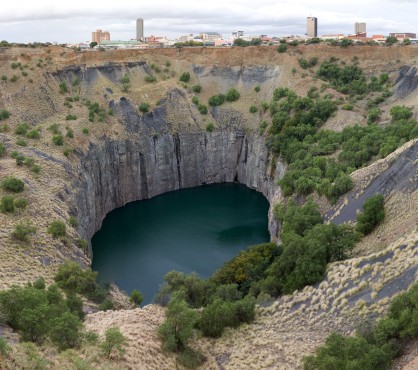 Kimberley Big Hole | Photo by Sun International
The Big Hole
With its new viewing platform and upgraded facilities, Kimberley's Big Hole provides a fascinating glimpse into the life and times during the Diamond Rush in South Africa. Open Monday to Sunday, from 8am to 5pm, a trip to this popular Kimberley attraction includes hourly guided tours to the Big Hole and Diamond Vault as well as tram rides through the Old Town. For those keen to don their hard hats, an underground excursion is a must!
There's also a selection of restaurants and coffee shops on site as well as a curio and jewellery store to collect mementos and keepsakes.
Top Tip: Start your tour at the Visitors Centre to learn more about the Diamond Rush, the tools used to pan for diamonds as well as the history behind the largest man-made excavation in the world.
Entrance Fee: R100 for adults; R60 for kids (aged four to 12); pensioners pay R80 on Mondays only.
McGregor Museum
If you want an accurate timeline of Kimberley's history, this is the place to visit. With anecdotal displays that acknowledge all of Kimberley's 'firsts', McGregor Museum is an experiential archive of facts, relics and stories about the historic mining town. The original museum in Chapel Street was donated to Kimberley by Margaret McGregor, the wife of diamond pioneer and mayor of Kimberley in 1886.
In memory of her late husband, the museum was built to reflect the architecture of the Victorian era
and is itself a magnificent portrayal of life during the Edwardian age.
Open Monday to Friday, from 9am to 5pm, and closed on weekends and public holidays.
Entrance Fee: R25 for adults; R15 for kids.
Magersfontein Battlefield
A must for history buffs visiting Kimberley, Magersfontein Battlefield is the original site where Boer troops defeated the English army on 11 December 1899. Originally constructed in 1971, the site was renovated in 1999 (exactly 100 years since the epic battle took place) and is home to relics and artefacts from the battlefield. Visitors to the site will learn about the historic clash between the Boers and the English through an audio-visual presentation that mimics the perspective of the Boer troops from a darkened Boer trench. As one TripAdvisor reviewer puts it: 'Amazing slice of SA history in a wonderful part of the world'. 
Open Monday to Friday, from 9am to 5pm.
Call +27 53 833 7115 for more info.
Cheetah and Cub | Photo by Sun International
Felidae Centre
Located just 30km outside of Kimberley, Felidae Centre is an animal rehabilitation centre and another Kimberley South Africa point of interest. The reserve was started in 2010 after the Burger family brought in their first two animals, a cheetah and a caracal. Since then, the purpose of the centre has been to raise awareness and save predators from canned hunting. Putting the needs of their animals first, Felidae Centre provides a wonderful opportunity to view and learn about Africa's wild cats in their natural habitat. The centre operates a series of guided tours where you'll meet Felidae's 'ambassador' cats.
Entrance fee is R100 for adults and R60 for children under 12 on weekends; R150 for adults and R100 for children under 12 on weekdays.
View the website for feeding and tour times.
Kimberley for Golf Enthusiasts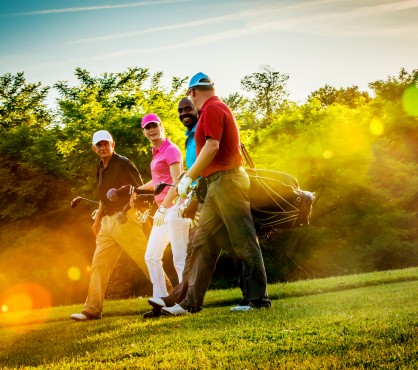 Golfers | Photo by Sun International
Kimberley Golf Club
One of the lesser known things to do in Kimberley is golf, golf enthusiasts can enjoy 18 holes of uninterrupted golfing on this par-72 golf course. Golf clubs are available to hire should you find yourself wanting to play a round but don't have your kit with you. Call +27 53 841 0179 for more info.
Harvest Grill & Wine
If you're scouring the town for a relaxed and cosy venue to dine, consider Harvest Grill & Wine!
Located at Flamingo Casino, this family-friendly restaurant in Kimberley is known for its steakhouse-style meals and grilled-to-your-liking cuts of meat. For those wanting a more casual dining experience, head to Bar 129, also situated at Kimberley Casino, for a fun night out with live entertainment included.
Royal Spa
If you're in need of some me-time and want to escape without having to leave the comfort of your hotel, the Royal Spa at Flamingo Casino is the perfect pamper spot. The spa offers a selection of skin and facial treatments, full body massages and holistic therapies to leave you feeling refreshed and rejuvenated during your stay. What to do in Kimberley? Head to the spa, we say!
For more info and to book a treatment, call Karin on +27 72 362 5891.
Kimberley for Nature Lovers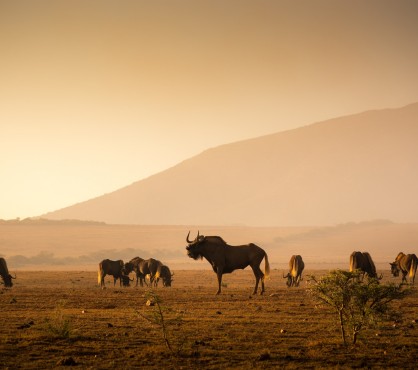 Herd of Wildesbeest | Photo by Sun International
For those wanting to connect with nature and tap into one of the top tourist attractions in Kimberley, there are two game parks both located just 70km outside the town of Kimberley. Owned and managed by South African National Parks or SANParks, Mokala National Park offers morning, day, sunset and night game drives as well a chance to view ancient bushmen rock etchings. Add a little adventure to your bush escape and dine beneath a 400-year-old Camel Thorn tree! For accommodation and visitor information, visit https://www.sanparks.org/parks/mokala/
Unspoiled and equally as enchanting is Rooipoort Nature Reserve. Established in 1893, Rooipoort is one of the oldest game reserves in South Africa and was declared the fourth National Heritage Site in South Africa in 1985. The game viewing opportunities are endless in this privately owned game park and the park has been instrumental in ensuring the survival of the Red Hartebeest and Black Wildebeest.
Call +27 53 839 4455 for more information.
Did you know?
Rooipoort Nature Reserve is home to the indigenous Cape Ostrich population which is the only recognised pure flock to be found in South Africa.
And that's it! As far as Kimberley South Africa points of interest go, these are the must-visit top tourist attractions in Kimberley. Flamingo Casino is the perfect place to stay while you explore the sights and sounds of this hidden Sound African gem (pun intended!).
For more information and other fun Kimberley attractions, follow Flamingo Casino on Facebook.