Travel | 25 Dec 2014 | By Sun International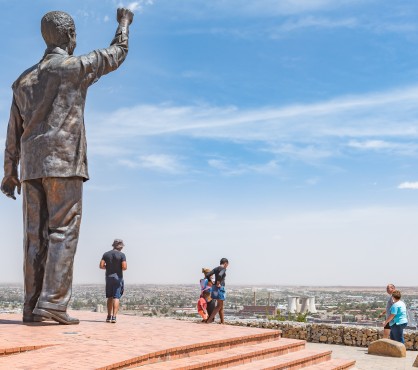 5 Things to Do with Kids in Bloemfontein
Bloemfontein: the fountain of flowers, the city of roses and the capital of the Free State province. The judicial capital of South Africa is also known by its Sesotho name, 'Mangaung' meaning "place where the cheetahs dwell".
But before we discuss family activities and things to do with kids in Bloem, let's get this straight… Among the roses, fountains of flowers and of course not forgetting the Supreme Court of Appeal, Bloemfontein is also the "place where of cheetahs dwell"?
It's true! Despite its proximity to the Karoo, Bloem's fertile soil creates the perfect condition for over 4 000 rose bushes to bloom but Bloem is also home to Cheetah Experience -  a big cat centre dedicated to the breeding and conservation of cheetahs. Not only that, Bloem is the base of the Free State Cheetahs rugby team.  So this cheetah thing is all starting to make sense, right?
But more about the cheetahs later… Let's take a look at the top 5 things to do with kids in Bloemfontein:
1. Bloemfontein Zoo
Opened in 1925 by the Prince of Wales the future Edward VIII King's Park Rose Garden smells really good! Amongst the thousands of rose bushes on the grounds of this park you will also find the Bloemfontein Zoo.
Did you know? Besides being famous for its extensive primate collection, the Bloemfontein Zoo is also famous for being a pioneer in the breeding of ligers, a hybrid cross between a male lion and a female tiger.
Take an outdoor tour at this big cat sanctuary and fall in love with all things feline. Home to servals, caracals, lions, leopards, cheetahs (of course) and even wolves and meerkats, this is the perfect outing for junior animal lovers.
Tip: Click here for more information about the tours at Cheetah Experience.
3. Free State National Botanical Gardens
Pack a pretty basket and a gingham blanket and remember those all-important "mommy and daddy drinks" because this is the ultimate family picnic spot. Framed by hills, filled with roses and offering over 140 species of birds, these botanical gardens are open 365 days a year.
Did you know? The Free State National Botanical Gardens is home to over 50 reptile species.
NB! Adults pay R16, senior citizens pay R12 while students/scholars pay R12 with pre-schoolers only paying R8.
4. Navil Hill Planetarium
The Naval Hill Planetarium at the Centre for Earth and Space invites you to an immersive digital experience from the smallest atomic particles to the largest cosmological scales. Come and see the universe like never before at the first digital planetarium in Africa south of the Sahara.
Bookings can be done on Computicket: https://online.computicket.com/web/events/search/Venue:Naval_Hill_Planetarium
5. Jumpers Lane
Jumper's Lane is Bloemfontein's first Indoor Trampoline and Leisure Park, a world where the walls become the floor and the rules of gravity no longer apply. Come down to Jumpers Lane where you can enjoy a Jump Session, a Birthday Party, or just indulge in a moment of quiet whilst your kids keep themselves entertained!
For more info, call: 0514210306 | Click here and learn more about the City of Roses, Bloemfontein.
Tell us: What are your favourite things to do with kids in Bloemfontein?