People | 26 May 2021 | By Sun International
Lockdown learnings from Sun City Resort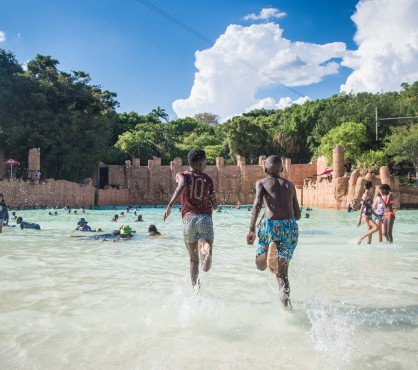 Kids running into Valley of Waves at Sun City Resort | Photo by Sun International
Sun City General Manager Brett Hoppé has been able to emerge from the COVID-19 crisis armed with knowledge that bodes well for the future of the resort and brand
The COVID-19 pandemic has wreaked havoc on every country in which it has appeared. Leaving governments in the unenviable position of trying to walk the tightrope between economic stimulus and safeguarding the health of citizens, it's also threatened to derail entire industries. As one would expect, the local hospitality industry has been particularly hard hit, and properties around the country have had to be decisive in implementing measures to protect both employees and guests alike.
Sun City has benefited greatly from having a true stalwart of the South African hospitality industry at the helm in Brett Hoppé. With 23 years of experience covering operational, gaming, marketing and business sectors at Sun International, Hoppé has the battle-worn tactical nous and acumen to guide the resort through what one with a less optimistic outlook might term an ordeal – and all this without letting his trademark effervescence falter.
Empathy at the fore
He says that empathy was a tenet of the resort's strategy when re-opening after months of lockdown late last year.
"We put a lot of effort into implementing the protocols and in many instances exceeded the minimum requirements. There has been a massively positive response to this from our guests. We went about this with empathy, trying to imagine if we'd feel safe being on the resort with our own families," he says.
"Our message is one of unity and celebration, not just for Sun City's reopening, but for the reopening of the broader tourism industry in South Africa. We can do this. We have to do this. We will do this."
All of Sun International's properties, including Sun City, have been awarded the World Travel and Tourism Council's safe stamp of approval in-line with international benchmarks. During lockdown, "exceeding minimum requirements" also entailed focusing on assisting the communities surrounding Sun City with both food and COVID-19 info packs.
Sun City is a resort big enough to attract the curfew hours applied to a real city, and so dealing with the lockdown was no easy task, but it was one that bore fruit immediately.
"At Sun City, we have the benefit of 40 years of hindsight, so it was a marvellous opportunity to do those things we've been meaning to do, but couldn't because of time and other constraints. At the same time, in 40 years, Sun City has never been closed, operating 24-7, 365. So initially, our heads were spinning. But we took the opportunity and the learnings have been massive. We've reworked and re-engineered a number of models, from security to our grounds and gardens. And then there were the smaller things, like managing to identify a water leak at the Lost City – we'd never have been able to pinpoint this without lockdown!" smiles Hoppé.
"The result of our efforts is the reopening of a resort that is both fresher and smarter. Sun City is by far the most complicated – and exciting – business I'll ever run. There are a multitude of moving parts on a scale that is far greater than your regular property. You have to have an understanding of engineering, events, catering, and a host of microdetails... You can never stop learning."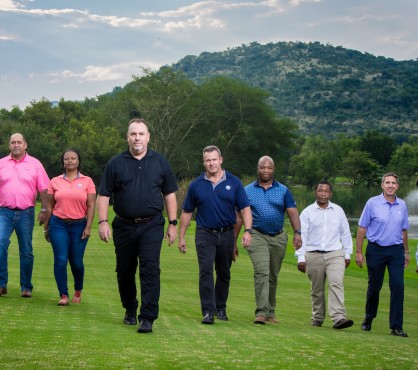 The team: Brett Hoppé (fourth from left) and the Sun City ExCo | Photo by Tumelo Leburu
Collective effort
The COVID-19 pandemic is a global health crisis unlike any in the past century, causing much suffering, loss of life and social upheaval. It is a human, economic and social crisis. As such, Sun City was not alone in having to come to terms with the crisis, and as Hoppé explains, brought together the various hospitality stakeholders in a way that created a camaraderie as unprecedented as the pandemic itself.
"As we emerged from lockdown and despite the various criticisms of government through tough decisions without the hard science, the tourism industry has received incredible support. We've had visits to the property from the North West Premier and the MECs for Tourism and Sport, Art and Culture. In this industry, at times, you have to put your brand in your pocket – we all have a role to play. There's a real sense of solidarity, by virtue of all the brands and associations that are working hard to restore some sense of normality," he says.
Hoppé adds that the tourism industry, as a collective, put a call out to the public to invest in domestic travel – and in terms of trading volumes, the response far exceeded his expectations.
Message of unity
The charismatic captain of industry says he hopes to extend this knowledge-seeking mindframe beyond lockdown and into an era that is not defined by the virus. The insights gleaned will go into further transforming not only Sun International's flagship property, but other resorts in the stable, and beyond to the industry as a whole. As South Africa moves into the long-awaited vaccine delivery phase, it is worth bearing in mind Hoppé's clarion call at the reopening of Sun City late last year.
"Our message is one of unity and celebration, not just for Sun City's reopening, but for the reopening of the broader tourism industry in South Africa. We can do this. We have to do this. We will do this."