Lifestyle | 08 Sep 2014 | By Sun International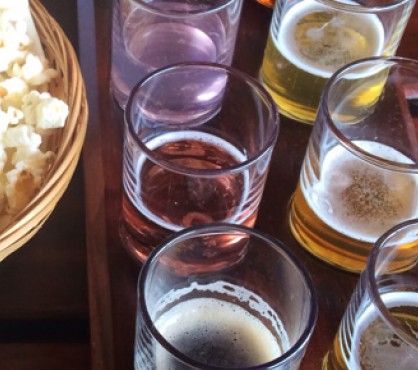 Craft Beer – What's All the Fuss about?
For centuries gold has been a highly valuable and covetable metal. Sure, part of the shiny metal's worth comes down to the fact that it looks pretty wrapped around your finger. However, the true worth of gold is primarily due to its scarcity. We are naturally drawn to things that are rare and unique. In the world of carbon-copy consumerism, we want some something extra special.
The gold of the beer business
For this very same reason, the craft beer movement is taking over trendy bars and eateries around the world. Lovingly fermented in microbreweries, craft beer is defined by its artisanal brewing and small batch numbers. When it is done right, craft beer even tastes like liquid gold.
In South Africa, the craft beer trend looks like it's here to stay. With us South Africans being notorious for our love of a good jol, you could say that the stage was set for the craft beer trend. It also doesn't hurt that our almost year-round sunny skies seem to naturally inspire cravings for a cold one.
Although some have argued that craft beer, like bubble tea and frozen yogurt, is just a foodie fad soon to be replaced by the Next Big Thing, evidence points to the contrary, with craft beer now beating overall beer production in the US. The David and Goliath battle for the hearts of enthusiastic beer drinkers seems to have dramatically tipped in "crafty" David's favor. Although the US market is much bigger and markedly different, the South African market seems to be mimicking the US, with the craft beer market exploding in recent months.
Bang on trend, Sun City's Maze of the Lost City with its Pilanesberg Brewery Bar serves the finest selection of craft beers in the most wonderfully curious location. Located in a semi-ruined Mayan stone maze, Pilanesberg Brewery Bar is well worth finding.
Expertly serving up a changing selection of thirst-quenching craft beers, the Pilanesberg Brewery Bar is the perfect spot to explore the world through your beer mug with an impressive selection of beers from around the globe. From award-winning brews to once-in-a-lifetime views, the Pilanesberg Brewery Bar is quite literally a beer-lover's hidden treasure.
Let the good times roll and check in at one of Sun City's amazing hotels, from The Palace of the Lost City to The Cascades – there is something for everyone at Sun City Resort.
The Table Bay Hotel has its very own lager brewed by Cape Town-based Jack Black Beer.
Thirsty for some more of Cape Town? Why not sip on the unique lager at the Table Bay Hotel's The Union Bar. Known to be a great spot for any kind of celebration (there's always something to celebrate when you're in the most beautiful city in the world), grab a friend or make some at The Union Bar.
For more craft beer adventures, check out these famous craft beer festivals:
Jozi Craft Beer Fest. As you probably guessed, this one takes place in Joburg and it is an extremely popular event on the City of Gold's social calendar. Taking place annually, with smaller events held throughout the year, out-of-towners should check-in to The Maslow in Sandton for a rollicking weekend of craft beer and Sandton's finest nightlife.
Only a 30-minute drive away from Sandton, Pretoria's annual Capital Craft Beer Festival is a one-of-a-kind event held at the historic Voortrekker Monument.
Tell us: Are you a craft beer fan?