Travel | 27 Jan 2018 | By Sun International
Take your family on the best holiday in KwaZulu-Natal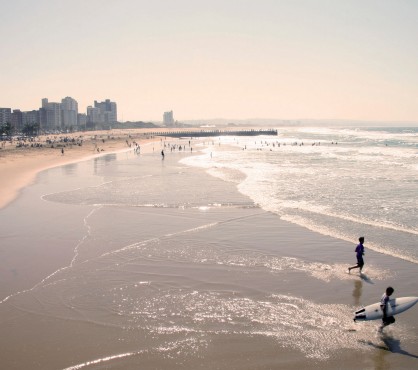 If the December holidays are but a distant memory, it's time to plan your best holiday in KwaZulu-Natal this Easter. The East Coast has so much to offer from sun-drenched beaches and adventure attractions in KwaZulu-Natal to family-friendly activities in Durban. Find the fun on a family holiday this Easter.
Start your best holiday in KwaZulu-Natal with a road trip
Pack the padkos and break out the hot cross buns – it's time for an Easter road trip to Durban! With the sun, sea and surf waiting for you, load up the car and the family and hit the freeway. Are you going on
a Cape Town to Durban road trip? If you're driving along the Garden Route, stop at the Wild Coast Sun or the five-star Boardwalk hotel for family-friendly accommodation between Cape Town and Durban.
There are  loads of activities to experience at the Boardwalk, from the Blue Flag-awarded Hobie Beach on the hotel's doorstep to water sports, treatments at Camelot Spa and shopping. It's also easy to keep the kids entertained with tenpin bowling, go-karting and adventure golf, all on site.
Are you escaping the City of Gold with a Johannesburg to Durban road trip? If you're driving from Joburg, Pretoria or Limpopo, stay over at the friendly  Windmill casino in Bloemfontein which offers family accommodation between Johannesburg and Durban. Here you can enjoy the delicious buffet at  Rosie's Brasserie or indulge in a relaxing spa treatment at  Desired Images Spa before you hit the road again.
Where to stay: the best accommodation in Durban
An important factor in planning your best holiday in KwaZulu-Natal is choosing accommodation in Durban to suit your needs. And where better to stay than at Sibaya Casino & Entertainment Kingdom with its amazing sea views from the luxurious rooms and suites? Perched on rolling green hills, child-friendly accommodation in Durban is available at the Sibaya Lodge, while the Royal Sibaya Hotel is exclusively for Sun MVG cardholders. Enjoy a breakfast followed by a wide range of leisure activities. Sibaya is also close to some of the main attractions in KwaZulu-Natal.
Where to eat: enjoy the best meals in Durban
Famous for its bunny chows and melting pot of culinary influences, Durban's many restaurants and varied dining experiences are sure to make this your best holiday in KwaZulu-Natal yet! How about feasting on Italian cuisine with a 360° view at the Roma Revolving Restaurant? Want to sample the best seafood in town? Make sure to visit Butcher Block at Sibaya casino. Or for something more casual and quick, walk right off the beach into  Surf Riders Café for a pizza or burger while you watch the waves crash in front of you.
If you're in the mood for authentic India cuisine, look no further than Jewel Of India. Tatso. The buffet offers a lavish buffet of Asian, Middle Eastern and South African dishes. For the most satisfying roti in Durban, pop in at the well-known Sunrise Chip 'n' Ranch (aka Johnny's Rotis) for the 'triple chip and cheese' – there's no fine-dining here, but it'll make for a memorable moment during your best holiday in KwaZulu-Natal.
What to do: fun things to do on holiday in Durban
Making this your best holiday in KwaZulu-Natal means discovering new and exciting places to visit and activities to try, maybe for the first time. Sibaya Casino & Entertainment Kingdom offers plenty of fun and exciting  family-friendly activities in Durban. Ease your way into your best holiday in KwaZulu-Natal with a visit to Mangwanani Day Spa overlooking the ocean. When it comes to activities in Durban for couples, not much can top a pampering at the spa.
Let the kids go crazy at The Fun Company where they can enjoy arcade and computer games, ideal on rainy days. On sunny days, go for a family bike ride along Durban's promenade; it's one of the most fun things to do on holiday in Durban! Hire bicycles at  Bike and Bean and enjoy the flat and breezy ride, then stay for coffee and snacks at the restaurant on the premises when you return your bikes.

One of the ultimate family-friendly activities in Durban is a visit to the  uShaka Marine World. Enjoy dolphin, seal and penguin shows and the rides and slides at the Wet 'n Wild water park. Visit the Sea World complex where you'll be amazed at the largest aquarium in Africa or take part in the incredible experiences on offer, such as the Xpanda Shark Dive or Ocean Walker, where you walk on the floor of the Open Ocean exhibit while sea life surrounds you. Durban's many gorgeous beaches along the Golden Mile are bound to call you too – be sure to pack the sunscreen and hats!
Time for a date night? The Izulu Theatre and Sibaya Theatre offers local and international shows, as well as performances by top local bands. Find out what shows are lined up here.

An evening at Sibaya casino with 50 gaming tables including Poker, Baccarat, Blackjack and Roulette and Call Card 52, as well as 1 282 slot machines, could make you a winner and ensure your best holiday in KwaZulu-Natal ever. Offering smoking and non-smoking sections, the casino promises hours of entertainment. If you enjoy a slightly higher denominational game, pop in at the Sun Lounge, while MVG cardholders are offered an exclusive gaming experience at the Royal Court Salon Privè.
Venture out to discover a wealth of things to do on holiday in Durban! Go inland to visit the aptly-named Valley of a Thousand Hills, explore the famous Midlands Meander or opt for an educational tour of the Battlefields, among the most popular cultural attractions in KwaZulu-Natal.

As far as adventure attractions in KwaZulu-Natal go, the scenic Oribi Gorge offers the world's highest bungee swing or you can bungee jump at the iconic Moses Mabhida Stadium (for a calmer pursuit there's always a Segway tour). Durban offers plenty of other adventures, including quad-biking, hiking, deep-sea fishing and boat cruises.

Highly recommended while you're holidaying on the North Coast is exploring the coastline from the beautiful town of Ballito to the scuba-diving Mecca of Sodwana Bay. Whatever you choose to do in Durban, this Easter will be your best holiday in KwaZulu-Natal ever!