Travel | 08 Sep 2017 | By Sun International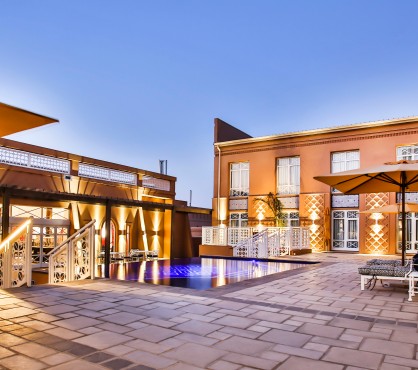 Top 4 Things to Do with Kids in Polokwane, Limpopo
Anyone who says there aren't that many things to do with kids in Polokwane, Limpopo has never spent a day at Meropa Casino and Entertainment World. As the biggest family-friendly entertainment complex in Limpopo, it's no surprise that locals and visitors know it's one of the best places to visit in Polokwane for kids activities and family fun! 
And with the new Meropa Hotel in easy reach, you don't need to wonder about where to stay in Limpopo – especially if you want to extend your visit to take in some more Limpopo attractions and sightseeing. Spacious, comfortable and conveniently positioned, the new family-friendly Meropa Hotel in Polokwane is the perfect base from which to explore all the province has to offer. 
Ready for fun? Here's our list of the top four things to do with kids in Polokwane, Limpopo:
Meropa Casino and Entertainment World
With so much on offer at Meropa Entertainment World, it's easy to spend a whole day discovering family fun and exploring exciting kids activities. Zoom around the winding, open-air, go-kart tracks — for the smaller children, a slower track is available and, for the older adrenaline junkies, there's a faster racing track. Or, if teeing off is more your flavour for family activities, take in a couple of holes on the Mini Golf course. It's okay — you don't need to have a handicap or even special gloves!
For avid gamers and spinning winners, the family-friendly games at the Magic Company Arcade will keep you winning. Using a token and card system, kids can win tickets to exchange for great prizes when they're done playing at each of their game stations in the arcade.
Wild Thingz
Wondering what to do with kids in Limpopo? Combine a fun family day out with some educational insights at Wild Thingz. Also situated within the Meropa Casino and Entertainment World complex, Wild Thingz is a fascinating bird and reptile park, and a well-known Limpopo attraction for kids. 
Keep your eyes peeled for the brightly coloured birds, butterflies and peacocks, and steel your nerves at the Reptile House with its creepy-crawlies and slithering creatures. Your bug-loving and snake-obsessed children will love seeing anacondas, pythons and more. Make a day of it and stick around for one of the bird shows or a snake demonstration in the afternoon.
The Ranch Conservancy
Situated in a private game reserve, The Ranch Conservancy isn't your typical game park. As one of the best places to visit in Limpopo for wildlife and sightseeing, expect to see lion and hyena roaming freely here, and more than 20 species of endangered antelope, all kept safe from poachers. For fun family activities at The Ranch Conservancy, treat the children to a game drive or set off on a horseback safari. 
The Farmyard Trading Post
After a walk on the wild side, enjoy a gentle meander through the stalls and shops at The Farmyard Trading Post. The perfect spot for a fun family afternoon out, The Farmyard Trading Post envelops you with its old-world charm and interesting array of organic farm produce.
Tuck into some home-baked cookies or a delicious meal on the patio. You can keep an eye on the kids while you eat, as the patio overlooks the garden and playground. And Polokwane locals recommend you pop in on the last Saturday of every month for Market Day. That's when a wide variety of crafts, artisanal food, jewellery, antiques and more are on sale, so you're sure to snap up a bargain while wandering around. Plus, the children will love the many kids' activities on offer. 
With so many things to do with kids in Limpopo, how are you spending your stay with us?