19 Nov 2014 | By Sun International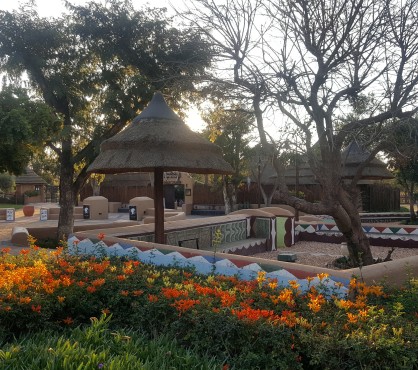 5 Things to Do in Polokwane
Limpopo, with its abundance of outdoorsy tourist attractions, is South Africa's unofficial adventure playground. This is where you go to explore the unexplored. Plus, you don't have to venture too far to experience the abundant wonders of South Africa's northern corner, as Polokwane, Limpopo's adventurous capital, is only a hop-skip-and-jump from Pretoria.
If you're looking for things to do Polokwane, we've got the lowdown here:
Established in 1979 as a satellite station of the Pretoria Zoo, the centre forms part of the Makapan Valley World Heritage Site and is used a breeding centre for rare species like Black Rhino, Roan Antelope, Tsessebe, and Lemur. As both a research centre and game reserve, there's a strong focus here on environmental education. Be sure to book a morning feeding trip.
The Mokopane Biodiversity Conservation Centre is only a 40 minute drive from the Meropa Casino in Polokwane, and worth a full day's outing. Round off your visit with a classic game drive through the reserve to see a variety of endangered wildlife species from Southern Africa.
2. Take a walk on the wild side
Visit WildThingz at the Meropa Casino. This bird and reptile park not only offers fun family entertainment, it's an educational experience too. Learn about the different kinds of butterflies at the butterfly specimen house, or watch a snake demonstration (every day at 4pm). The kids will love the jungle-like atmosphere, and the chance to get up close and personal with a whole range of creepy-crawlies, birds and reptiles. Take a breather at the WildThingz Cafe while the little ones clamber up and down the jungle gym.
3. Learn to scuba dive
A short 30-minute drive from the Carousel Casino, you'll find the world's only scuba diving school in a Big 5 game reserve. This registered SSI Dive Centre is the only place where you'll catch glimpses of game while practicing your buoyancy. If you've never dived before, opt for the afternoon Scuba Experience, a basic "try out" session, which will give you a taste of what scuba diving entails. If your kids are too young for their first scuba session, but you're looking for things to do that are water-based, then book a boat fishing trip on the Rust de Winter Dam.
4. Make it a monkey afternoon
Just around the corner from the Carousel Casino, the Mystic Monkeys and Feathers Wild Animal Park is home to one of South Africa's largest private primate collections. The kids will love "meeting" 44 different monkey species, while seeing rare and exotic birds. They'll also be enthralled by the family of predators at the park, which includes white lions, Bengal tigers and cheetah. Make sure you book a play session, where your little ones can play with cubs or chimps.
5. Spend the day at a home away from home
Don't feel like going anywhere? Play a round of mini golf at the Meropa Casino and Entertainment World, or challenge the kids to a go-kart race.
Spend the day lazing on a deck chair beside the Carousel Hotel's beautiful Victorian-style swimming pool, or practice your backswing at the Acacia Place tennis and squash courts. The kids will love the Magic Company Arcade, while Tumbletown will delight the tots.
Whether your thrills lie in horse riding, abseiling, hot air ballooning or bird watching, there's always something to do in adventurous Polokwane!