Business | 25 Jul 2018 | By Sun International
How did The Maslow get its name?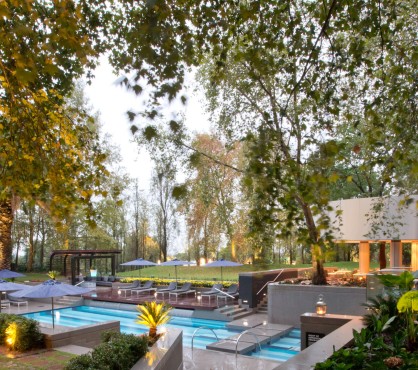 The mind's preoccupation relies on the body's location. Imagine a hotel that has been created to optimally satisfy the fundamental needs of the individual so that you are free to achieve your highest potential, self-actualisation. This was our thinking behind the creation of The Maslow Sandton - a concept we took to even greater heights with The Maslow Time Square in Pretoria.
Inspired by Maslow's Hierarchy of Needs
In his 1943 paper "A Theory of Human Motivation," psychologist Abraham Maslow proposed a groundbreaking theory to describe the pattern through which human motivation moves. Maslow's Hierarchy of Needs is a pyramid which illustrates six stages of human growth from physiological needs to self-actualisation.
What are the stages of Maslow's Hierarchy of Needs?
At the bottom of the pyramid, physiological needs relate to survival: food and shelter. Once these needs have been met, the next stage, safety, is defined by financial well-being, health and personal security. After physiological and safety requirements are fulfilled, the third level of human needs is interpersonal and involves feelings of belonging - friendships, intimacy and family.
The top two tiers of the pyramid deal with esteem needs - ego needs or status needs; all humans need to feel respected. At the pinnacle of Maslow's Hierarchy of Needs, self-actualisation refers to what a person's full potential is, and the realisation of that potential. Maslow described this level as the desire to accomplish everything that one can do to become the most that one can be. Maslow believed that to understand this level of need, you must not only achieve the previous requirements but master them.
Fun Fact: In his later years, Maslow explored a further dimension of needs: self-transcendence. According to this theory, the self can only find actualisation in giving over to some higher goal, in altruism or spirituality.
We know what you need
Abraham Maslow stated in his theory that when an individual's primary needs are met, and self-actualisation has been attained, the individual will be optimally primed for creativity, problem-solving and spontaneity.
Whether you're closing a significant deal, building relationships over a business lunch with potential clients or inspiring your team to think out of the box in a strategy session, both our groundbreaking hotels deliver the finest cuisine, sumptuous comfort, state-of-the-art technological needs and the most inspirational spaces in which to work (and play).
The Maslow Sandton - meeting your needs
One of the finest business hotels near OR Tambo International airport providing meeting rooms and convenient Sandton accommodation, The Maslow Sandton embraces the philosophy of Maslow's hierarchy of needs by creating a cocoon of luxury, convenience and attention to detail in the midst of the non-stop business district of Sandton.
Surrounded by some of the most successful financial institutions in South Africa, The Maslow Sandton absorbs the ambitious energy of its environment and yet creates a space of serenity with every need thoughtfully taken care of. This allows you the rare opportunity to focus on the task at hand: being the best person you can be.
One of the few hotels near to the Gautrain services, The Maslow Sandton's prime location means that you can touch down in Johannesburg and find yourself checked in at The Maslow Sandton all before you've had your morning cup of coffee. With such convenience and ease, The Maslow Sandton is a great escape to recharge and refocus.
The Maslow Time Square - exceeding your expectations
A trailblazing first for Sun International and South Africa, The Maslow Time Square features multi-level accommodation options.
Designed to facilitate all modern business needs, The Maslow Time Square is packed with state-of-the-art facilities and technology to inspire you. And when it's time to unwind, our 238 rooms provide Pretoria accommodation to suit you, from comfortable to luxurious.
Situated in the Menlyn Maine Precinct, your Pretoria accommodation at The Maslow Time Square gives you front row access to South Africa's first green city. Discover fine food, excellent shopping and wellness activities in a walkable and bustling environment that has been developed according to the principles of New Urbanism — convenient, integrated living.
"A musician must make music; an artist must paint, a poet must write if he is to be ultimately at peace with himself. What a man can be, he must be."  Abraham Maslow.