The largest entertainment destination of its kind and the only casino in Cape Town, GrandWest Casino and Entertainment World opened its doors in December 2000, just a short drive away from the city centre. The complex offers non-stop entertainment from concerts, various dining establishments, The Magic Company, the only ice rink in the Western Cape, a casino offering both Slots and Tables, and so much more.
Entertainment is our forte, yes, but we also offer wonderful conferencing and meeting facilities, providing a space where you can feel inspired as you aim to grow your business. For those travelling from afar, or if you just need a break from your space, GrandWest offers accommodation in the City Lodge or The Grand Hotel, so the fun is never far.
Ample, safe parking is available on complex for only R10.
Getting to GrandWest Casino and Entertainment World
1 Jakes Gerwel Drive
Goodwood, 7460
Cape Town
South Africa
///filed.stamp.tiling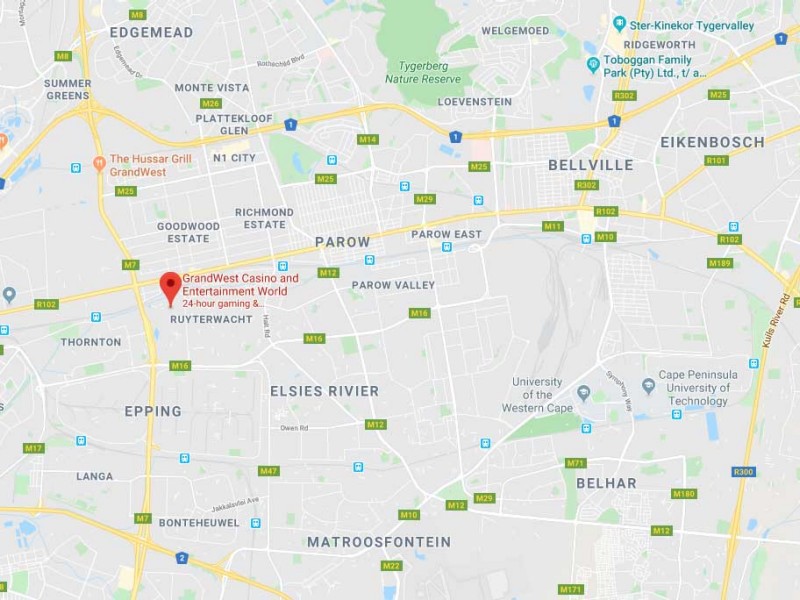 | | |
| --- | --- |
| City Lodge | +27 21 535 3611 |
| Grand Hotel | +27 21 505 7140 |
| | |
| --- | --- |
| Good Hope Suites | +27 21 505 7515 / 7568 |
| Grand Arena | +27 21 505 7515 / 7568 |
| Hanover Street | +27 21 505 7777 / 7568 |
| Roxy Revue Bar | +27 21 505 7619 |
| The Market Hall | +27 21 505 7515 / 7568 |
| | |
| --- | --- |
| Grand Arena | +27 21 505 7777 |
| Hanover Street | +27 82 588 6662 |
| Roxy Revue Bar | +27 21 505 7777 |
| | |
| --- | --- |
| Debonaires | +27 21 535 5711 |
| Doughnut Hive & Subz | +27 21 534 9956 |
| Farmhouse Biltong | +27 21 505 7777 |
| KFC | +27 21 534 9006 |
| Milky Lane | +27 21 534 3220 |
| Nando's | +27 21 534 2208 |
| Steers | +27 21 535 7510 |
| Subz | +27 21 535 9956 |
| Wimpy | +27 21 534 0980 |
| Ying Tao Asia Express | +27 21 535 4090 |
| | |
| --- | --- |
| Kids Corner Crèche | +27 21 534 8863 |
| Magic Arcade | +27 10 143 0392 |
| Magic Bowling | +27 10 143 0393 |
| CineCentre | +27 861 246 300 |
| The Ice Station | +27 21 535 2260 |
| Laser Tag | +27 10 143 0391 |
| | |
| --- | --- |
| Sun Exhibits | +27 21 505 7777 |
| | |
| --- | --- |
| Cape Town Fish Market | +27 21 535 3110 |
| Hanover Street | +27 82 588 6662 |
| Jackson Hall | +27 21 505 7777 |
| The Quarterdeck Restaurant | +27 21 505 7220 |
| Silver Dollar Spur | +27 21 535 4596 |
| Union Castle Club | +27 21 505 7328 |
| | |
| --- | --- |
| The Ice Station | +27 21 535 2260 |