Golf | 14 Apr 2017 | By Michael Vlismas
The Masters: Ernie Els and Sergio Garcia Frustration Over the Years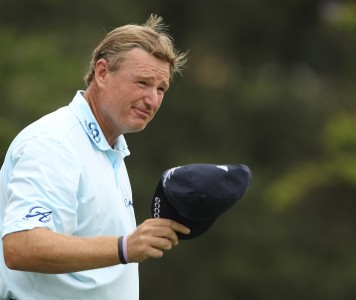 | Photo by Sunshine Tour
If golf does indeed mirror life, then the Masters showcased the perfect agony and ecstasy of two players.
Sergio Garcia and Ernie Els.
One finished at the top of a leaderboard he has been climbing his entire career but weighed down by overwhelming expectation. The other finished at the bottom of a leaderboard he has been fighting to stay away from for the latter part of a career of overwhelming frustration.
The similarities between Garcia and Els are more than just the fact that both are emotional creatures on the golf course, or that both were considered prodigies early in their careers. Or that both could have done without a certain Tiger Woods in their eras.
Els was at the peak of his powers when Woods arrived.
He finished tied eighth in his first Masters in 1994 and then won the US Open that year. He added another US Open in 1997, the same year Woods blew the world away with his 12-shot victory in the Masters for his first Major. Then Els wouldn't win another Major until 2002, and after this until 2012.
In 2000, Els finished second in three Majors, two of them to Woods. From 2000 to 2004, Els finished no worse than sixth in the Masters. The 2004 Masters hurt the most, as that was the year Els felt he'd done enough to win, and then Phil Mickelson beat him with a birdie on the last.
Garcia only turned professional in 1999, two years after Woods overpowered Augusta National. Long tipped for greatness, Garcia walked straight into the perfect storm of the most dominant player of many a generation. The Spaniard finished second to Woods in the 1999 PGA Championship that year. From there we all now know how long it took until he finally fulfilled his Major destiny.
As Els watched Woods's career overshadow his generation, Garcia was in that shadow right from the start and struggled to fully define himself. But for both, the Masters has represented possibly the most public showing of their own Major struggles. Els said of his third-round 83 this year, "It's tough to do that here. There's no hiding place out there".
In the 2012 Masters, Garcia famously declared himself not good enough to win a Major. Els has never sunk that low, having won four Majors. But after finishing last in what could have been his final Masters, Els echoed Garcia's 2012 words when he declared, "If you can't win it in 23 goes, maybe you should try something else".
Last week, as Garcia was celebrating having finally won his Major, Els was still plagued by the one Major that has always eluded him, and which he now seems to have made peace with.
Perhaps what makes it so painful to watch is that although he could quite easily do so, Els has not stopped working. Fellow South African professional James Kamte said how inspired he was to see Els on the driving range late on the Thursday afternoon of the BMW South African Open when most of the players had left.
"He was still out there trying to get better. He doesn't need to be there. I said to myself, 'This is the only way you can improve'. He's still working hard," said Kamte.
And even as he stared down the prospect of his final Masters, Els was still working on something.
"You have to or you're going to go nuts. I was trying to find something this week and that includes working on something."
It's Els's relentless drive to still try and be better that has always impressed his longtime caddie Ricci Roberts.
"Some guys are too comfortable making five to 10 million dollars a year. It's too easy. The great thing with Ernie is he always wanted to be the best and pushed himself to the limit. He knew that if he was the best, the rest would take care of itself. If he (Tiger Woods) wasn't around, how many Majors would Ernie have won? Probably 12. Who knows? At end of day we were in that era and had to deal with it."
Els went into Masters week very much prepared for the fact that this could be his last competitive walk under those impressive pines. And while he may have made peace with this, there is still a sense of something left incomplete. As the golf world celebrated with Garcia and felt a collective sense of relief at his victory, Garcia himself is possibly the one player who can understand exactly what Els is feeling.
Garcia said after his victory that the support he has received has made him feel, "So nicely surrounded".
If this is indeed Els's final Masters appearance, he should feel the same. While the Masters doesn't always reward, it does always remember.
It will remember that Els has always put his best and worst out there on display. His best never won him a green jacket. But his worst - six-putting the first green in 2016 for a record nine on that hole and then not taking the easy route and walking off - won him respect.
You can bet that if Ben Hogan was still handing out the invitations for the Champions Dinner, that's the kind of grit he would've wanted seated next to him at that most exclusive table.
A seat for the best player never to have won the Masters.