Golf | 02 May 2017 | By Lali Stander
SLT six ready to rock Swazi Open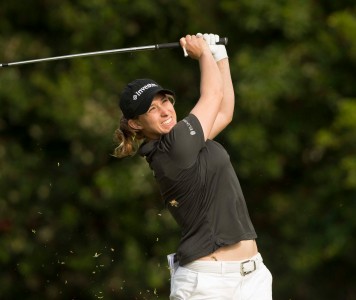 Stacy Bregman | Photo by Sunshine Ladies Tour
MBABANE, Swaziland (2 May 2017) – South Africa's Stacy Bregman will lead a six-strong Sunshine Ladies Tour assault in the Investec Royal Swazi Open, which tees off at the Royal Swazi Spa Country Club on Wednesday.
Bregman arrived back from Spain last week and spent a bit of time with her family before she headed to Swaziland to join forces with fellow Investec Property player Bertine Strauss in the Sunshine Tour championship.
The rest of the ladies' line-up features 2017 Chase to the Investec Cup for Ladies champion Ashleigh Buhai, Dimension Data Ladies Challenge winner Nicole Garcia, big-hitting Bonita Bredenhann from Namibia and local favourite Nobuhle Dlamini, who will be looking to impress the Swazi crowds at her home course.
The Sunshine Ladies Tour six-pack will compete alongside a stellar line up of 72 male professionals, spearheaded by Tshwane Open champion Dean Burmeester.
Like their male counterparts, the Sunshine Ladies Tour players will each have three amateur partners for the event. They will also play the same course set-up and the same format, however, the six players will compete for their own purse of R100 000, plus daily incentives worth R10 000.
"We are pretty excited to tee it up in the Investec Royal Swazi Open, because of its unique format," said Bregman. "Instead of the usual stroke play format, you are awarded points for your good shots and penalised for your drops, so it can get pretty exciting.
"An albatross earns you eight points, eagles get you five points and birdies two points, while par is worth zero. You lose a point per bogey and three points for a double bogey or worse. This format will benefit good ball striking and the players with the hottest putters.
"You're going to have to get aggressive to score because pars just won't cut it. This format is guaranteed to provoke a lot of enthusiasm and a high level of competition, especially among the amateur players, and we are keen as beans to get started."
While Buhai has been struggling on the LPGA Tour to find the form that rocketed her to top the Sunshine Ladies Tour standings earlier this season, the hard work Bregman and Garcia put into swing changes over the course of the 12-week circuit been paying off for the pair on the Ladies European Tour.
In early April, Garcia tied for 29th and Bregman for 36th in the season-opening Lalla Meryem Cup in Morocco and two weeks ago, the pair finished in joint 28th in the Estrella Damm Mediterranean Ladies Open.
"I switched coaches late last year and started working with Matt Belsham," said the four-time Sunshine Ladies Tour winner.
"Everyone knows my swing is always a work in progress but Matt has made quite a few changes. I used the Sunshine Ladies Tour to create new habits, but all-in-all it was a frustrating season for me and I never really got anything going.
"So it was great to get into contention at the Mediterranean Ladies Open and to shoot seven under in the final round to finish in the top 30. Both Nicole and I caught some good form in Spain and hopefully it continues here in Swaziland this week."