Golf | 10 Mar 2017 | By Lali Stander
More incentives to chase in Investec Cup Ladies Final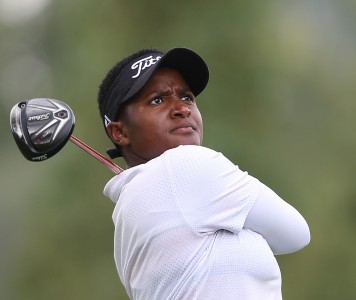 Nobuhle Dlamini from Swaziland teed off the 2017 Chase to the Investec Cup for Ladies Final at Millvale Private Retreat | Photo by Sunshine Ladies Tour
The 10 finalists contesting this year's final in the 2017 Chase to the Investec Cup for Ladies have been given two more targets to chase with the surprise announcement of an eagle prize and invitations to join the Sunshine Tour in Swaziland later this year.
The announcement was made shortly before Nobuhle Dlamini hit the opening shot to tee off the R1-million showstopper at Millvale Private Retreat on Friday morning.
"Investec Property has been raising the bar continuously since it joined the Sunshine Ladies Tour as a sponsor and partner in 2014, both with their financial support at all our tournaments and in the final event," said Sunshine Tour executive director Selwyn Nathan.
"Now they have upped the ante considerably in the final event of this year's Chase to the Investec Cup for Ladies with a R1-million prize for the first player to record an eagle two at the par four 18th in the final round and invitations to compete in the Sunshine Tour's Investec Royal Swazi Open from 3-5 May."
Investec Property players Lee-Anne Pace, Stacy Bregman and Bertine Strauss and Swaziland's own Nobuhle Dlamini already accepted invitations to the event, but Investec Property is extending further invitations to the two top ranked players in this week's season-finale to compete in the 54-hole pro-am at the Royal Swazi Spa Country Club.
"These are fantastic incentives for the players to chase over and above the R100 000 winner-takes-all first prize for the Final and the R1-million bonus pool the 2017 Chase to the Investec Cup for Ladies," Nathan said.
"A tour is only as strong as its partners and sponsors, and Robin Magid and his Investec Property team continues to amaze us. We salute their commitment to develop and promote the women's professional game in South Africa, Africa and abroad."
The R1-million eagle prize brought a huge smile to big-hitting Dlamini's face before she fired a huge drive down the first fairway.
"I hope I'm the one who says the eagle has landed Sunday," Dlamini said. "Wouldn't it be great to treat all the ladies to an anything-you want day in the spa so we are in tip-top shape to tackle the boys in the Investec Royal Swazi Open.
"This is an awesome opportunity for us to pay Investec Property back for their support. On a personal level, it's a rare opportunity to compete in a professional event in my native country and I'm so grateful for the chance to play in front of a home crowd and my family and friends."