24 Nov 2014 | By Sun International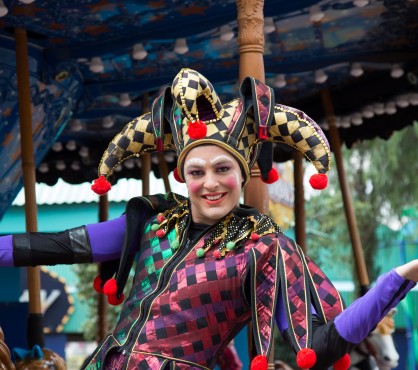 Carnival City Is Surrounded by Fun
Situated between Benoni and Springs, Carnival City lets visitors explore a new side of Gauteng away from the buzz of Joburg. Think nature, new skills and some very cute bunnies… Discover cool Gauteng family entertainment near Carnival City in the East Rand.
There are so many reasons to visit this 95 hectare sanctuary. Top of the list surely is the fact that it is home to over a 190 species of birds while the fact that entrance is free is a close second.
Bird watching enthusiasts will be delighted to know that the sanctuary houses the following incredible birds (amongst others):
African snipe
Greater flamingo
Marsh owl
Little Bittern
Maccoa duck
Tip: Wake up early and enjoy a bird watching adventure before breakfast at Carnival City's Fego Caffe. The sanctuary is open daily from 07h00 to 17h00.
Despite its name, the Bunny Park also houses cows, donkeys, goats, chickens, peacocks and turtles. Only 20 minutes away from the thrills of Carnival City, the Bunny Park is a great place to soak up the sunshine while enjoying a relaxing picnic. Just remember to pack some snacks for your new four-legged friends! The animals are tame enough to be handfed and roam free around the park.
Open daily from 07h00 to 17h00, entrance to the park is free. And if conversation between your kids and the animals is a bit one-sided, the Bunny Park also offers kids entertainment such as pony and camel rides as well as and train rides and a playground.
Holidays are a great time to explore your creative side and learn a new skill. With blissful hours of free time on your hands, why not think outside of the box and instead make a glass box! The Crucible glass blowing Taster Sessions are suitable for any level of experience and offers students an opportunity to learn a new skill while working with artistic glass.
Tip: The Crucible also offers kids workshops, click here for more info.
On Saturdays and Sundays between 10h30 and 15h30 quell your cravings for adventure with a sandboarding adventure in Benoni. Equipment and lessons are included, so the only thing for you to do it scream "cowabunga!" as you speed down the golden sands.
With a petting area, playground and tea garden, Bokkie Park is an ideal visit for families with young kids. Open from 08h00 to 17h30 with free entrance, make the most of the serene setting and use the park's braai facilities to serve up a delicious Sunday lunch.
Tip: On the first Sunday of every month, the Bokkie Park Crafter's Market takes place between 09h00 and 14h30.