02 Nov 2014 | By Sun International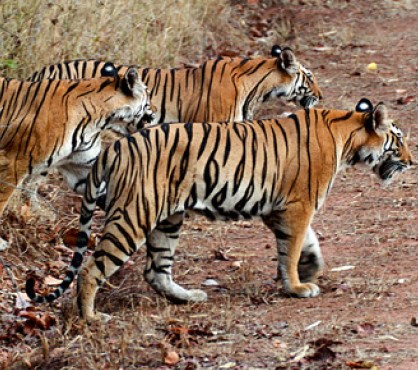 The Free State is known for its rolling hills and flatlands, but there's more to do and see in Bloemfontein than you might think.
You'll find the Windmill Casino just off the N1 highway. Open 24 hours the day, the Windmill Casino is always abuzz with the bright lights and familiar hum of punters trying their best to woo Lady Luck to their side. For the family, Windmill Casino offers a wide range of family-friendly activities, outdoor adventures and, of course, comfortable accommodation.
But there's something that not many people seem to remember about this province and we think it's time to remember that a very distinctive roar can be heard in the Free State. Yes, we're talking about tigers. Just 2 hours away from the Windmill Casino, you'll discover Tiger Canyons.
Tiger Canyons
The brainchild of well-known South African wildlife filmmaker, John Varty, Tiger Canyons is a tiger conservation and re-wilding project. Some view it as a controversial initiative but, the primary goal of Tiger Canyons is to establish a free-ranging, self-sustaining population of Bengal Tigers outside of Asia.
Current conservation efforts to protect tigers are not succeeding as well as hoped. It's even been said that there may now be less than 3000 tigers left in the wild. That's why these efforts by John and his team should be well supported, for anything else could spell the end for tigers across the world.
Located just outside Philippolis in the Free State, Tiger Canyons is a gigantic estate, with a varied landscape that reflects the range of climates and territories that tigers live in. Now home to quite a few tigers that are actively breeding, Tiger Canyons also opens its gates for visitors.
All of the sanctuary's income goes towards the upkeep and care of the tigers, so don't expect a tourist-friendly seat and 5-star service when arriving at Tiger Canyons. When visiting, you'll be treated to an enthralling presentation by Varty himself and then be taken on a game drive to view the resident tigers up close.
Most importantly, even though this sanctuary was created for tiger rehabilitation, that doesn't mean the animals are tame, at all. The tigers hunt and kill their own prey so they are far from tame. In fact, at Tiger Canyons you'll feel like the one caged in while the animals roam free.
A Game Drive With a Difference
With strong bars surrounding the specially modified vehicle, Varty takes visitors on guided tours through the veld, where you're certain to come across a tiger or two on your journey. Thanks to the close relationship Varty has with the tigers, it's very common for them to come close to him and sometimes even jump on the vehicle you'll be in.
With incredible passion and hope for the future of tiger populations, John Varty and his team established Tiger Canyons to create a true sense of possibility for these graceful animals.
But, beyond the altruism and the desire to save a piece of the world, wouldn't you want to lock eyes with a tiger up close?