Travel | 07 Feb 2020 | By Sun International
Electric Vehicle Charging Station in Bloemfontein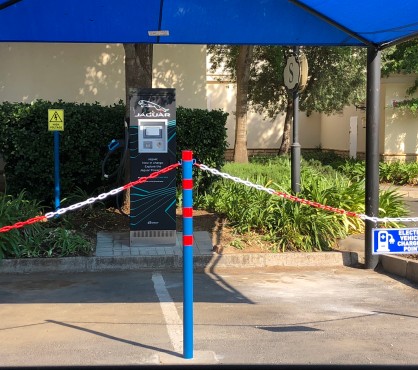 Sun International's Windmill complex in Bloemfontein is one of the official charging points for electric vehicles on South Africa's first electric vehicle highway. The two GridCars charging units, located in the main parking area, features charge points for Combo DC (60kW) and AC (22kW) units.
The electric vehicle highway, the N1 between Gauteng and the Western Cape, is being deployed by GridCars which has become renowned as an independent authority on Electric Vehicle Charging Service Equipment (EVSE) and Charging Station Infrastructure and Management Systems. GridCars was also a founding member of the Electric Vehicle Industry Association. The company continues to play a leading role in building the EV and eMobility industry in South Africa through engagement with vehicle manufacturers and various other stakeholders.
GridCars has developed a back-office system that is in line with worldwide best practices and standards in eMobility. They issue and manage RFID Cards to allow for seamless charge point access and billing. Their system users can easily locate near-by charge points through live maps. The electric highway initiative is in collaboration with Jaguar, BMW, Nissan and Volvo which have GridCars official charging sites on their vehicle GPS systems. The GridCar charging units have the capacity to charge one car at a time and it takes between 45 minutes and four hours to charge a vehicle on a AC (22kW) unit (depending on the vehicle) and between 45 minutes and an hour and 45 minutes on a Combo DC (60kW) unit. For more information guests can visit https://www.gridcars.net/ and contact GridCars directly to register an account.
"We are thrilled to be an official charging site on South Africa's first electric vehicle highway. Drivers of electric vehicles on the N1 will be able to stop in at Windmill and enjoy a meal and entertainment while their cars charge up." Kamo Mohapi, PR and Promotions Manager at Windmill
With it being the festive season, Windmill has a Stop Over-Hotel campaign running for travelers making the trek from Gauteng to the Western Cape. Hotel rates from until 6 January 2019 (excluding public holidays) are priced from R1 020 or 60 Leisure Points for Sun MVG cardholders. Contact Windmill Lodge on (+27) 51 410 2000 for more information or to book.