Lifestyle | 28 Mar 2017 | By Sun International
Bites & Beats: Q&A WITH J'Something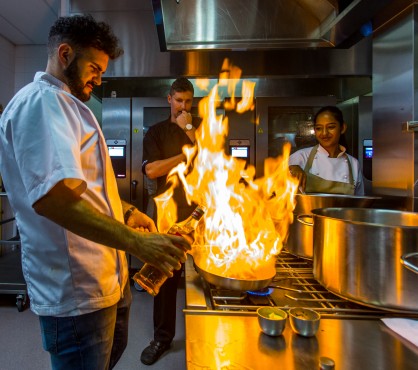 ---
Food is music to the body, music is food to the heart." – Gregory David Roberts
If you haven't heard already, Something's Cooking and it's set to be the sensory sensation of Time Square, Sun International's latest development in the Menlyn Maine precinct.
It's hard to say which was his first true love; food or music, but Mi Casa frontman, J'Something is embracing both of his passions to create a fusion foodie experience that will satisfy all your senses. Inspired by the multitalented muso's eclectic heritage, Something's Cooking by J is one of the most hotly anticipated restaurants at Time Square.
"It's all about creating an environment that breeds positivity and good vibes." – J'Something
Serving a unique flavour to the Pretoria foodie scene, diners can expect Portuguese and South African dishes with an unexpected Asian twist that defies traditional labels. With every detail from the menu design to the music carefully considered, J'Something hopes that diners will feel like his restaurant is a home away from home.
We spoke to the soon-to-be-restaurateur to get the inside scoop on his new venture and what we can expect.
1.      It's the final countdown to your restaurant opening at Time Square, tell us what diners can expect?
It's an unbelievable feeling. Excitement on 100 right now. Look, I think we are all going to create the vibe of Something's Cooking By J, clients included. It's a brand-new restaurant that is all about serving smiles. From all angles. The food is a picture of my heritage. Portuguese, South African, and then current passions of mine such as Japanese food, Korean, etc. Everything about the place is going to be an experience. At least that's the objective. Music is going to unique, drinks will be memorable, the views are awesome. I just want people to come and relax, have a good meal, and make happy memories that will last a lifetime. 

2. Do you have any memorable experiences related to food as a child?
Of course, fresh fish on the coals, rice pudding, toast with homemade butter, minute steaks and spaghetti, and the list goes on. Food was always an integral part of my upbringing as both my parents worked in the hospitality industry. 

3. How did your collaboration with Sun International come about?
It was magical. Craig Tibbit from Sun International, head of Food & Beverage for the group, called me into a meeting. I thought it was about Mi Casa you know, or maybe a food demo or something small. Well he cut to the point and said they were opening a new place called Time Square and they wanted me to have my own restaurant there with them. I couldn't believe it. My dad worked for them all his life. In the Food & Beverage department. Two weeks prior to this meeting my dad had passed away. So, it was all a bit emotional for me. But yes, it's all happening and it's unreal. 

4. Favourite ingredient to work with?
Garlic. 

5. Tell us how your Portuguese heritage inspired your menu?
Well, I can't hide the flavours I've grown up with, but it is not a Portuguese restaurant. Its inspired by many things. You will see a lot of classics with a twist. I've tried to also stick to things that are true to me. 

6. What's your absolute favourite dish on the menu?
Not a fair question! They always ask me "what's your favourite song on the album?" I like all of them! :) But if I had to choose I would go with my mom's prawns. 

7. Your menu has been described as "Afroguese" what does this mean to you?
I would say that's an element of the menu. It's a blend of Portuguese and African. It's Afroguese. Its who I am. But it's not limited to that. Some elements are however inspired by both cultures. 

8. In three words, how would you describe your restaurant design?
Clean, modern, and breathtaking. 

9. What was the inspiration for your restaurant design?
Me. Everything was inspired by me. :-) I know it sounds selfish but the whole purpose of the restaurant is to replicate who I am and give people an experience of what I am about. It's all about creating an environment that breeds positivity and good vibes. 

10. What's your favourite design detail in your restaurant?
The bar! :-) Ah man, I can't wait for you to see it. 

11. What's the most important lesson you've learnt in the build up to the grand opening?
It's way more complex than cooking at home. Haha!

12. Its date night and we're dining at your restaurant, what should we order?
Order a petiscos board which is the Portuguese way of doing an antipasti board. Then order the lamb feast to share. It's delicious. Slow cooked shredded lamb served with smokey hummus, pickled red onion and grilled aubergine salad and some cumin and garlic flat bread. Then end off with a Death By Coco dessert. Trust me on this! :-) 

13. You've said that a big theme of your restaurant will be sharing, what's your favourite food to share?
Definitely not pizza! I don't like sharing my pizza. My friends and family know this. Haha! But on the real though, I just love eating as a family. Everybody passing around things that are on the table. That's how I would love to see people eating.