31 Oct 2017 | By Sun International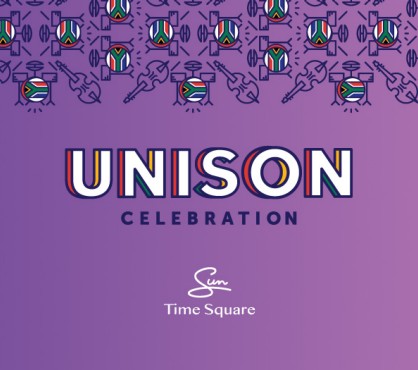 Everything You Need to Know About Unison Celebration
To mark the launch of a new era in entertainment in Pretoria at Sun International's Time Square, we're celebrating South Africa and honouring local talent. For one night only, we're bringing 18 of South Africa's biggest names in entertainment together at the Sun Arena for the Unison Celebration Concert.
Some of the local stars taking the stage at Menlyn Maine include Lira, MiCasa, Karen Zoid, PJ Powers, Zonke, Claire Johnston and more! The once-in-a-lifetime entertainment experience in Pretoria will also include choir performances, flash mobs and a spectacular light show. And to top off the event, the Unison Celebration Concert at Time Square will see iconic songstress, Miriam Makeba, inducted into the South African Hall of Fame. 
Here's everything you need to know about the Unison Celebration Concert in Pretoria:
What is Unison?
The Unison concert is a one-night-only celebration of South Africa's diverse entertainment talents; a chance to cross musical genres, transcend cultural boundaries and unite in the spirit of ubuntu.It's all about honouring local talent and celebrating South Africa's unique heritage. 
Bringing together 18 of the biggest names in South African entertainment on 4 November 2017, the concert will officially open the Sun Arena at Sun International's Time Square. The state-of-the-art 8 500-seater entertainment venue in Menlyn Maine features the most modern rig and best acoustics available in South Africa to provide an unprecedented platform for staging grand-scale international and local acts.
How Can You Get Tickets?
What makes the Unison Celebration Concert at Time Square unique is that it is a not-for-profit show, and no tickets will be sold. That's right, you can't buy a ticket! Instead, Sun International's Time Square will be giving 8 500 tickets to local media in the region for their listeners and readers to win. 
To secure your exclusive invite, you need to stay tuned to your local radio station and news outlets for details on how to win your spot at this once-in-a-lifetime entertainment event in Pretoria. Keep your eyes and ears glued to Rekord newspapers, Jacaranda FM, Groot FM, Beeld, Media24, The Centurion, Primedia, Kasie FM, Pretoria News and The Star.
What to Expect
Prepare for the unexpected. The Unison Celebration Concert at Time Square will be like nothing you've ever experienced before. Besides the line-up of incredible entertainment acts, the show is all about getting together to celebrate South Africa — its diverse people and rich tapestry of cultures. 
It's a big deal. To honour the exceptional calibre of South African talent, Sun International's Time Square is dedicating the official opening night of the Sun Arena to authentic South African entertainment. Expect a collaborative musical celebration that will stir your soul!
Plan Your Outfit
Have you scored an invite to the Unison Celebration Concert at Time Square? Lucky you! It's not every day that you get to attend the biggest entertainment event in Pretoria. In the spirit of celebrating South Africa, add some local fashion flair to your Unison concert outfit. Whether you decide to rock Shweshwe or #boeregothic, go all-out for fashionable fun!
Prep Your Playlist
There's nothing better than being able to sing along to your favourite tunes with the artists and the other fans in the crowd. Put together a Unison concert playlist that features the best hits from South Africa's biggest musicians and practice the lyrics in your car, at home, in the shower, wherever!
Get Social
Having won tickets to the Unison Celebration Concert at Time Square, go ahead and share your excitement on social media! Be sure to like our Facebook page and follow us on Twitter and Instagram to stay up to date with all the latest news. Include #UnisonCelebration in your social media posts — it's a great way to find out if anyone else you know is going to the biggest entertainment event in Pretoria. You can also send a shout-out to the bands or artists to let them know you're stoked about joining them in celebrating South Africa.
Ready, Set, Go!
Ready to rock? Here are all the details you need to plan your Unison concert experience:
Address: 209 Aramist Avenue, Menlyn Maine.
Secure parking is available at R10 per vehicle.
Be there at 17h30 on 4 November 2017 to enjoy the pre-event entertainment, which will include mimes, a flash mob, magicians and buskers.
Doors open at 18h30.
The show starts at 19h00.
The Unison Celebration Concert at Time Square will last approximately two and a half hours.
A cash bar and refreshments will be available at the venue.
Don't Stop Now
If you're attending the once-in-a-lifetime Unison Concert at Time Square, why not make a day — and a night — of it? Sun International's Time Square is home to some incredible restaurants. Book your table for a pre-concert lunch at Etas and tuck into a platter of Spanish tapas. Or head to Guy Fieri's Kitchen & Bar South Africa for a post-concert dinner and even more entertainment.
We hope to see you there! #UnisonCelebration