Entertainment | 18 Sep 2019 | By Sun International
A "forking" success: Appetite Fest 2019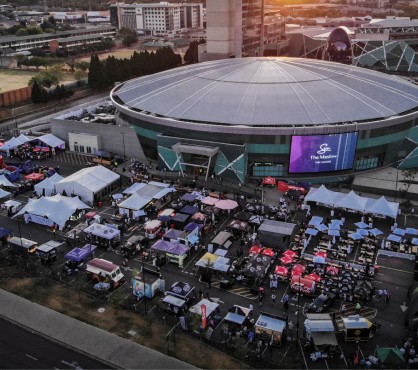 Foodies descended on Time Square from 13-15 September for a bite of the biggest culinary festival in the city.
From masterclasses and intimate cooking experiences with George Calombaris, Gary Mehigan, Matt Preston, Shannon Bennett and Sashi Cheliah of MasterChef Australia, to up-close-and-personal cooking experiences with local chefs Siba Mtongana, Sarah Graham and Bertus Basson, and a feast of artisanal food and craft drinks at the streatery – there was something to delight every foodie at Appetite Fest 2019.
"The festival was really amazing; it was the best way to spend the weekend. I got to meet the MasterChef Australia judges, which was a big highlight for me, especially meeting George [Calombaris],"said one festival-goer.
In the lead-up to the culinary festival that took place at Sun International's Time Square in Tshwane, the Aussies promised lots of flavour with a local twist – and they delivered. For Calombaris's's main meal during the gala dinner on Thursday, he paired duck with a somewhat unlikely local favourite. "I'll be serving chakalaka – only because I love the word: chakalaka, chakalaka, chakalaka – such a fun word; who wouldn't want to cook with that?" he joked.
Mehigan's focus was on creating dishes that showed off local produce. "We have 3 500 baby vegetables sourced from a local farm in Pretoria. We've been poring over local ingredients because we don't get even a third of this kind of quality in Australia," he said.
Known for his stylish outfits on the hit Australian show, Mehigan also made local favourites like pap and potjie. "The whole point is not to try to be as good as a Paris restaurant," he said. "Do you want something posh with French waiters or do you want something that reflects South Africa? You have to aim to be the best at what you can do. What I come to South Africa for is to eat delicious food that I will never get in Australia. That's the future of cuisine in every country: You have to relish in what makes your food unique."
Another highlight was the appeatance of MasterChef Australia 2018 winner Sashi Cheliah, who hosted sold-out sessions in the #ImCookingWith kitchen, where fans got to create some of his signature dishes with him. Dubbed the "King of Flavour" during his time on the show, Cheliah delivered a delicious kick to the tastebuds.
Local favourites
The local line-up of chefs included Bertus Basson, owner of three highly regarded restaurants in the Cape Winelands, Sarah Graham and Siba Mtongana. Basson, who confessed to having a "fetish for South African ingredients", focused on sustainability, cooking with ethically sourced abalone and melkkos.
"I didn't want to do something 'chef-fy', but wanted to create dishes that all South Africans love to eat," explained Basson.
Gtaham presented plant-based food from her upcoming cookbook, including pap en vleis – without the latter. Mtongana also focused on African food during the three-day festival, making West African bongo chicken. "When you google African food, the images that come up are pretty terrible. My aim was to change that perception."
Great entertainment
With a line-up that included Lady Zamar, GoodLuck and DJ Fresh, festival-goers were treated to a feast of hot local music at the streatery.
"Even if you didn't go to any of the cooking demos, there was lots of great food – and gin – in the street food area. It was a chilled vibe, and the entertainment was on point," – festival-goer
There was also something for families. Mums got to unwind with bubbly or craft G&Ts and get their nails done by Tammy Taylor, while kids were entertained at the Kid's Zone under the watchful eye of child-minders. There was plenty for dads too, with craft beer stands and braai activations.
"This was a great experience for us, to just enjoy the festival and know that my kiddies were safe and enjoying themselves." – mum