24 Aug 2017 | By Sun International
The Table Bay Spearheads Water Conservation Initiatives in Cape Town
Water has never been more of a scarce and precious commodity with the Western Cape and other parts of the country still reeling from the effect of a two-year drought. The crippling water shortage has inspired The Table Bay in Cape Town into introducing various ways to save water, store it and reuse it, while limiting the hotel's impact on the environment and municipal water supply. The hotel hopes that by spearheading water conservation efforts in Cape Town, others in the hospitality industry and beyond will be inspired to follow suit.

 "South Africa is a semi-arid country, making water a scarce and precious resource,' says general manager at The Table Bay, Joanne Selby. 'With building a sustainable community and environment close to our heart, we are intensifying our efforts to save water. We all need to use precious resources mindfully. Collaboratively, every little bit helps.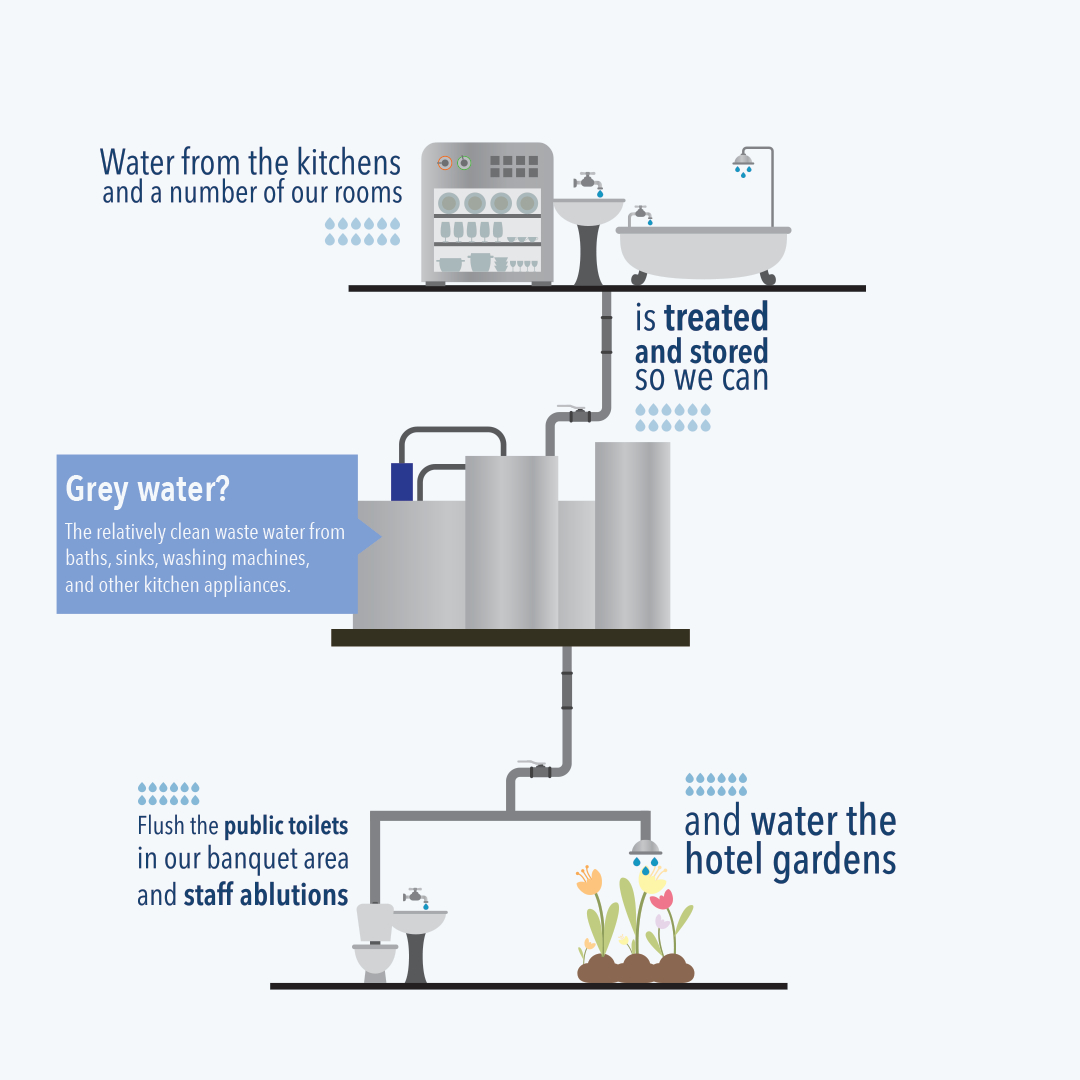 Another grey-water collection point where water is collected and reused for other purposes is at the pool plant room where a downpipe has also been plumbed to capture rainwater. The hotel is also installing a complete recycling backwash system for the pool.
These are some of the other ways to conserve water introduced at The Table Bay:
Water-wise plants have been planted with 50% of the flowering plants replaced with succulents.
The irrigation system at the main entrance has been replaced with a drip system which reduces water consumption by up to 60%.
Additional water meters are being installed to allow water consumption at the hotel to be monitored closely. Areas of high consumption will be identified and ways to reduce consumption will be introduced.
The Table Bay is also experimenting with water-saving devices in the kitchens where water consumption is necessary but high. These include devices such as flow restrictors on taps and energy- and water-efficient showerheads.
Water conservation initiatives in Cape Town and at The Table Bay can only be successful with the support of people. To this end, the hotel has launched a campaign to encourage guests to assist in efforts to save water. Notices in the rooms advise guests about the hotel's water conservation campaign and offer tips for reducing water consumption that won't compromise their experience as hotel guests.
 "As a five-star hotel with an international, green-conscious clientele, we've found that our guests are very willing to participate in our efforts,' says Selby. 'We're proud of what we've achieved so far and the interventions we've implemented have allowed us to retain similar water consumption during peak occupancy periods to that of our lowest occupancy periods.
Water conservation is a long-term initiative for The Table Bay and the hotel will continue to find more ways to save water. Their future plans include investigating systems to facilitate rainwater harvesting.