30 Dec 2014 | By Sun International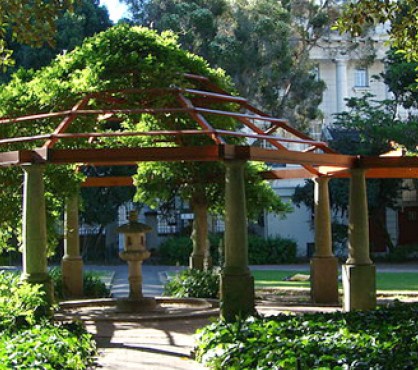 The Company's Garden: Where Cape Town Grew From
There's nothing better than escaping to a shady park after having a hearty brunch. Cape Town is known for its foodie delights and the city centre surrounding Company's Garden is filled with quirky cafes and trendy restaurants. You have to try the  breakfast buffet at The Table Bay Hotel, click here to see the menu.
The Company's Gardens
The oldest garden in South Africa, its origins date back to 1652. Earning its name from its founder the Dutch East India Company, Company's Garden is a blooming oasis in the middle of the city. There are more than 8 000 species of plants in this Garden, an abundant bird life and a thriving squirrel population that has become a tourist attraction in its own right.
Situated in Queen Victoria Street at the top of Adderley Street, Company's Garden is one of the most popular Cape Town tourist attractions. Best of all? Entrance is free!
Founded by settlers
At the end of the 15th century, trade-winds were discovered – these allowed European ships to sail directly across the Indian Ocean to Asia from the Cape of Good Hope. This was the halfway point in the sea route to the Spice Islands and it was here that a garden was established to provision ships with fresh produce and water.
Cape Town became known as the "Tavern of the Seas" and its settlement began with this garden.
Highlights at the Company's Garden
South Africa's oldest cultivated Saffron pear tree said to be planted in 1652
A koi fishpond
A memorial slave-bell dating back to 1855
A romantic rose garden planted in 1929
An aviary with a flock of talkative birds
A herb and rockery garden
An ancient well dating back to 1842
A Japanese themed garden donated by the Japanese Ambassador in 1932.
St George's Cathedral, SA's oldest cathedral
Company's Garden is adjacent to Parliament and Tuynhuys, the President's official residence when visiting the city. Not always the impressive site it is today, Tuynhuys was once a tool shed and guest house!  Discover more hidden gems and little-known facts about Cape Town's oldest garden, here.
Did you know? GrandWest Casino's impressive indoor garden is named after master gardener, Hendrik Boom, who planted the first seeds at the Company's Gardens.
A place of history, art and stars
Iziko South African Museum and the Iziko Planetarium are also housed in the Gardens. The museum founded in 1897 – making it the oldest museum in sub-Saharan Africa – has more than 1.5 million specimens of scientific importance in its collection. The planetarium, first opened in 1958 has been described as an "educational day trip on a dime" on TripAdvisor.
Tip: To find out more about current exhibitions at the museum, click here. And for the latest shows at the planetarium, click here. If the Iziko Museum and Planetarium don't manage to satisfy your curiosity then take a stroll to the nearby South African Jewish Museum and the District Six Museum.
There's also the Iziko South African National Art Gallery which is home to incredible collections of South African, African, British, French, Dutch and Flemish art.
Selections from the permanent collections are rotated out regularly to make way for temporary displays of paintings, works on paper, photography, sculpture, beadwork, textiles and architecture. Have a look at the current exhibitions over here.
A place of remembrance and statues
You'll find many a monument that has been added over the centuries in the Company's Gardens. A statue of Cecil John Rhodes by Herbert Baker that bears the inscription "your hinterland lies there".
A Japanese Lantern Monument was erected in 1932 as a symbol of relations between the Japanese and South African governments after World War I, a relationship that was first established by Jan van Riebeeck (the first Commander of the Cape) in 1643.
There's the Artillery Memorial erected in remembrance of the 5 800 gunners who fought for South Africa in World War I. This forms part of the larger Delville Wood Memorial (designed by Herbert Baker) which pays tribute to all South Africans who fought in both Great Wars.
Standing tall in the Gardens is a statue of Major-General Sir Henry Timson Lukin, a South African commander who fought in 5 wars and battle campaigns. This statue is by South African artist Anton van Wouw and was erected in 1932. van Wouw was a Dutch-born artist and is considered the father of South African sculpture. In 1964 an abstract statue by Sydney Harpley of Field Marshall General Jan Smuts was erected just in front of the National Gallery just off Government Avenue.
Stationed in front of the National Library of South Africa is a statue of Sir George Grey. He was Governor of the Cape from 1854 to 1861. Housed in the building behind him is The Grey Collection, an assortment of over 5 000 books donated by Grey. This gift includes valuable early South African printed books as well as books in many East and West African languages and others from Pacific countries.  There are also 114 medieval manuscripts and 119 books printed before 1500. The George Grey monument was the work of Scottish sculptor William Marshall Calder and was erected in 1864.
The Temperance Memorial bears a plaque that reads: "Jesus said whosoever drinketh of this water shall thirst again But whosoever drinketh of the water that I shall give him shall never thirst But the water that I shall give him shall be in him as a well of that I shall give him shall never thirst water springing up into everlasting life". Situated at Tuynhuys in the Company's Garden, it was made by the Wells brothers of South London and depicts a young maiden wearing a laurel wreath, carrying an amphora and bowl. The Memorial was erected by the religious Rutherfoord family as a drinking fountain in 1861.
Take a stroll through the Company's Gardens and with such a choice of museums, libraries, galleries, monuments and more, you'll find plenty to see and do. Bear in mind, on your wanderings, that this place is where South Africa grew from.