Travel | 20 Jan 2020 | By Sun International
Let's celebrate the African Penguin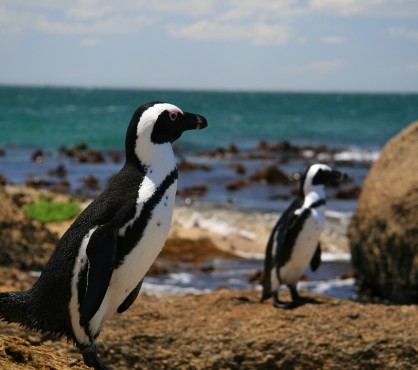 It is Penguin Awareness Day on 20 January - all the more reason to have an encounter with the African Penguin while you're in Cape Town. The African Penguin is on the endangered list but the Cape is home to several colonies. It is a sight to behold to see them frolicking in their natural habitat.
Ask The Table Bay's concierge team about these experiences during which you can see penguins and the Cape's other spectacular sea and wildlife:
Visit Boulders Beach
Boulders Beach near Simon's Town falls under the Table Mountain National Park Marine Protected Area and it is where African Penguins convene in their thousands. Summer time is the best time to see penguins at Boulders Beach.
Kayak with penguins
Kayak through an African Penguin colony along Boulders Beach. The kayaks are designed for maximum stability and no experience is necessary.
Go shark diving in False Bay
Get close to magnificent sharks in their natural environment.  Set off on a half day shark diving tour at either Seal Island or Cape Point. Each destination offers different opportunities and visibility.
Ride a bike on the ocean
Water biking is an exciting new water adventure activity available on the coast of Cape Town. Experience the ocean around Simons Town with its rich marine life and spectacular views of the surrounding Table Mountain range while riding on a premium water bike.
E-bike Peninsula Tour
Tour the Cape of Good Hope on an electric bike. Take in the views as you ride passed pristine white beaches, the penguin colony, breathtaking mountains and Cape Point. This is the easiest yet most rewarding bike ride you will ever take.