Lifestyle | 19 Feb 2018 | By Sun International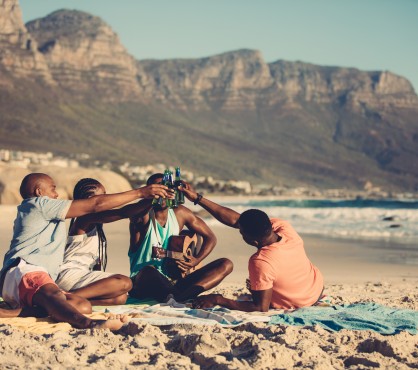 Celebrate the Month of Love in Cape Town
As February brings with it a flurry of flowers and hearts, we've put together a list of romantic activities in Cape Town, to help you plan the perfect date night in the month of love. From sunset picnics to helicopter flips, indulgent spa treatments to a movie under the stars, Cape Town is made for romance.
Relax, revive, repeat...
Soothing music, a dimly lit room and the person you love – if there's a better way to relax, we haven't found it. Camelot Spa at The Table Bay hotel has a wide range of indulgent treatments, including the Polynesia Couples Treatment – the perfect choice for a romantic date in Cape Town. Once you've found the bliss only a spa robe can bring, why not indulge in a glass of bubbly or make the most of the spa's facilities! Whether you choose to end your spa experience with time in the steam room or hydro bath, the romance is rife at Camelot Spa.
The perfect picnic with panoramic views...
What better way to take advantage of the Cape's long summer days than with a sunset picnic on Signal Hill? Fill a basket with your favourite cheese, some freshly baked bread and figs, and turn any day of the week into a romantic evening in Cape Town at a moment's notice. Cap off your perfect picnic with a sweet treat or glass of bubbly at The Table Bay…
A helicopter ride with your love by your side...
If you're planning a grand gesture or looking for one of the ultimate romantic experiences in Cape Town, it's difficult to beat a helicopter flip over the city. A popular choice for those who are looking to pop the question, it's a once-in-a-lifetime experience that will have both of you gasping with delight and wonder. Following your flight, indulge in a romantic meal for two at The Table Bay just a few hundred metres from the V&A Waterfront's helipad.
Set the scene at Camissa Brasserie...
With its cosy leather booths, ambient lighting and scenic location, the search has ended for the perfect place to spend a romantic date night in Cape Town. With unbeatable views of the harbour and Table Mountain, Camissa Brasserie serves authentic Cape flavours with a unique, modern twist. Whether you're looking to spoil your partner with a three-course meal or end your evening with a decadent dessert, Camissa is the perfect place to celebrate your Valentine's Day in Cape Town.
The best theatre in town...
There's watching the movie… and then there's snuggling under a blanket beneath the stars! The Galileo brings your favourite movies to the V&A Waterfront every Thursday from November to April. Looking for a little midweek romance in February? With The Proposal and The Notebook both in the line-up, it really is the month of romance.
A view with just the two of you...
Treat yourself – and your partner – to a night at The Table Bay and you'll soon realise why it's known as the 'Best Address in Cape Town'. Whether it's the twinkling lights of the harbour, a decadent dessert enjoyed in bed or uninterrupted time spent together, a luxury hotel stay is the ultimate romantic activity in Cape Town.
Pick your posy...
Did you know that you can pick your own roses in Cape Town? Home to the flower of love, The Chart Farm in Wynberg is a beautiful oasis in the middle of the Southern Suburbs. Whether you choose to wander through the rose gardens or buy a bouquet of ready-picked stems, the heady aroma of fresh roses and breath-taking views across the Constantia Valley will have you feeling like you've just stepped into your own fairy tale...