Lifestyle | 27 Nov 2014 | By Sun International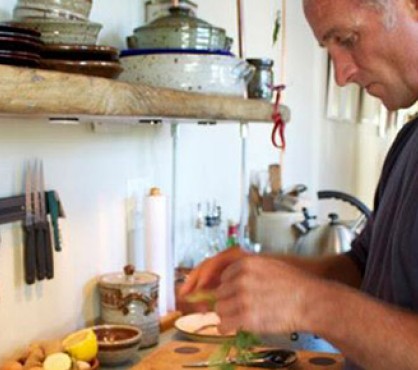 Food Foraging in Cape Town with the Urban Hunter Gatherer
Springbok diver, stuntman, and mountaineer; Charles Standing's CV reads like a global itinerary for extreme sports enthusiasts. His work in the film industry even includes a sexy Sun International commercial. But it's his passion for sustainability and his unique approach to sourcing fresh ingredients as the Urban Hunter Gatherer that's got us so excited at The Table Bay hotel in Cape Town.
Did you know that Cape Town is a treasure chest of food? There's sidewalk sustenance and delicious bounty available on our doorsteps, we just never noticed before. Which is why we chatted to Charles Standing about foraging in Cape Town, Table Bay food tours, and cooking up garden snails with our very own chef, Jocelyn Myers-Adam.
Q: What is urban foraging and what does it mean to you?
A: Urban foraging is searching for wild food in the city environment. For me, it's about sustainability. Living in cities, we've become disconnected with where our food comes from, and foraging is a way of returning to a community structure where you only take what you need and use what you have.
Q: On a typical day in Cape Town, what bounty will you find?
A: It depends on the season. Summer is all about seafood, foraging crayfish and mussels, or making seaweed jelly with sour fig syrup. Late summer brings with it ripe figs and my latest obsession: agave buds. These flowering buds from the tequila cactus make the most amazing pickles. While autumn is good for mushrooms, the hottest time of the summer yields Bracket Fungi, the mushrooms you find on oak trees and which taste like chicken. They're even called Chicken of the Woods. In winter, I make pesto from nasturtium leaves, and nasturtium capers from the seeds during spring.
Q: What are some of the surprise discoveries you've made foraging in Cape Town?
A: Last year I processed 15kg of olives from outside one person's house. They were just hanging in the road, so I rang the bell and asked if I could help myself to them. There are also Brazilian pepper trees all over the place in Cape Town. I never buy pepper anymore.
Q: Tell us about the tours you run with the Table Bay
A: The Table Bay food tour is a chance for people to go on foraging in Cape Town with me to find seasonal produce. From my side, these tours are about knowledge and fun. Everyone is surprised by how much food there is in the city. I've also found that foraging is instinctive for most people. They'll taste something and say; "I remember eating this as a kid!"
Afterwards, we return to the Table Bay where Jocelyn cooks the bounty. She does great stuff, like pairing num nums with pork belly, or geranium syrup with springbok Carpaccio.
Q: Let's hear about Jocelyn…
A: I love cooking with Jocelyn. She's always open to new ideas, and has a no-fuss attitude. I'm flattered when she cooks with foraged food. She came around once and cooked garden snails with fennel and wild garlic. It was good!
Q: What's your cooking style?
A: I'm old school. I like getting creative with fresh and simple ingredients. I'm also big into preserves, a fundamental aspect of sustainable cooking.
Q: What are some of the ingredients you can't live without?
A: The basics: egg, flour, butter, and olive oil. And then I always have preserves in the cupboard, from syrups to olives and dried porcini mushrooms.
Q: What advice would you give to city dwellers about going out and foraging for themselves?
A: Be respectful. Foraging should be a sustainable practice. Don't trespass on other people's property, don't forage in national parks, and be gentle with what you take so that the plants can continue to grow.
For more adventures in urban foraging, check out Charles' blog and YouTube channel.