Lifestyle | 29 Jul 2015 | By Sun International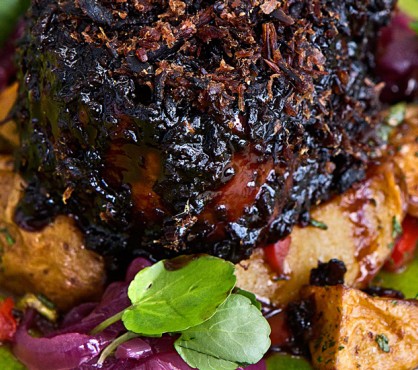 Delicious Beef Fillet Recipe with a Local Twist
Executive Chef at The Table Bay hotel, Jocelyn Myers-Adams is renowned for giving classic recipes a local South African twist. This beef fillet recipe, which comes straight out of Jocelyn's kitchen at The Table Bay, uses two distinctive local ingredients to add some flair to a classic steak dinner. Impress your guests by coating your meat with biltong dust – a South African favourite, and serve your potato salad with the peppery tones of wild garlic. 
Did you know? Wild garlic can grow almost anywhere (in fact, Chef Jocelyn grows it in abundance at The Table Bay). It's an ideal addition to your herb garden, as both the leaves and flowers can be used in salads and other dishes. Besides its culinary value, wild garlic has many medicinal uses too, including curing sinus headaches.
Here's Chef Jocelyn's beef fillet recipe:
Beef Fillet with Biltong Dust Coat (Serves 4)
For the Meat
Ingredients:
1kg Beef Fillet, cleaned and portioned into 220g
100g Biltong Dust (biltong is a rich inheritance from South African pioneering forefathers, who sun-dried meat during their trek across the African sub-continent)
Salt and pepper to taste
Method:
Season the steak and cook
Roll the meat in the biltong dust before serving
For the Potato Salad
Ingredients:
15 each Baby Potatoes, quartered
100ml Beef Stock
50g Butter
4 sprigs Thyme
4 Garlic Cloves
40ml Oil
40g Brown Sugar
60ml Apple Cider Vinegar
20g Jalapeno, small dice
20g Searsia (the flavour is somewhat like juniper berry and adds a nice bite to the potato salad)
20g Wild Garlic, finely chopped
20g Tomato, peeled, seeded and roughly chopped
Salt and pepper to taste
Method:
Heat the beef stock, butter, thyme and garlic, pour over the baby potatoes, and cook until firm at 150 degrees Celcius, remove potatoes from the liquid
Deep fry the potato until crispy
In a pan, heat the oil, add the vinegar first, reduce by half, add the sugar and cook until it forms a thick syrup and add jalapeno and searsia to infuse
Add the deep fried potatoes, wild garlic and tomato
Season to taste
To Plate Up Like a Pro
Place the potato salad in the centre of you plate
Place the fillet on top of the potatoes
Drizzle with your chosen sauce and garnish with fresh herbs or watercress leaves
Will you be testing your culinary mettle with Chef Jocelyn's beef fillet recipe? Be sure to tweet us your perfectly plated-up beef fillet and potato salad!