Travel | 23 Nov 2014 | By Sun International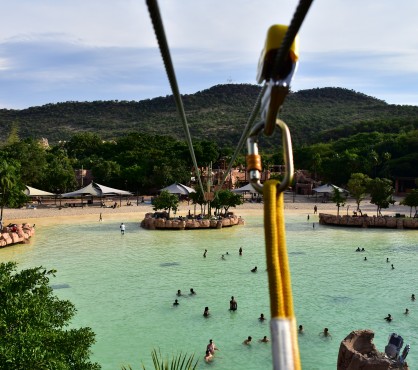 Top 5 Things to Do for Teenagers at Sun City
There is a chaotic and passionate period between the ages of 13 and 19 when everything becomes a little bit dramatic… If you're not head-over-heels in love with someone or something (boy next door, boy band etc.), you are irate and "literally cannot deal". Being a teenager isn't easy, but it can be fun.
Parents hoping to emphasis the fun part should look to Sun City when planning the next family holiday. With so many things to do at Sun City, teens and parents alike will be happy to declare "Oh em gee! Best holiday ever!"
Top 5 things to do at Sun City for teenagers:
Valley of Waves.

Show us a person of any age who doesn't like the Valley of Waves and we'll show you a person who doesn't know what happiness means. Teens, particularly those from Joburg, will take a shine to the shining waters of the Valley of Waves since it allows them the rare opportunity to enjoy the thrills of the beach. However, even teens from coastal regions have been known to scorn the "real beach" in favour of the only beach in the North West.

Did you know? When staying at Sun City, you can get around using the complimentary inter-hotel shuttle service. This is great news for parents and teens. Teens will get a taste of independence while parents don't have to worry about driving around.

Sun City Waterworld

Operating from a 1000m x 500m man-made lake in Sun City, think parasailing, water skiing, tube rides, jet skis and bumper boats at Waterworld… Need we say more?

Explore the Maze of the Lost City

Play a game of hide-and-seek at the Lost City, in one of the largest permanent mazes this side of the equator! Cross the 80m-long suspension bridge that connects the Entertainment Centre to the Maze of the Lost City, and spend an (ahem) a-mazing morning exploring the many twists and turns. There's a fascinating story behind the ruins to discover as well.

The Maze of the Lost City is open daily from 09h00 - 21h00. Remember to take sunscreen and a hat!

Pilanesberg Nature Reserve

The truth is, seeing the Big 5 never gets old. Sharing this experience with your teens is a gift. To feel the uncanny serenity of nature, to experience the magic of seeing wild animals in their natural habitat, these are the things that you will remember forever. So get wild! Make memories with your family that will last long beyond your holiday.

Sun Movies

What do teens love more than dark rooms and epic blockbuster on the big screen? That's right, nothing. Our job here is done!
Did you know? 42% of teens can text with their eyes closed. For more weird facts about teen, click here.