22 Sep 2014 | By Sun International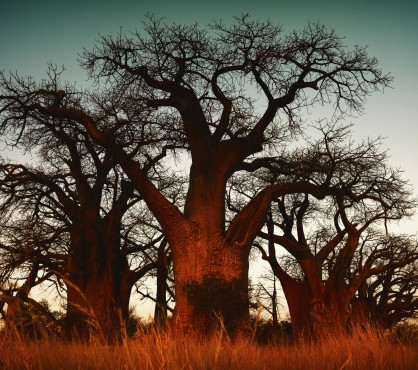 The Facts and Folklore of Africa's Mighty Baobab Tree
As distinctly African symbols, Baobab trees aren't just known for providing shade and nourishment but they're also a central part of traditional legend and lore. They have featured prominently in African literature and traditional folk tales, with many stories making reference to its unique shape or meaning.
It is believed that kings and elders would hold meetings under the Baobab tree, with the belief that the tree's spirits would guide them in decision-making. In more modern times, the Baobab tree is commonly used as a venue for community meetings or even as a classroom.
The 'upside down' tree
Technically known as Adansonia Digitata, Baobabs are also commonly known as "upside down" or monkey bread trees. As the largest succulent plant in the world, Baobabs can sometimes grow to heights of 20 metres and beyond. It's very common for them to hollow out as they age, and several clever people have turned large Baobabs into a range of things, including a bar, shop and even a holiday spot!
Baobabs are hardy and seemingly indestructible. They are renowned for being difficult to kill and will even regrow bark if stripped of it or burnt. Their hardiness makes them into perfect homes and shelters for animals, birds and creatures of all sizes.
Built with purpose
But the tree's multi-purpose existence doesn't end there, as its nectar, fruit and flowers are an important food source too. The Baobab tree's fruit is an egg-shaped capsule that, within its hard outer shell, contains a dry, powdery substance along with black seeds. The powder can be used to create a refreshing drink and is even said to be a good treatment for fevers. It's also been used as a thickener in gravies, jams and sauces.
The large white flowers of the Baobab tree are sweetly scented and emerge during the late afternoon. They fall off the tree within 24 hours though, quickly turning brown and releasing a pungent smell. And in just another way that the Baobab tree keeps giving to the world around it, the flowers then become food for passing antelope.
Because Baobabs are found in dry, arid regions, they grow slowly as a result of not receiving much rainfall. But the nooks and crannies of the trees can become useful little wells that hold water, important for both animals and people who stop for a drink and to enjoy the shade of the tree.
Some traditional folklore suggests that by drinking water that Baobab seeds have been soaked in, people would be protected from crocodile attack. Other traditional tales and rituals imply that young boys must be bathed in water soaked with the bark of a Baobab, as this will enable them to grow into strong and healthy men.
The Baobabs of Sun International
But where can you find these legendary trees? They are found across the dry regions of Africa and most definitely in Zambia. So, the next time you check into the Zambezi Sun for your family vacation, you can look forward to a lazy afternoon spent under the shade of a Baobab tree.
Within South Africa, Baobab trees are found dotted throughout the country. But, at Sun City's Lost City, you'll find the largest transplanted Baobab trees on the planet. This incredible Baobab forest was created in the jungle of the Lost City and houses 380 transplanted, mature trees. The biggest Baobab tree found in the Lost City gardens weighs a staggering 75 tons.
Not just a tree or striking landmark, the Baobab tree stands proud as a true symbol of life in Africa.