Pilanesberg National Park | 14 Oct 2014 | By Sun International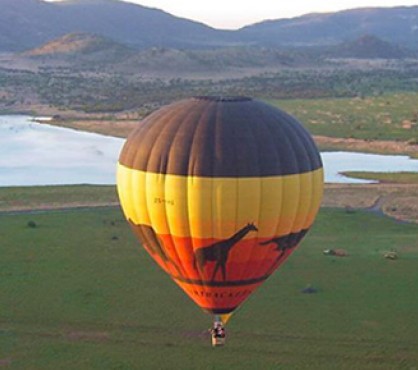 Just outside the Sun City Resort, one of South Africa's most fascinating reserves, the Pilanesberg National Park stretches across 550 hectares of land and lies within the scenic terrain between the Kalahari and the Lowveld.
The very best way to explore the Pilanesberg is, of course, on safari. Whether it's a short day trip or a few leisurely days spent exploring the reserve, the Pilanesberg is not to be missed. Teeming with wildlife, the reserve is home to more than 7 000 animals so you're almost guaranteed to spy the Big Five as they roam the grasslands or gather around the Mankwe Dam.
But, there's no better way to see the wonders of this wild world from up high. Hot Air Balloon safaris have become a popular pursuit for visitors to the Pilanesberg with many people proclaiming it the ultimate way to enjoy the sights and sounds of this South African game reserve.
Giving you a bird's eye view over the Pilanesberg, the hot air balloon will lift you up into the skies and, depending on wind weather conditions, you'll fly at treetop height or soar to more than a kilometre into the air.
As you float across the sky, you'll spy herds of buffalo, antelope and possibly even a white rhino or two. With this unique perspective, you can savour the vast stretches of land and watch as zebras scamper across the veld.
But, don't forget your camera! With a panoramic view like this, it's essential that you capture the moment as your hot air balloon makes its way across the reserve. As you drift above the African continent, you'll also spy the volcanic crater that created the Pilanesberg Mountains. This extinct volcano last erupted more than a million years ago, and the alkaline soil, rich in minerals created the perfect environment for the vibrant flora and fauna of the reserve.
It's not some fanciful dream to see Africa from up high, because the Pilanesberg's hot air balloons can take you on a magical journey, right across the African sky.