Lifestyle | 01 Apr 2019 | By Sun International
Sun City: Celebrating 40 years of Memorable Moments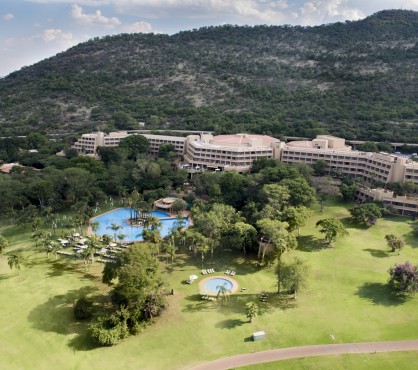 It's been 40 years since Sun International's iconic Sun City opened its doors, marking the start of a new era in leisure and entertainment for South Africa. Emerging from the dusty African bush in what was then known as Bophuthatswana, the resort, launched by hotel magnate Sol Kerzner, instantly captured the imagination of entertainment-hungry South Africans. For the first time, they could explore the previously forbidden delights of topless extravaganza dancers, concerts by international artists, and the thrill of glamour gambling.
Over time, Sun City has evolved into one of the most exciting and all-encompassing entertainment and leisure destinations in South Africa. It is where wildlife, vibrant nightlife, golf, outdoor adventure, an award-winning spa, a world-class casino and adrenaline-pumping fun for all ages combine in one spectacular location. Sun City also borders the malaria-free Pilanesberg National Park where visitors can view the Big Five in their natural habitat.
Changing with the Times
In 2016, Sun City underwent an ambitious multi-million rand refurbishment to revitalise its iconic appeal and ensure that it retains its rightful place as South Africa's entertainment mecca. Today, visitors have a choice of over 30 restaurants, lounges and bars (ranging from fine dining restaurants to casual and family-friendly eateries); state-of-the-art conferencing facilities and a suite of spectacular activities that have broad appeal. These include seven thrilling water slides at the Valley of Waves; the Chimp & Zee aerial rope adventure course; the Sun City Bike Park; the Adrenaline Extreme adventure hub; Breakout, a mind-boggling obstacle challenge; and Sun Central which houses the South African Hall of Fame and a myriad restaurants.
Sun City boasts a choice of hotels and accommodation. The Palace of the Lost City is a five-star hotel boasting African opulence; the five-star Cascades offers secluded luxury; the four-star Soho is the resort's lively Vegas-style hotel; and the three-star Cabanas provides contemporary, island-style hotel accommodation. Bordering the Pilanesberg National Park, Sun Vacation Club offers self-catering accommodation with excellent amenities suited for the whole family.
Although the opportunities to create memorable moments at Sun City are vast and diverse, here's a list of 40 must-try experiences:
Top 10 restaurants and bars
Legends: a trendy grill house that pays tribute to the icons that have graced Sun City since 1979.
Bocado offers one of the most beautiful settings to enjoy popular Mediterranean dishes.
The Grill Room boasts some of best steaks and grills in the North West.
Plume: a stylish, intimate restaurant that serves a selection of signature dishes.
Crystal Court: for the most extensive breakfast buffet and decadent high tea.
The Brew Monkey: a gastropub with a decidedly rustic microbrewery feel.
Vibes: a laidback retro-inspired sports bar situated at Soho.
Tusk Bar & Lounge for cocktails and light meals at The Palace.
Luma Bar for lunch and sundowners on the Cascades deck.
The Shebeen: enjoy South African cuisine served in an authentic shebeen setting.
Top 10 leisure activities
The Valley of Waves features an array of thrilling water rides and slides.
The Forest of Lights where the tropical gardens of the Cascades are transformed into a magnificent kaleidoscope of colour.
Encore: an upmarket nightclub situated at the always-on party zone, Soho.
Rejuvenating spa treatments at the Gary Player Health Spa and Gym.
Segaetsho Cultural Village: enjoy an authentic Afriganza experience with traditional dance, music, crafts and games.
The South African Hall of Fame – an interactive museum that celebrates South Africa's greatest sporting icons and personalities.
The Crocodile Village to view African crocodiles in their natural habitat.
A wide selection of slot machines and tables games at Soho's 24-hour casino.
Movies and tenpin bowling at Sun Central.
Explore the Leeto-Kgolo cultural village on the back of a bicycle.
Top 10 adventure activities
Zip 2000: one of the world's fastest zip slides.
Accelerator: a giant human catapult at Adrenalin Extreme.
Breakout: solve a series of puzzles and problems in order to escape a locked room.
Parasailing and jet skiing at Waterworld at the Cabanas Lake.
Jetovator: hold on for your life as you're lifted far above the water at Waterworld Lake.
Explore the largest permanent maze in the Southern Hemisphere at the Maze of the Lost City.
Game drives in the surrounding Pilanesberg Game Reserve.
A romantic balloon safari with Mankwe Gametrackers.
Explore the sights and surrounds of Sun City on a guided Segway tour.
Chimp & Zee Rope Adventure Park: an aerial adventure at the Valley of Waves.
Top 10 sports and fitness facilities
Gary Player Country Club
Lost City Golf Course
Bike Park
Tennis and Netball
Mountain Biking
Hiking Trails
Airsoft Call of Duty (target shooting)
Drift Trikes
Rock Venture Mini Golf
Timechamp Trail Run