Entertainment | 08 Dec 2019 | By Sun International
Sun City Big 40: A birthday party to remember!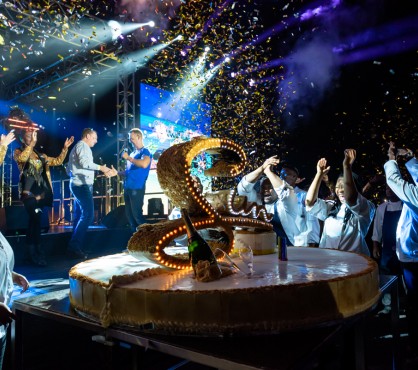 The biggest birthday party Sun City's ever had the pleasure of hosting took place on Saturday, 7 December.
Sun Park was lit for our "Big 40" party, which featured a line-up of the hottest local acts, including Mi Casa, A.K.A, Shekhinah and Dr Victor and the Rasta Rebels.
DJ Christos, Vinny da Vinci, GoodLuck, Kwesta, Sho Madjozi, Prince Kaybee and DJ Tira rocked the after party until sunrise. And while the crowd was filled with celebrities, our most valued persons had to be the Sun City Resort guests, who turned up in their numbers to help us celebrate our Big 40.
Sun International CEO Anthony Leeming had the honour of cutting the birthday cake. He shared what's in store for Sun City over the next 40 years.
"The rain didn't put a damper on things – it's been a great concert, with great artists. It really couldn't be better."Leeming said.
"Over the next 40 years, people can expect the same – and better. We're thinking of adding another hotel and expanding Sun Vacation Club, continuing with upgrades and improving the Valley of Waves."
Here are the highlights: